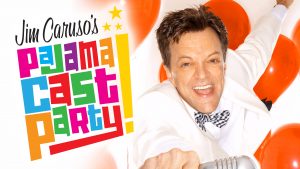 Who could ever have imagined that one day such iconic TV shows as The Tonight Show, Saturday Night Live and the recent, star-studded "One World: Together At Home" concert, streamed all over the world, would feature celebrities performing from their living rooms? Yet, it's now become the norm, artists of all genres creating virtual content amid the COVID-19 quarantine. Add to the extraordinary list of offerings Jim Caruso's "Pajama Cast Party" streamed live every Monday at 8:00 p.m. on YouTube and other platforms.
Showman extraordinaire Jim Caruso, the charismatic host of "Cast Party" at New York's famed Birdland Jazz Club, which has been shuttered due to the pandemic, reached out to me recently to tell me about the new project he created three weeks ago, soon after the shelter-in-place order in New York City. I first came to know Caruso in 2012 when he served as a mentor at The Great American Songbook Academy, founded by Michael Feinstein, which I covered at The Palladium in Carmel, Indiana. The following year, Caruso returned to serve as a mentor at the Academy, where we became reacquainted. We connected again in 2014 when he performed in a Christmas show with Billy Stritch and Klea Blackhurst at The Cabaret when it was at the Columbia Club on Monument Circle.
Referred to as a cross between "American Idol" and "The Tonight Show" and described as "The gold standard of open mic nights" by The Wall Street Journal, "Cast Party" is an impromptu, open mic-variety show Caruso established in 2003 with Billy Stritch serving as music director and pianist. Making it a singular experience is its mix of show-business superstars and emerging artists. Over the years, Caruso and Stritch have also taken "Cast Party" and its iconic talent on the road to cities such as London, L.A., Las Vegas, Chicago, Miami, San Francisco and others.
A few days ago, I spoke by phone with the gregarious Caruso, who was calling from his Upper West Side, where he is quarantined alone. The first thing I asked him about was the mood within his Broadway and show-business circles. "Everybody is going through a bit of a mourning period. Missing our lives. So many of us make our living with the public, putting on shows; the whole point is to get people into a room. That is what we work on day and night at Birdland." As for himself, Caruso revealed, "I really went through a very sad time and went to bed for a few weeks and watched every episode of The West Wing. There are 156 in case you are wondering." He laughed, adding, "I felt sorry for myself, sorry for the city, for the world, friends of mine who had contracted the virus and were not doing well. It is terrifying. It's absolutely terrifying. Everybody is in the same boat. It's the great equalizer."
Caruso's "comeback" happened on a Monday night four weeks ago when he got on Instagram Live to share his feelings. Suddenly, people he knew started popping up, including a friend who is a singer and juggler, who did his act live on Instagram from his backyard. By the end of the 40-minute session, 600 viewers had seen his "show," which included 13 performances. "It reminded me, that is what I do," said Caruso, who went to bed that night feeling very satisfied. The next day, he got a call from his 20-year-old, tech-savvy friend Ruby Locknar, who said, "You need to do 'Cast Party' on YouTube." Seeing an opportunity, Caruso and Locknar began producing "Pajama Cast Party," their first virtual show with a cast that included big names such as Melissa Manchester, Christine Ebersole, Clint Holmes and other Broadway and TV stars. "It was the most fun," Caruso said. "We had about 3,000 views, so we have done it every Monday since. It's changed everything for me because it has given me something to work on and though the tragedy is still ongoing, I don't just sit in my room and think about it all day. I now have a mission."
While this new venture is filling a creative void for Caruso, he noted there is also a fundraising element. It's free to watch, but viewers are encouraged to add to the virtual tip jar via Venmo and PayPal. "We don't push hard, but we say, 'If you are enjoying this and would like to see this continue, send us a little something.'" Caruso sends some of the proceeds to The Actors Fund. "I have always done whatever I can for that organization, as well as Broadway Cares," he said. "People have been very generous. It's heartening." Caruso also sent a contribution to a GoFundMe account to help cover the medical expenses incurred by Broadway performer Nick Cordero, who recently had his leg amputated due to COVID-19 complications. When asked what he ultimately hopes to accomplish, he said, "As always, I'm happy celebrating the most talented people I can find. I also hope I can help give some relief to an audience who has followed and cheered 'Cast Party' for the last 17 years. And if I can raise some money to support a few of our favorite organizations, all the better! It sounds altruistic, but giving someone a 'stage' on which to perform lets them show us who they are, and that's a beautiful thing."
Other stars who have served up musical performances via live stream from their homes include Dave Koz, Jane Monheit, Linda Lavin, Constantine Maroulis, Jessica Vosk, Peter Cincotti, Julie Halston, Erich Bergen, Victoria Shaw, Ty Herndon, Kate Baldwin, Travis Cloer, Telly Leung, Cooper Alan, Amanda Green, and Max von Essen. 
"Pajama Cast Party" also spotlights high school and college students whose spring musicals or recitals have been canceled. "Their performances have been so beautiful and they get so much love from the audience. It's a feel-good moment to be sure," Caruso said proudly. "I'm grateful to them all—the 'newbies' and the superstars. They've given me a show. What could have been a weird, show-biz-adjacent side gig has come to mean the world to me! All my life, I've wanted to hang out with smart, talented people with wicked senses of humor and fast minds. They exhilarate me and give me more than they will ever know. For the most part, their generosity of spirit knows no bounds."
What are Caruso's hopes for the future post-pandemic? "When we've all finished our 'quaran-tinis,' I look forward to peeking out of a curtain and seeing a healthy, packed house ready to cheer for a great show. It's going to take some time for people to feel comfortable sitting side by side in a theatre or music room. But I have no doubt it'll happen, and it'll be a beautiful thing. I will never take that for granted again. In the meantime, I hope everyone will stay home, stay healthy, keep breathing and keep moving forward."
"Pajama Cast Party" starts at 8pm EDT every Monday night on YouTube, BroadwayWorld.com and Birdland's Facebook page.