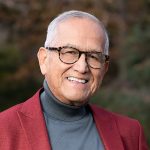 photo: Josh Humble
About Tom
Journalist, producer, director, Emmy Award-winning documentary filmmaker, arts administrator, TV contributor, actor, model, writer and lyricist, Tom Alvarez has had an extensive career in media and the fine arts and continues to be an enthusiastic and devoted fan of both. His passion and unique background grant him insight, access and perspective to cover, promote and review the arts in Indianapolis, Central Indiana and beyond. Follow him on social media @tomalvarezartswriter and @tomalvarez1.
Alvarez has been writing about theatre, dance, music, cinema and visual arts for 40 years. His work has appeared in the Indianapolis Star, NUVO, Indianapolis Monthly, Arts Indiana, Unite Magazine, Dance Magazine, NOTE Magazine, and Examiner.com, among many other print and online platforms. A former contributor to Across Indiana on WFYI-TV, he currently has a regular performing arts segment on WISH-TV's Life. Style. Live!
A principal of Klein & Alvarez Productions, LLC, Alvarez co-created "Calder, The Musical" and is the managing director of Magic Thread Cabaret. As an actor-model, he has appeared in numerous TV and print ads and is represented by the Helen Wells Agency and Heyman Talent Artists Agency.
On the Aisle Team
Creation, content, and publishing: Tom Alvarez
Copy editing: Marcia Eppich-Harris
Graphic design:- Casey Ross
Web development: Clay Mabbitt