Musicians galore are delighting the quarantined public with virtual performances, but like many of their fellow performing artists, their lives have been turned upside down by the pandemic. Recently, I saw a television interview featuring well-known Indy jazz tenor saxophonist and composer Rob Dixon, the artistic director of Indy Jazz Fest, who was on a news program discussing an initiative called "Indy Musicians Relief Fund — Support Jazz, Blues & Beyond."
There is no one more suitable than Dixon to speak on behalf of his fellow musician. His impressive resume reflects a musician who has made a major impact, not only on the local jazz scene, but on a national front as well. Dixon leads a jazz group called Trilogy +1 and has produced a variety of project bands in Indianapolis, including The Blue Side. Dixon signed with Owl Studios in 2006, an
Indianapolis-based jazz label. He's released two albums on the label featuring himself as bandleader and is currently working on an album with his quartet, which besides himself, consists of Steven Jones, Brandon Meeks and Richard Floyd. When not under a stay-at-home order, the band plays at the iconic Mass Ave jazz club, Chatterbox, every Monday. Dixon tours regularly with renowned seven-string guitarist Charlie Hunter, teaches as an adjunct instructor at IUPUI and is the founder and music director of the Indianapolis Jazz Collective. He also performs frequently around the country and abroad.
Eager to learn more about the relief fund and how the pandemic is affecting him both personally and professionally, I spoke to Dixon by phone from his home where he is quarantined.
Dixon said the idea for the relief fund came from discussions he had with Tim Haley, incoming president of The Penrod Society. Originally, they had discussed doing a virtual concert featuring jazz and blues acts to serve as a fundraiser co-sponsored with the Indianapolis Jazz Foundation, with the involvement of Dave Allee of The Jazz Kitchen and Kenny and Valerie Phelps of Owl Music Group. But that was before Governor Eric Holcomb's stay-at-home order was issued. Once the original plan was shelved, they looked to creating a relief fund. "Musicians are gig workers. If they were going to get relief from the government, they would be the last on the list," Dixon said. Once each sponsoring organization committed to donating $5,000, the relief fund was established.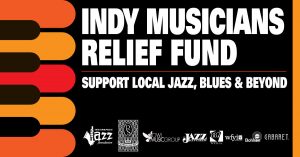 Dixon said they were able to raise an additional $40,000 within five days and within a week, they mailed out 70 individual checks for $500 to initial applicants, all of whom are full-time musicians. Part-time musicians were awarded $250 each. Dixon said the sponsors hope to raise an additional $50,000. With so many musicians having applied, including rock and classical musicians and even singer-songwriters, the foundation decided to expand the criteria. A second round of checks will be mailed on April 30. At last check, the total amount raised was $69,577, with nearly $60K already in the hands of the musicians. The goal for the fund is $100,000.
Dixon said most of the donations have come from individuals, many of them members of Indianapolis Jazz Foundation and The Penrod Society. He also mentioned Mark McAlister, owner of Big Red Liquors, made a matching gift of $10,000. Dixon said gifts to the fund ranged from $5,000 to $10,000.
We then discussed his personal experience. "I'm doing OK, but I would be much better if we were not in the middle of this lockdown. I do about five different things to bring in income, but the most money I make is from gigging. What really helps, though, is gas prices are really low. There is no place to go, so I am not spending money," Dixon said, laughing.
Fortunately, he's been able to play a bit online, like many of his fellow musicians who are doing virtual performances. "I've done a couple of collaborations with musicians. I tour sometimes with guitarist Charlie Hunter and he has asked me to do a couple of collaborations with him. He sends me a video of him playing and I add myself onto it. I'll probably do about three or four of those," Dixon said, adding, "Chuck has about 90,000 Instagram followers, so it's a way to keep my name out there. To earn income, I've made some virtual videos for Eskenazi Health. I have done a couple of church services. Live gigs won't probably go full steam until August."
Dixon said musicians need to be savvy and take advantage of social media to keep their names out there. "We need to let people know we're here," he said, "Like me, they make their living doing gigs, so there is not much money coming in and that's very frustrating for them." He's applied for a grant from the National Endowment for the Arts and already received one from the Indy Arts & Culture COVID-19 Emergency Relief Fund from the Indianapolis Arts Council.
Dixon said the upside of the quarantine is it's given him time to compose. "I like to write music, but in my normal schedule, I'm gigging or teaching, so the writing has taken a back seat, but now I have been able to write music and come up with creative ideas that I have never had to do before," he said. He said he misses playing with other musicians and, of course, in front of live audiences. "This period we are in has reminded me why I got involved with music. When it's taken away from you, it reveals itself how much you love what you do. The connection with other musicians and audience members. There is such an energy that happens when musicians get together and play for an audience. The audience is in to it and the musicians are in to it. You're just communicating on a very high level."
Regarding his fellow musicians, Dixon encourages them to keep working at their craft "because that is what the world needs. We are seeing it in the way people are looking to art and entertainment and all sorts of creative expression to help them get through this time of isolation."
Acknowledging the important contributions of health-care professionals, essential workers and first responders, Dixon said he hopes the public will keep musicians and other artists in mind too. "If the public is enjoying the music, movies, books and visual art they are depending on right now, please consider donating to a local artists or arts organization so we can all continue to contribute to one another's lives during the crisis."
Click here to find out how to donate to or apply for the Indianapolis Jazz Foundation's "Indy Musician Relief Fund – Support Local Jazz, Blues & Beyond."