Amelia Wray is an actor-singer-songwriter who has found her voice and is ready to share it with the world. A friend of her family, I first met her parents, Corey and Chauncie Wray, after I reviewed "The Velveteen Rabbit" a children's theatre production her twin brother Mitchell appeared in at the Indiana Repertory Theatre. Later in 2014, I directed Mitchell, when he originated the role of the young Alexander Calder in a workshop production of "Calder, The Musical," produced by Klein & Alvarez Productions, LLC.  The company's managing director, I operate it with my producing partner Dustin Klein. Mitchell would later go on to appear in the National Tour of "Finding Neverland," traveling to 32 cities from 2016-2017 – first, as Jack and later starring as Peter. Meanwhile, Amelia was forging her own career starring in community theatre productions such as "Fun Home" in 2017 at Phoenix Theatre, and "The Secret Garden" in 2018 and "Into the Woods" in 2019 both presented by Summer Stock Stage.
Amelia's break, launching her on the national scene came when she became a "Disney Kid," appearing in the series "Sydney to the Max" on the Disney Channel. Moving to LA with her mother, her manager who continues in that role, she played Sophia, a friend of the title character, from 2018 to 2021. While on the show, she and her fellow cast were schooled on the set.
Wishing to experience a normal high school experience in her hometown, Amelia returned to Carmel and began her sophomore year in the fall of 2019 at a private school located in the area. That year she and her mother flew back and forth to LA during season three of the TV series, and she would Zoom into her classes.
These days, Amelia, an A student, is enjoying her senior year, while on the side, she is developing the latest stage of her career as a singer-song writer. In November 2021 she released a single titled "Moved On." Not missing a beat, last month she released her newest single titled "Disappear," a song about a breakup of a relationship and moving on. The song was recorded last August in LA.  Upon seeing social media posts about her newest work, I reached out to her, and we eventually met at her home for a one-on-one conversation. Sitting in was her mom and Mitchell. I last interviewed Amelia and Mitchell together in 2019 here.
My first inquiry to the charismatic, gregarious performer was about how she made the transition from actor to recording artist. To prepare for a singing career she has been training for five years with vocal coach Michael Orland, whom she met in LA. Orland is best known for his work as pianist, arranger, vocal coach, and associate musical director for "American Idol" for 16 seasons and is a sought-after music director.  Another member of her team is her "Disappear" co-writer, Bill Grainer, a New York-based songwriter and producer, who has written for such artists as Jennifer Hudson and Linda Eder. "I like to write from my personal experience" said Amelia, adding that during the COVID lockdown she started writing and listening to a variety of artists to get inspired and determine what her own style was.  "I really like Indie-Pop music which best describes my own," she said. "It's alternative and independent and a style everyone can relate to — sweet and not menacing."
When asked what her next goal is Amelia said, "My dream is to go on tour." She went on to explain, "I had a little taste of it last summer" when she performed in Chicago with "The Boys of Summer" tour, which she said, "was a magical experience. It had been two years since I performed live and just the response of the audience was such a rewarding feeling. I felt at home on that stage. Right before the performance, I was more nervous than I have ever been since it had been such a long time. I took two steps on stage and the nerves were gone," she laughed.
Leaving the door open, however, she says she is open to exploring other genres, including musical theatre of which she already has extensive experience. As far as film and television, Amelia, who is represented by the prestigious LA-based Osbrink Agency and who has previously appeared in commercials, is pursuing all her options. In fact, there is a studio set up in her family's home where she and Mitchell are constantly self-taping auditions, which she said keeps them busy. Proof of how her talent transfers to the big screen is a recent New York Independent Cinema Award she won – the Best Young Actress Award – for her work in "Isolation in Lockdown," directed by Kaye Tuckerman.
To gain her vocal coach's perspective regarding Amelia's talent and predictions about her future, I reached out by email to Orland, who has worked with the likes of Kristin Chenoweth, Ariana Grande, Katharine McPhee, Idina Menzel, Barry Manilow, Jennifer Holliday, and many others. "I was lucky to start working with Amelia," he replied. "The one thing I knew from the first time she walked into my studio was that she has that winning combo of what it takes to succeed in not just the music business but in show business. I see kids every day who think they want to be in television and movies and Broadway, and they're shy and just don't have it. But Amelia is the complete package. She is confident and beautiful and comfortable in the room with whoever is in there and has an amazing work ethic and a great musical ear to pick things up very quickly. She also has great musicianship and amazing eclectic taste in music. All those ingredients equal a winning package," wrote Orland.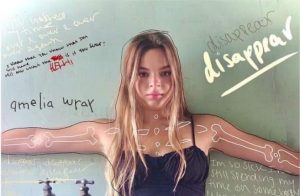 As far as predictions regarding her future in entertainment Orland said, "Now that Amelia has written two songs that she has released, I see she has this amazing indie-pop sound, and she does not sound like anyone else, and nobody sounds like her. I think she could be huge on the music scene. I am a huge fan, and I look forward to continuing co-writing with her and encouraging her to keep working technically on her vocal skills.  I also envision some of our songs getting placed on a TV show or a closing credit of a movie – that would be so great, especially because I think Amelia's voice is so identifiable,"
Active on social media, Amelia said she is followed by 42,000 followers and counting. As far as her current high school experience, Amelia said that she tries to fit in and emphasized, "I like to meet new people and like to make friends with everyone. Everyone who knows me is aware that I never really talk about my work. I am passionate about it but don't feel a need to get anybody else's validation because I know it is what I want to do for the rest of my life, and I love it." She went on to joke that "At school I'm living this kind of Hannah Montana lifestyle, in which I go to high school dances and do regular things that kids my age do. The kids I have known the longest, since kindergarten have been the most supportive." When I suggested that it might have to do with her being well-grounded, she said, "I have been so lucky to have my parents and Mitchell who have kept me so grounded and humble. Every time there was a break or hiatus from the Disney show, they always brought me home so I could be where my roots are. My parents are always rooting for me. They will always be on my side. No matter what. Especially my mom. She has really taken her mom-manager role and freakin' taken off with it. She gets me so much work. Both she and my dad constantly remind me that if this is something I do not want to do anymore and one day wake up and want to quit, and I do not think that will happen, they would be okay with my decision, and that is really good to know."
As our conversation was ending, I asked Amelia, who is mature beyond her years, what her other short-term goals were. She replied, "I am just focusing on my music and am releasing an EP in the next few months and college is also on my radar. I care a lot about my education," she stressed. In fact, a few days after our interview she and her dad visited Belmont University in Nashville, one of several colleges to which she applied and where she will study music business if she chooses to attend there. "I want to understand the business side of the industry, and I want to be able to read my own contracts and advocate for my own career. Plus, as a singer-songwriter I should be able to make a lot of connections in Nashville," she stated.
I could not end our chat without asking Amelia who her music influences are, and she said "Fellow Disney Channel kid Sabrina Carpenter, who has really rebranded herself and taken off in the music world, Olivia Rodrigo, another Disney kid. I also like a lot of Indie artists such as singer-songwriters Lizzy McAlpine and Lexi Jade and of course, Taylor Swift."
What about her greatest influence in general?  Without hesitation she said, "My biggest influence is Mitchell. He is really unique and talented. He has amazing style, is an amazing actor, smart and the list goes on. He even picks out my outfits when we go shopping (laughs) because he is so creative. I bounce everything off Mitchell, and I tell him everything, and he has given me some of the best advice. Sometimes brutal advice, which I really need sometimes. He tells me things I really do not want to hear, but at the end of the day he also helps me."
Finally, when I asked Amelia if she and Mitchell possess mental telepathy as some research has suggested twins have, she firmly stated, "Definitely. One day when Mitchell was on the 'Neverland' tour, he called me to tell me that he cried because he missed me so much, and I said that I cried too for the very same reason. It is a real thing for sure."
Follow Amelia on Instagram, TikTok and on her YouTube Music Channel.  Her single "Disappear" is available on all platforms including Spotify, Amazon Music, Itunes, Apple Music, Deezer, etc.