For anyone who has seen them perform in local theatre it has almost been a far-gone conclusion, especially for their numerous fans, that Amelia and Mitchell Wray are destined for great things in the entertainment world.  Now, it appears that prediction is coming true, if their recent career opportunities are any indication.
Recently, I caught up with the 13-year-old twin daughter and son of Chauncie and Cory Wray at their Carmel home, where they spent the holidays prior to returning to L.A., where they are pursuing careers in film and television.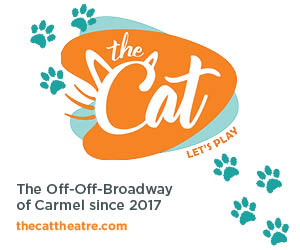 Mitchell and his mom moved to L.A. in July of 2017 after he finished the national tour of "Finding Neverland," which began in September 2016. In the show, he played first, Jack and later, Peter. After finishing her turn in the Phoenix Theatre smash hit of "Fun Home" in January of 2018, Amelia joined her brother and mom, returning temporarily in July for a run of "Secret Garden," presented by Summer Stock Stage, in which she starred as Mary Lennox.
Until recently, mom Chauncie Wray managed the twins' careers, but has since relinquished her duties to Michael Abrams of the Michael Abrams Group. As far as their representation, Amelia and Mitchell are associated with Clear Talent Group. As for her primary role now, Chauncie said, "I concentrate on getting them where and when they need to be, homeschooling them and just being a mom." When asked how he liked his mom managing them, Mitchell said, "It's all I ever knew, but she has always loved and supported us. She always says, 'Guys if you don't want to do this, we don't have to. Let me know if you ever want to stop. We'll go right back to Indiana.' We say 'No, we still love it.' In no way are they (his parents) making us do this. Sometimes, it is a common misconception 'Does your mom make you act?' people ask and we always say, 'No it is what we like to do.'"
As far as their current activities, the twins, who recently became SAG-AFTRA union members on the same day, are now members of the Disney Channel family. Mitchell guest starred as Mason in "Coop and Cami Ask the World," a show on the Disney Channel, which is about two kids who host a YouTube show. He was on episode 16 of season one, which has yet to air. It is anticipated that he will appear on more episodes of the show, which is currently on hiatus. About the show, Mitchell said, "Filming was my most comfortable state. Everybody was so welcoming when I joined the cast. The kids were great and so were the producers and director. Dakota, who plays Coop, and I really hit it off. It was so much fun. It was everything I expected it to be and more. It was awesome."
Amelia is in a recurring role on Disney Channel's "Sydney to The Max," about a young girl named Sydney and her dad Max.  Her character, Sophia, a friend of Sydney's, is introduced in episode ten. The show debuts at the end of January. "The first day on set, I was so excited, but also nervous because it was my first Disney Channel project. The kids were the nicest people I have ever met. They are all so humble, have great parents and they all work so well together. We know when to have a good time, but also when to be serious. One time, when they cut the cameras and the producers were talking, I remember staring into space thinking, 'Whoa, this is weird. This is going to be on TV, on the Disney Channel.' It was just a surreal moment. I was excited for the new journey and ready for it," Amelia exclaimed.
As far as the experience of being in a Disney Channel show itself, Mitchell said, "I grew up watching Disney Channel. It just looked like so much fun and I wanted to meet a good group of kids that shared the same passion I did. Who doesn't want to be on Disney Channel? Everybody knows Disney and that's like, crazy to know me and Amelia both are going to be on Disney Channel."
In addition to the twins' current projects and since it is pilot season, they are auditioning for TV shows and other projects they did in the past are just now bearing fruit. One is a short film Mitchell starred in, which he shot a year and a half ago, called "Play Date," which just made it into the Kids First Film Festival in New Mexico.
The twins are also hoping that a pilot they previously shot will eventually find an outlet. In it, they co-star with Crystal, a female Capuchin monkey, who is one of the biggest animal stars in Hollywood.Her acting career began as a baby monkey in the 1997 film "George of the Jungle." More recently, she portrayed the irritating monkey Dexter in the "Night at the Museum" franchise, and a drug-dealing monkey in "The Hangover Part II" In 2012, she played Dr. Rizzo on the sitcom "Animal Practice."
"It's about two kids and their dad who is a secret detective. He has a monkey and goes on this mission. They monkey is left behind and he disappears. The kids and the monkey have to work together to try and find him. Crystal is adorable. She is a boy in the show. She is so kind and sweet. She crawled all over us. She groomed our hair. She would scratch our backs. She was so cute," said Amelia, adding, "She is definitely one of the most famous celebrities we met. This girl's resume is long. It was such a cool experience. Crystal is a human in her mind. She doesn't like to be petted like a dog. She wants to be treated totally like a human. You have to talk to her like an adult. Also, she is kind of stuck up."
A project, which Mitchell did a reading of last year, may soon provide him with industry exposure. Titled "Irena Sendler, The Musical" by Megan Cavallari  and Kait Kerrigan, the production is directed by Jonah Platt, brother of "Dear Evan Hansen" star Ben Platt. Benefiting the Los Angeles Museum of the Holocaust, the musical tells the story of a Polish woman who risked her life to save over 4,000 children during the Holocaust. The performance, featuring the Los Angeles Jewish Symphony, conducted by Maestro Noreen Green to celebrate Holocaust Remembrance Day, will be held January 26 and 27 at the Los Angeles Museum of the Holocaust.
Looking to the future, the Wray twins shared their long-term goals. Amelia said, "I would like to be successful. One of my 2019 goals is to surround myself with positive people, not negative people who are going to bring me down and stuff like that. Every single person who is in my life now is so supportive. They don't care that I am making money as a 13 year old. Hopefully, I will meet more positive people. I think it would be so cool to do everything. I love singing. I do voice lessons all the time. Singing will always be one of my passions. I hope maybe someday I can get into a recording studio. Mitchell indicated he may find a career behind the camera when he said, "In my 20s, I see myself just having graduated from USC with a film degree. I see myself working for a huge film company making films. Winning Oscars is a dream goal. I hope to always be an actor as well. I started acting to be a film director. Stephen Spielberg is one of my idols."
Whatever happens in their careers, the Wray siblings are intent on staying grounded. "Mitchell and I talk every single day about staying humble and not letting money or fame go to our heads, so I am ready for it. I am telling myself that if I stay humble, am wise with my money and continue to work hard, I'll be fine," insisted Amelia. Mitchell concurred with his sister adding, "Staying humble is our number one priority. Not letting the fame go to our heads. I don't consider myself a celebrity. I think it is crazy that some people do; however, I got a little taste of fame doing 'Finding Neverland,' but that was enough to make me never lose sight of what is really important."
Follow both Amelia and Mitchell Wray on Facebook, Twitter and Instagram.