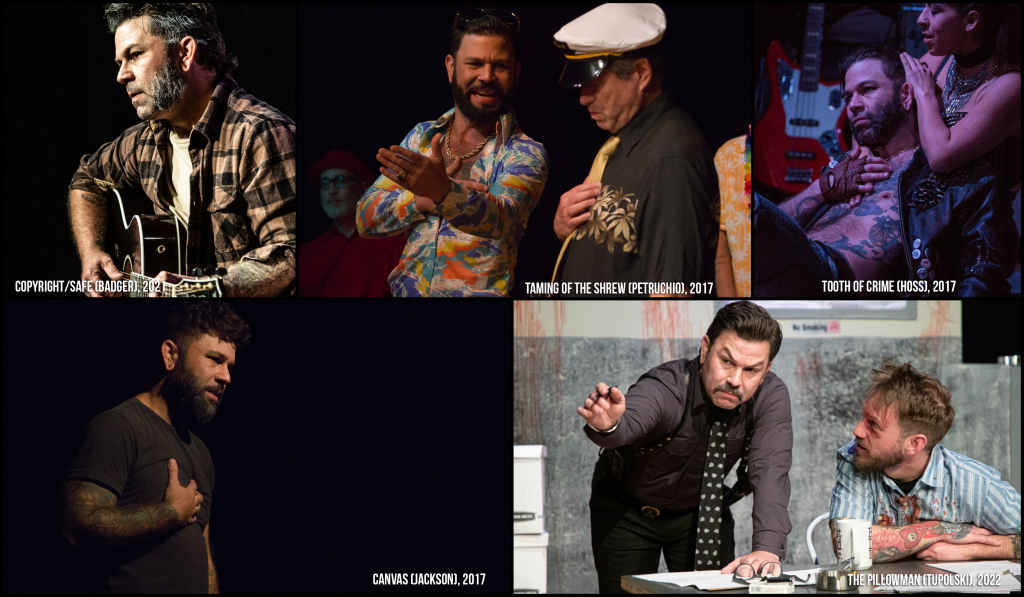 The first time I saw 42-year-old actor-singer David Pelsue on stage was in 2013 at White Rabbit Cabaret when he performed with Matt Kramer's comedy group Brozone/Boyband (an offshoot of Defiance Comedy), which included other popular local actors such as Logan Moore, Adam Tran, and Kyle McCord. At the time, I remember being captivated by both his talent and charismatic stage presence. After that I saw him in various shows, including a 2019 production of "Pippin," directed by Ty Stover, that I reviewed and in which I raved about Pelsue's acting and vocal performance. It remains one of the most memorable of my arts-reporting career.
Most recently, I saw Indy-native Pelsue perform in "Tortillo 3!: Sombrero's Revenge" in August at IndyFringe Theatre Festival. It was presented by Catalyst Repertory Theatre, of which he is a co-founder along with CRT artistic director, Casey Ross, and Taylor Cox. Once again, I was bowled over by Pelsue's potent performance and said as much in yet another positive review.
Seeing the 1998 Noblesville High School graduate, Pelsue, at the Fringe Festival prompted me to reach out to him. Having not met him in person and having admitted to many, including him, that I am a devoted fan, I was eager to learn more about the man behind the diverse characters I have seen him inhabit over the years.
Recently, the two of us met at Square Cat Vinyl, a coffee shop and record store in Fountain Square. At a table nestled near a small stage on which live performances are held, the soft-spoken Pelsue and I chatted about his background, interests, and Catalyst Repertory Theatre. Following is an edited transcript of our discussion.
When did you first realize that you wanted to be an actor?
It was a pretty young age, I remember. Music is my first love, and I remember being in first grade and my music teacher in elementary school pulled me aside one day and said, "I want you to know that you have natural musical ability and talent." First a singer, I later began playing the guitar when I was fourteen. So that was my first inclination that I had musical talent. So that started me down the path of really focusing and leaning on that talent and ability for music. In sixth grade, at Noblesville Junior High, the drama teacher, who was also my math teacher, reached out and said, "You should audition for our plays because just having you in class I can tell that it is part of your personality and your natural ability to be on stage and be a performer."  Consequently, I auditioned for the middle school play and was cast in the lead. The play was called "A Haunting We Will Go." I don't remember what my character was, (laughs) but that started it for me.
Where did you train?
I went to a small, private Christian school in Kentucky for a year-and-a-half and had a lot of musical training but had zero scholastic theatre training. I have picked up things and worked with a lot of directors and have filled my tool bag, but I am self-conscious at times that I don't have formal training.
What do you love about acting?
What I love about acting, and performing in general, is connecting and communicating with people, whatever that story is, message, show, or song is. I think that is the bug for me. It is that moment to be on a platform. To be on stage and tap into the emotion and communicate whatever that message is. I love connecting with people. I think that is what performing for me is. You get a real moment to have an intimate connection with people that you might not normally get in a regular conversation. So having that moment with people is really something.
Is it intimacy you're describing?
Yes, because I am very vulnerable. Even though I am hiding behind a character. I am very vulnerable on stage, and they are vulnerable because they brought themselves into that space to be open to whatever is going to happen on stage.
Who are you in your personal life?
On stage, it is easy for me to be vulnerable – transparent and wide open, whether it's being comedic, tragic, or in between. In my personal life, I am a little reclusive. The introverted part of myself is more dominant in my personal life whereas when I am on stage, I am extroverted. To do what I do on stage, I must recharge in my personal life. My wife is Adrienne. We just celebrated our two-year anniversary on September 5, but we have been together for 10 years. We have a son who will be three in December. His name is Wilder Rose. We both have an affinity – we have an affinity for flowers – thus, his middle name.
Is he a mini-me?
He is a blend of Adrienne and me. I think he takes on the stronger parts of our personalities.
What is it like watching him grow up?
It's mind blowing. It's very fascinating.
Tell me about your music. I understand you play a lot of honky-tonks.
I play in a hard rock cover band. That's a different life. It's called Fareway. I am the lead singer. We play a lot of bars in all parts of the city. We play three to four times a month. We do 80s, 90s and all the way up. We don't go much deeper than the 80s. We do groups such as Foo Fighters which is more mainstream rock, SIXX: A.M. and some Guns and Roses.
How did a nice Christian boy like you end up playing in a hard rock band?
I just evolved. (laughs)
It sounds as though you enjoy going back and forth between your theatre and music lives.
Absolutely. I especially love the cover-band thing. During a set in one night, we cover 30 artists, so I get to play 30 different roles in one night from song to song, and that is a fun thing for me. It's a different world, but I get to be a character like I do in a play but bring myself into it.
I also understand you are a talented designer.
I'm a general contractor. I do some design, but I am just the guy who follows the design and does the work.
Let's talk about Catalyst Repertory Theatre, which you co-founded with Casey Ross. Why do you think some call it a best-kept secret?
I don't know. It is not just with Catalyst though. It is just this way with artists and art mediums in general. You work for years, and you can't figure out why nobody recognizes it and sees it. Then, suddenly you get recognition followed by a growth spurt.
When and how did you meet Casey Ross?
I am terrible with dates. It was for a Fringe show. Maybe 2013 or 14. She was doing a Fringe show. I had never met or heard of Casey. I had just recently dipped my toe back into acting, and I saw an audition post for this show, so I went. I had done Fringe the previous year and was really turned on to the Fringe Festival So I went to the audition and that's when I met Casey. She cast me in the show that was called "Solidarity." She wrote it and Dane Rogers directed it. For the audition, I just cold read a side from the script, and just reading it, I realized that this woman has some talent. She could write. I really enjoyed her writing, and I loved the show and from there I kind of just always had Casey on my radar as far as the new things she was writing, and I think vice versa.
She just continued to use me and cast me for the shows she was doing, and it developed from there. I worked a lot with Casey, and I think we just share a lot of the same passion and ideals when it comes to the type of theatre that we want to produce and present to people. I think our relationship was kind of a natural evolution that we would be partners and good teammates.  We both realize that, and that is why I invest my time with Catalyst and Casey and what she is doing, and I think likewise for her. So that's how it started, and it has just evolved from there. We have continued to collaborate and work together and balance our individual strengths and weaknesses out, along with Taylor Cox our other collaborator.
How would you describe Casey?
I would describe her as an extremely talented playwright. She also is great at marketing and talented in graphic design and design in general. She is an artist and a damn good one. That's how I would describe her. She is very resourceful and very loyal to her craft and her art. As a friend she is very loyal and committed.  A very hard worker, Casey puts everything she can into the project she is working on.
What can you tell me about Taylor Cox, your other CRT team member?
Taylor is a great artist, friend & scene partner. He brings a good managerial mind to CRT as well as a keen eye for a great script or adaptation idea. He's really good at thinking outside the box when it comes to approaching a script or story.
What is the Catalyst vision?
It speaks for itself in our upcoming 2022-2023 season. It's important to do new work but bring a new Catalyst approach to older and more classical pieces of theatre, too. Next season, we are presenting Tennessee Williams' "Streetcar Named Desire" and a cult classic Broadway musical by Barry Keating, called "Starmites." They are not new pieces, but Catalyst doesn't do anything without adding our own touch, our own spin on things. We are also doing the world premiere of Casey's new play, "Bat in The Wind," a study on depression and addiction. That's our vision – just doing things that are new, things that are different and trying to do them well. For me, that is a huge part of what I hope and want to bring to anything I do – I want to do it well. I think it is easy to be sloppy and do things half-assed, but I like to be excellent if I can.
Like other arts organizations, did Catalyst use the COVID lockdown as a time to do soul searching?
Yes, that was a time when theatre was dead, and we weren't sure when it was going to come back but that was a good time to strategize and refocus and say to ourselves, "If and when this thing comes back and we are able to do things, let's be ready and well-equipped with a plan to succeed and grow."
And what is that plan?
A lot of this was Casey. I must give her the credit because she is the hardest worker among us. I think it was just growing up and maturing the company, getting our ducks in a row and just really approaching this with intention to succeed and to be a more professional theatre and production company.
Why did it take so long to reach those conclusions?
I think it was a mixture of us growing and maturing as individuals. That, and hitting those frustrations and ceilings and those walls. You put your blood, sweat, tears, and money into your show and you have 15 to 20 people seeing it every weekend. You have to say, "Either we do something else, or we pivot or re-strategize to make this something it isn't currently."
When it comes to casting will CTR continue going the repertory route?
Casey is always on the search for bringing new people to the fold. I love the repertory concept, but I don't think it's some religious system for us where we are. It is constantly growing. We may and have gotten criticism for that, but our auditions are always open. Some roles or some shows might be precast, and sometimes we have conceptions for people we want to put in shows. I love finding new talent and new actors and new people to work with. As much as we love the company that we use and work with often, bringing in new talent is equally as important. I think as an actor it's beneficial and very important to work with new people because for me as an actor it helps me grow and expand my onstage tools.
What do you foresee in Catalyst's future?
I foresee continued growth. My hope for Catalyst is that it can become more of a professional entity and maybe even find a permanent space. Obviously, I think Taylor, Casey, and I would like to have a theatre company that is a fully functional theatre company that is professional, sustainable, and becomes a staple in the city. As much as we love just putting on shows and performing, doing our part to support and sustain the arts and theatre in our community is just as important.
For more information about Catalyst Repertory Theatre and its 2022-2023 season, visit catalystrepertory.org