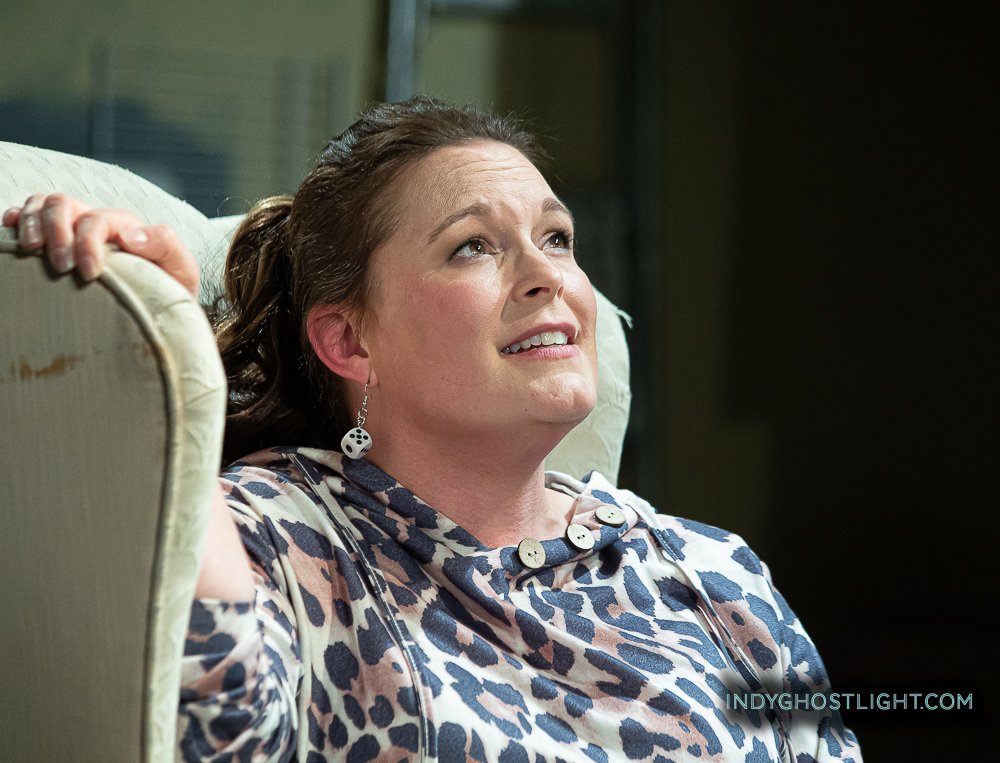 Carrie Ann Schlatter – Courtesy of Rob Slaven. Used with permission.
In addition to the fact that "Natural Shocks," currently playing at Fonseca Theatre, focuses on critical social issues that require our attention, another reason to see it is the bravura performance of Carrie Ann Schlatter. Presented by Southbank Theatre Company, the drama, which has been described as "a comedy until it isn't," is by playwright Lauren Gunderson.
Proving that actors often function well as directors is the work of Eric Bryant, who oversaw the production with deftness and sensitivity. Bryant is also responsible for the inspired casting of Schlatter who has distinguished herself in various other productions around Indy that I have previously reviewed.  The very fact that Schlatter commands the stage in what is essentially a seventy-minute stream-of-consciousness monologue is a tremendous feat but doing so with the subtle shading that she brings to it made her performance especially memorable.
Schlatter plays Angela, who at the onset of the play takes refuge from an approaching tornado and begins talking directly to the audience, sharing jokes, her success in her professional career in insurance, her relationship with her mother, her interest in statistics, dice, and probability. Slowly, however, it becomes evident that the storm outside is a metaphor for the true state of her life that is filled with regrets, fear, and dread. The reference for the play's title originates from the famous "To be or not to be" soliloquy from "Hamlet" (Act 3, Scene 1), which uses the phrase, "The heartache and the thousand natural shocks/That flesh is heir to." It's a quote that Angela makes frequent reference to and that relates to her story, in which she asks herself the question, "Whether tis nobler in the mind to suffer/The slings and arrows of outrageous fortune/Or to take arms against a sea of troubles." In addition to Angela's Shakespeare reference, she sings lyrics from "Get Happy," made famous by Judy Garland, with lyrics advising, "forget your troubles." The song's lyrics relate to Angela's denial, self-deception, and the consequences of decisions she's made, resulting in the harrowing events that brought her to the basement where she "gets ready for the judgement day." The ominous sentiments Angela expresses ultimately address the epidemic of domestic abuse and gun violence that exist in our society.
As far as Schlatter's performance, the meandering stream-of-consciousness narrative might have caused me to lose attention, but to my surprise, the exact opposite occurred. Owing to the talented Schlatter's exceptional performance in which she displayed uncommon nuance, I was thoroughly engaged and drawn into Angela's story.
In the early 70s while employed at WRTV Channel 6, I produced and directed a documentary about domestic violence, which was the very first local television special program to address the topic. The biggest challenge, at the time, was finding a victim who was willing to appear on camera to share her trauma. When we finally located the individual in question, she agreed to participate only on condition that she would be shown in silhouette, not only to protect herself from her abuser, but also because of the profound shame she felt as a victim. Now, of course, all these years later, the problem of domestic violence is still very prevalent in our society, leaving me to wonder how much progress actually has been made, even though victims are more willing to openly share their experiences, shelters for abused women are more common, and police and the courts hold perpetrators accountable. Though "Natural Shocks" covers familiar territory, nevertheless it imparts a message that hopefully will resonate with anyone directly affected by domestic violence and everyone else who has a stake in an issue that still adversely affects us all.
For tickets and information about "Natural Shocks" which runs through Nov. 20 at Fonseca Theatre Company, visit southbanktheatre.org.