The presentation of "Charlie and the Chocolate Factory," which is currently playing at Clowes Memorial Hall until Sunday Nov. 24, marks the return of the Broadway in Indianapolis series from its hiatus during the pandemic since the spring of 2020.
I saw the opening-night performance on Tuesday night, so this review is a bit late, but I hope readers who have yet to see it will take this opportunity to catch this show, which is totally family friendly. Having said that, I nevertheless should offer a small caveat. The story is a bit dark, in a quirky sort of way, so if you are bringing children, be prepared to do some explaining about some of the plot, especially for children too young to appreciate the show's offbeat humor.
Of course, I do not want to give any spoilers, but anyone who saw the 1971 film "Willy Wonka and the Chocolate Factory," starring Gene Wilder, based on the 1964 novel by Roald Dahl, already knows the story. Dahl's fantasy novel is also the basis for the stage musical. With a book by David Greig, music by Marc Shaiman, and lyrics by Shaiman and Scott Wittman, "Charlie and the Chocolate Factory" includes songs from the film version. The musical tells the story of Charlie Bucket, a young boy who comes from a poor, but loving family, and would love nothing more than to find a golden ticket to enter the amazing chocolate factory run by inventor and owner Willy Wonka. Luckily, Charlie finds the last golden ticket and goes on the once-in-a-lifetime adventure with his Grandpa Joe. Even though some of Charlie's fellow contestant come to untimely endings, which are bizarre, because of its positive message, the story is charming and uplifting.
To cast the lead character, the producers of this production had to choose a performer who could convey the larger-than-life persona that is Willy Wonka, and in the case of this production, they could not have picked a better performer than Cody Garcia. The tall and lanky Garcia, who exhibits strong acting, dancing and singing abilities, displayed their versatility in a performance that was thoroughly captivating and entertaining.
The young actor Coleman Summers, who alternates with two other actors in the same role, performed on opening night. He shined as the poor, humble and selfless kid, Charlie Bucket, who selflessly thinks only of his family and because of his good deeds, is ultimately rewarded.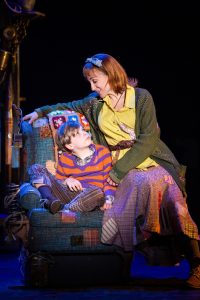 Ideally cast as loving Uncle Joe is Steve McCoy, as well as Clare Leyden as Charlie's doting mother Mrs. Bucket, and Domanick Anton Hubbard as Mrs. Green, a sassy street vendor. The remainder of the cast, which numbers 30 members, all showed exceptional talent as they sang, accompanied by an 8-piece crack orchestra under the supervision of Nate Patten, and dancing to the original choreography of Joshua Bergasse with Alison Solomon. Responsible for the show's fine direction was Matt Lenz.
As far as the show's technical elements, one can only marvel at how the tour can move all its equipment, sets, costumes, etc. from city to city. Duplicating what was originally designed for the original Broadway productions, these touring shows are giving local audiences exactly what they would see in New York, unless local venues cannot accommodate them due to space limitations. And that is the beauty of "Charlie and the Chocolate Factory." Not only are you seeing a show that originated on Broadway, but you're having the same experience without having to travel to Manhattan. Finally, you have the wonderful opportunity, especially if you bring children, to transport them and, an yourself of course,  with the help of the Candy Man, for a few hours of total wonder and "Pure Imagination."
"Charlie & The Chocolate Factory" is playing at Clowes Memorial Hall at Butler Arts Center in Indianapolis through Sunday, Oct 24, 2021. Tickets are available at Indianapolis.broadway.com and Ticketmaster. The remaining performance schedule is Saturday at 8:00 p.m., and Sunday at 1:00 p.m. and 6:30 p.m.