Actor-singer-songwriter Telly Leung is finally getting his chance to play The Cabaret, where he had previously been booked for a 2020 engagement before it was canceled during the pandemic. Now it's time for a redo when Leung and his trio make their debut appearance in "Telly Leung with the Telly Leung Quartet" on Friday, October 22 at 8:00 p.m. and Saturday, October 23 at 7:00 p.m. and 9:30 p.m. At press time there are only tickets available for the Saturday 9:30 p.m. show. 
For those not familiar with Leung, he first became widely known for his role on the TV hit "Glee" playing West, a member of the Dalton Academy "Warblers." Later, he went on to star in the Broadway production of "Allegiance" and, most recently, played the titular role in "Aladdin."
Leung's appearance at The Cabaret is especially meaningful because Indianapolis happens to be the hometown of his husband of 17 years, James "Jimmy" Babcock. That means he has many local ties, many of whom will, no doubt, be in the audience at his three shows.
In advance of his homecoming, I had the chance to do a Zoom interview with Leung from his New York home. Below is an edited transcript of our chat.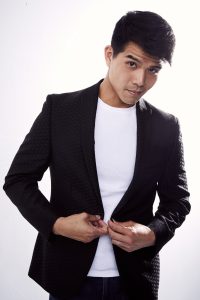 Have you seen any Broadway shows since the re-openings?
I was there opening night of "Aladdin" on September 29, just to be a fan. It was fantastic. I sort of chose not to go to a Broadway show until "Aladdin" because I wanted it to be my first Broadway show so I could cheer on so many of my Broadway friends, who are still in the cast. It was great and an electric performance. It was awesome.
Did you attend the Tony Awards?
I certainly was there. I did a fun hosting job for the American Theatre Wing of the Tony Awards. City National is the main sponsor of the Tony Awards and decided to have a backstage, first-impression tent outdoors to keep it safe. It was my job to interview the winners 30 seconds after they won a Tony and catch their first impressions. You can watch all that on YouTube.
Did you know many of the people you interviewed?
Having been on Broadway for the last 20 years, I did know many of them. They picked me because they wanted someone who was quick on their feet. I had been on the red carpet at the Tony's for Good Morning America. They wanted someone from the community who knew the nominees, so they would have a real authentic moment with them to be happy and to celebrate this amazing thing that happened to them 30 seconds after they won. I was very honored that I got that very unique perspective. The Tony Awards are at the Winter Garden Theatre and because of COVID, the makeup tent and the holding tent were outside the theatre. I had my own tent that was decked out for the winners to hang out with me before they would then take a car to go to another area for the press and then take another car back to the theatre to their seats or go back and get ready to perform.
Are you familiar with The Cabaret?
Yes, I am familiar because I have so many friends who have performed there and I am itching to do so myself. Going there for the past 17 years, I feel like I am from Indy. I feel like I have such a connection there. I was excited when they asked me to be a part of their season and it worked out. I was supposed to be there much earlier, right after I finished "Aladdin," but of course with everything happening with the world they had to postpone it. I am glad I get this opportunity. 
When did you start performing cabaret?
Frankly, I started doing cabaret when I was at Carnegie Mellon, when I was in college. Carnegie pays for your showcase in New York. They will cover the cost of travel and hotel, but for the showcase in L.A., each person must pay their own way. So even in college, I would take all the theatre majors in college with me and book them in jazz clubs all over Pittsburgh. On spring break, we would go to NYC and go to places like Don't Tell Mama and then we would take that money and put it into the pot. At the time, I did the math and figured out that we raised $800 to $1,000 per person in our class. Nobody had to pay to go to L.A. We were already hundreds of thousands of dollars in debt for college. To add the extra expense of going to L.A., some people could afford it and some people could not, so we said, "Let's just find a way we can pay everybody." And we just did. That. Our class really pulled together and through all the cabarets, I would produce and book out my friends to clubs in Pittsburgh and Don't Tell Mama. We also did drag shows at the gay club in Pittsburgh. We also made a Christmas album, so in some ways, even in my senior year of college, I spent the most time standing in front of a Xerox machine in my voice teacher's closet because there was no PDF at the time. You had to Xerox the scores and I would put together shows. I was one of those lucky kids who graduated college with a Broadway show…the revival of "Flower Drum Song," which only ran four months.
Speaking of Carnegie Mellon, what did you think of the reference to the school by Leslie Odom Jr. and Josh Groban during the intro to their duet on the Tony's?
Josh Groban and Odom were in the class behind me. Megan Hilty and Billy Porter, who are also my friends, went there too. Going to college and having Billy direct my senior show was great and he is responsible for me being in my first Broadway show. He picked up the phone and said, "I have these great Asian actors in my company, and they have no agent, so you should audition them and that's how I got my first Broadway show, "Flower Drum Song."
Doing my first Broadway show was great, but the reality is no one is on Broadway forever. The show only ran four months and then I had nothing. Then, cabaret came around because I said, "There is no show I am doing, so I might as well put on my own," and that was the beginning of me putting on my own show. I called up my friends at Don't Tell Mama and they booked my shows, so that is when it started. I charged $8 as a cover so I could pay my pianist.
What will your show at The Cabaret consist of?
Over the course of my time doing Broadway shows, I have met some incredible musicians who work in the Broadway pits and so part of the fun of doing cabaret is taking songs that we all know and love. Getting together with some of these amazing musicians and producing interesting arrangements, so they feel fresh, such as songs that are classic, like "Leaving on a Jet Plane." We can find a brand-new way to do even a song like that and make people say, "Oh, I know that song and yet here it completely different." And so, I am bringing three of Broadway's best musicians with me. We have done many concerts and have made three albums together.
It is just an evening with the quartet. It is my first gig with the trio since COVID. You get all this great stuff when you get great musicians together. We love this Sondheim sound and ask ourselves, "What are we going to do with it?" or the same with a John Denver song. The show is just a result of us being in those rehearsal rooms together producing these great arrangements. There is going to be some Kander and Ebb in the show, which I really love. There is going to be some Sondheim in the show. Some Billy Joel. Some Jerry Herman. Those are some of the people I pulled from, but done in a musically different way than you have heard it before. There are going to be some things from "Aladdin" and maybe a song from "Allegiance." With a setlist, it is interesting because with these great musicians, if I wanted to change a setlist from show to show, I could because they played with me forever. Sometimes, if we are doing several shows, like we are in Indiana, I'll say, "Hey guys, tonight's set is slightly different, so we are going to put this song here. We haven't done this one in a while." So, we are able to switch it around because I played with these guys for so long.
Do you stay in touch with George Takei?
I do. I love George. The "Allegiance" company is very close. I worked with George on that show for six-plus years before I got to Broadway. He and his partner Brad are family to Jimmy and me. Like them, we are in an interracial relationship and for us, coming out as a couple and getting married, we were inspired by George and Brad, who were among the first gay couples to marry. I am also very close to Lea Salonga. As a matter of fact, I just saw her at the Tony's. The cameras caught us hugging each other for the first time in three years.
What are your thoughts about anti-Asian violence?
We are living in times that are scary and unstable and, in some ways, it reminds me of "Allegiance."  When the bombing of Pearl Harbor happened, it was very easy to point fingers and say "those people" were responsible and not separating a Japanese regime from the Japanese-American people who were in America. Egregiously, they were all taken from their homes and placed in Japanese-American internment camps. I think we are living in times right now where there is a lot of instability, and we are living in times of hysteria, fear and prejudice. It is very easy to point fingers at my community and say, "You are responsible for this virus that has affected our livelihoods." Not really understanding that this is a global problem and that we have a global responsibility to correct it. So yes, I very much feel that now. I never thought I would walk down the streets of New York and feel nervous about my safety, but I do. I do.
Have you had any scary encounters?
Yes, crazy people yelling at you in the street, screaming "Go back to China!" Of course, I have heard that. Of course. My parents have heard that. They live in Brooklyn and have lived there for 40-plus years and had never worried about their safety and they worry about it too. Now, they think twice about going to the grocery store.
How about gay slurs?
What gay person hasn't been called "faggot" at some point in their life? Yes, it has happened. And in some ways, as an artist, you can let those words defeat you or you can turn those words into some sort of artistry or some sort of action that helps other people. That is what I decided to do. Yes, all this hatred has been thrown at me. The slurs and violence do get thrown at me. I must, sort of, turn that around. This is hurtful. This pain must be for some reason. And I hope to channel this in some way into the music I make and the stories I tell. I want to be authentic about telling people my experiences and not shying from it, but telling people so that maybe that next person won't feel so alone. Isn't that what art is about?
Looking forward to performing in front of a live audience again?
Absolutely. I spent most of 2019 getting on a plane and doing a lot of concerts when I left "Aladdin." It was a hard show to do, and your body hurts, and your voice is tired and it feels sometimes like a job. You better believe after 18 months of not having those things, all of us who are live performers have a deeper appreciation. You will not hear me complain about getting on another flight or being in another hotel room ever again. When it is taken away from you like that, you sort of realize…I have many friends who, like in 18 months, who realized, "This is not for me. I am going to have babies. This is not for me.  I am going to change professions."  Like Daniel Klingler, from Indy, who was the wig master for "Aladdin" and left New York to do something else for his fulfillment and happiness and that is OK too. Me personally, I am relishing every opportunity to be in front of a live audience. I will say with "Aladdin" opening, they opened and then they closed the next night. We are still in a transitional time, trying to figure out how to do that safely. So, I think we are all tiptoeing in the water right now and not taking the full plunge, only because there is so much that is unknown and we want to make sure that if I am going to gather people together to hear me sing, we are going to do it in a safe way. So, I am thrilled everybody has to be vaccinated and all that and it makes me happy that all those things are in place.
Any message to Indy?
Really, it is my family. My brother-in-law is a firefighter there in Broad Ripple. I am just connected to the community. Jimmy's family has become my family in the last 17 years. I have spent many Christmases in Indy and Zionsville and Bloomington. My sister-in-law, Jimmy's sister, has an inn and restaurant, Scenic View in Bloomington. It is home.
For tickets and information about the 2021-22 season at The Cabaret, visit thecabaret.org.