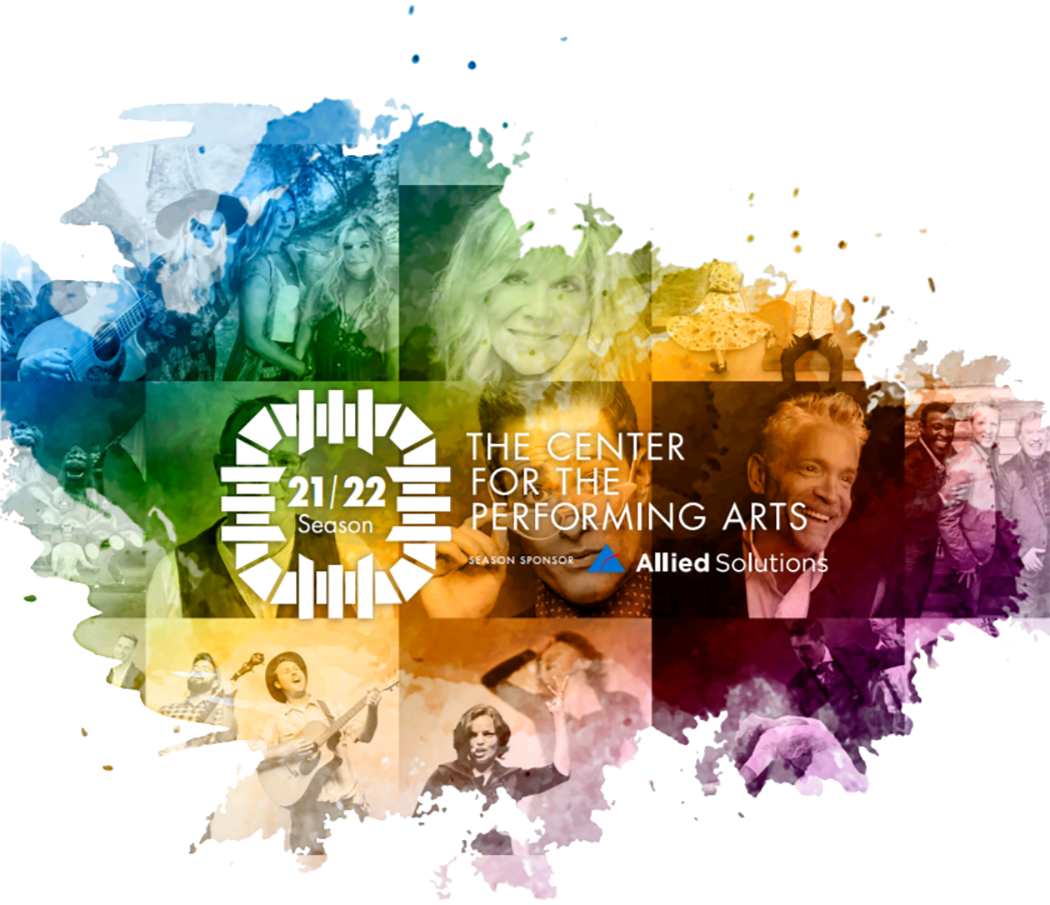 The Center for the Performing Arts in Carmel announced a return to full-capacity concerts for the 2021-2022 season, during which a wide variety of national and international artists will appear. "We've never been closed, but we certainly have done things differently," said president & CEO Jeff McDermott. "To bring back live audiences with live shows…it's almost emotional for us. Hearing applause again will really be welcome. We look forward to the future and being all together again. The Center will be back with a full season and full audiences and our expectations are that social distancing and masks will be a thing of the past, we hope."
McDermott also spoke to the eclectic nature of the Center's upcoming season. "There are a variety of genres. Something we are really proud of, and have been doing for the last couple of years, is we have programmed something for everybody," he said. "Whether it's pop, rock, comedy, country, jazz, classical, Great American Songbook, or our international offerings, there is literally something for everybody." The 2021-22 "Center Presents" season sponsored by Allied Solutions includes nearly 40 events in the usual range of genres, including the Palladium debuts of eclectic singer-songwriters Ben Folds and Rufus Wainwright; the country sounds of Clint Black and Farewell Angelina; rescheduled dates with humorist David Sedaris and the Jazz at Lincoln Center Orchestra with Wynton Marsalis; and classical outings with legendary violinist Itzhak Perlman and American Pianists Association award winner Sean Chen.
The schedule also includes variety shows from Pink Martini, Postmodern Jukebox and The Company Men; musical satire with YouTube star Randy Rainbow; tributes to the Beatles and George Michael; holiday shows from Debby Boone and Dave Koz; performances inspired by Latino and Irish folk traditions; and dazzling feats of acrobatics, magic and percussion for families to enjoy together. A full list is included below and more performances will be added throughout the season.
DREWRY SIMMONS VORNEHM JAZZ SERIES
Brubeck Brothers Quartet: Dave Brubeck Centennial Celebration, Oct. 2
Zach Brock Quartet, Feb. 5
Jazz at Lincoln Center Orchestra with Wynton Marsalis, Feb. 27
Vocalist Stacey Kent, March 20
Pianist Matthew Whitaker, April 30
FAEGRE DRINKER ENCORE SERIES
Randy Rainbow: The Pink Glasses Tour, Oct. 7
HOOSIER VILLAGE SONGBOOK SERIES
An Evening with Michael Feinstein and Guest Sandi Patty, May 7
KATZ, SAPPER & MILLER POP/ROCK SERIES
Rufus Wainwright & José González: Unfollow the Rules in the Local Valley Tour, Sept. 25
Ben Folds: In Actual Person Live for Real Tour, Nov. 12
Scott Bradlee's Postmodern Jukebox: The Grand Reopening Tour, Dec. 10
The Company Men, Feb. 18
The Life and Music of George Michael, March 5
1964, The Tribute, March 11
Croce Plays Croce, March 19
PRINTING PARTNERS CLASSICAL SERIES
Sean Chen, piano, Nov. 19
Berlin Philharmonic Piano Quartet, Jan. 20
Polish Wieniawski Philharmonic Orchestra, Feb. 25
Sphinx Virtuosi, March 19
An Evening with Itzhak Perlman, April 9
TELAMON PASSPORT SERIES
Pink Martini featuring China Forbes, Oct. 23
Brazilian All-Stars, Nov. 5
Tango Argentina, Jan. 28
Piaf! The Show, Feb. 10
Socks in the Frying Pan, March 20
Las Cafeteras, April 8
COUNTRY SERIES
An Evening with Clint Black, Oct. 24
Farewell Angelina, March 4
AMERICANA SERIES
Henhouse Prowlers, March 18
HOLIDAY SERIES
Debby Boone: A Debby Boone White Christmas, Dec. 4
Dave Koz & Friends Christmas Tour 2021, Dec. 11
The King's Singers – Holiday, Dec. 12
FAMILY SERIES
Buckets N Boards Comedy Percussion Show, Oct. 17
Magician David Williamson, Jan. 22
Okee Dokee Brothers, March 5
Peking Acrobats, March 26
SPECIAL EVENTS
Gaither Vocal Band, Nov. 6
An Evening with David Sedaris, Dec. 15
For those who have yet to discover the crown jewel of Central Indiana's performing arts scene, here is what you can expect when you visit the Center. "It's a very welcoming place," brags McDermott. "We sort of have a Disney mentality. When you come here, you can expect to be treated with great hospitality. Our venues are state of the art. We are ten years old, but we make sure that everything is fresh and new. When you walk in, you would think we just opened yesterday. It's a beautiful, beautiful facility."
Visit TheCenterPresents.org/SubscribeNow for more information on subscription packages and benefits. Buy tickets online at TheCenterPresents.org, by phone at (317) 843-3800 or toll-free (877) 909-2787, or in person at the Palladium box office, 1 Carter Green, Carmel.