As soon as I walked into the Upperstage at Indiana Repertory Theatre on Friday, I noticed a casually dressed young man, carrying a box from which he was handing out scraps of paper to audience members scattered throughout the house. I thought it odd, until I remembered that the show was a one-man presentation and the fellow in question was, no doubt, its star. And once I took my seat and glanced at his photo in the program, I saw that, indeed, it was Marcus Truschinski, the actor who plays The Man in the one-act play, co-written by British playwright Duncan Macmillan and comedian Jonny Donahoe.
Shortly after I made that identification, Truschinski made his way to me and my guest to hand one of us (I deferred to my friend) a photo of a loaf of French bread and cheese with "#324 Nina Simone's Voice" printed over it. He explained that during the show, he would call that number, at which time my friend was expected to read the text and speak loudly. It was then I realized audience participation was part of the proceedings. Though I am myself an actor, I am not too keen on audience participation, but as it turned out, it was that very element of the show, plus its unpredictability, that I found most appealing.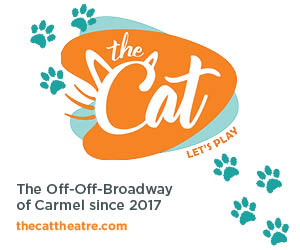 Deftly directed by Tim Ocel, the heartwarming and often sweet play tells the story of a seven-year-old boy who deals with the trauma of his mother's attempted suicide and a father who is unemotionally available. He creates a list of everything that makes him happy and makes life worth living, initially, to share with his mother. His list of "brilliant things" also helps him cope with the same depression that haunts her, as we follow him through his first experience with death, his school years, another of his mother's suicide attempts, and falling in and out of love. Throughout his life, he employs the list to help him stay positive and overcome his own emotional challenges.
Throughout the one hour and 15 minute long one-act play, we hear entries from the list such as rainbows, ice cream, roller coasters, dancing in public, friendly cats, and numerous other seemingly inconsequential things from those who were selected to read them aloud before the show. And during what is essentially a monologue, The Man also selects individuals who become ad-hoc cast members, playing such figures as the boy's father, girlfriend, school counselor and a vet.
Truschinski, who was impressive in previous IRT shows "The Mystery of Irma Vep" and "Hound of the Baskervilles," showed skill at charming people into reading the cards and was especially effective at improvising with those he selected to play characters. Most of them seemed not only relaxed, but they also turned in surprisingly measured, believable performances. Truschinski himself gave an astonishing performance, managing what is essentially a monologue, the numbers on the list and the improvisation with audience members. Here was an actor with supreme confidence.
The play, with its focus on depression and suicide, is sometimes sad, but because it is told with laughter and joy, its focus on issues related to mental health, existential crisis, love, life and family are easier to digest. And who knows? Someone seeing "Every Brilliant Thing" who may be suffering from depression or contemplating suicide might even be uplifted by its message of hope and ultimately choose life over the alternative.
For tickets and information about "Every Brilliant Thing" call (317) 635-5252 or visit irtlive.com.