One of my favorite drives is one that takes me past the imposing, classical-style Thomas Taggart Memorial on scenic Burdsal Parkway, located in Riverside Park on the city's Near Westside. But when I do, I am inevitably saddened when I witness the monument's dilapidated condition. And for the ten years that I have attended shows presented in White River State Park, first presented by HART (Heartland Actors Repertory Theatre) and most recently, Indianapolis Shakespeare Company (Indy Shakes), it has been one of my favorite summer performing arts activities. Consequently, there was no one happier than me to learn the news that Lilly Endowment had awarded a $9.2 million grant to not only restore the Taggart Memorial, but to make it a stunning backdrop for a new outdoor amphitheater. And the best news of all was that the 650-seat, terraced venue, with additional lawn seating, would be the new home of Indy Shakes.
Presented by Lilly Endowment last month, the grant was awarded to Indianapolis Parks Foundation, which is partnering with Indy Shakes, Indy Parks and Recreation, and Indiana Landmarks on the amphitheater venue, which will be part of a 20-year, $120 million master plan to transform and repurpose the park, that opened in 1899 and was once a jewel of the Indy Parks system. The memorial, dedicated in 1931, was built to honor Thomas Taggart, an Irish immigrant who was Indianapolis mayor from 1895 to 1901 and founded the park.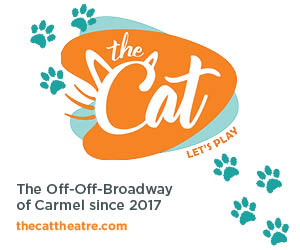 $4.2 million of the grant will go toward costs to restore the monument. $4.5 million will be used to build the amphitheater, including a stage, storage rooms, actors' restrooms and changing areas, seating, perimeter fencing, a sound/lighting booth and public restrooms. $510,185 will pay for programming, capacity building and sustainability.
As soon as I heard the happy news, I reached out to Diane Timmerman, Indy Shakes producing artistic director since 2013, to congratulate her and request an interview. We met in her office at Butler University, where she is the chair of the theatre department and a professor. Herein is an edited transcript of our conversation.
How did this all come about?
There's a lot of backstory, but from the Indy Shakes perspective, we have been looking around Indy for a couple of years trying to find a place where we could have a permanent home. We have loved producing in White River State Park. It has been fantastic. It's been wonderful to be downtown. There are so many wonderful things about the venue, but at the end of the day, the audience really does stare into the setting sun for the first hour of our performances and for all of the pre-show stuff. The trajectory of where the stage needs to be located in relation to the setting sun is pretty tough for people. That means the first half of most of our productions is almost like a shadow, unless you happen to be there on a night when there is a bit of a cloud cover and you are sitting way off to the side. We have never liked that about the space. Another reason to move is that the lawn concert venue at White River State Park is becoming increasingly more programmed. It's great for the city, but we can't overlap with them because of the sound bleed. We knew we wanted to expand and that wouldn't be possible there.
We were looking for a long time. We had received a strategic planning grant from Lilly Endowment years ago to really figure out what our trajectory was going to be and grow up a bit as an organization. That is when we rebranded from HART to Indy Shakes. We really solidified the idea that our primary purpose was to produce Shakespeare in the summers. During that strategic process, we also thought more intentionally about finding a new space. So, we looked all over the city and met with just about every person or institution that has a greenspace or concrete space in the Greater Indianapolis area. For theatre, particularly Shakespeare, you really have to hear and see it well. So, we needed a place that either already had good sight lines and ways to hear, or was a space that was open to us creating an amphitheater and changing the landscape, if needed.
What were the roadblocks?
At the end of the day, every idea we explored came up short for one reason or another, or it just didn't work out. At that moment, Lilly announced the arts & culture grants. Coincidentally, we had been talking with Indy Parks for a year and a half, going to all the parks and meeting with all the personnel, looking at everything and brainstorming with them. Then, we all thought "What about Riverside?" Riverside had conducted its own master plan, which is stunningly beautiful. Groups of neighborhood citizens, the city, RATIO architects, and parks personnel had all come together and developed a Riverside master plan. The goal was to make Riverside Park the Central Park of Indianapolis and to really restore a lot of its former glory. It was a big draw in the previous century. It's already a vibrant park right now, but the goal was to really get the infrastructure spruced up and that included talking about the Taggart Memorial. Then, of course, Indiana Landmarks had done some very deep, involved studies of what it would take to fix the Taggart Memorial and they have been working on that for many years. They have full plans on everything that would need to happen to rehabilitate it.
What can you tell me about Thomas Taggart?
He is called the "Father of the Indianapolis Parks system." He was apparently an amazing person. He was an Irish immigrant, who worked in the hotel business, learning it from the ground up. I always wondered why the Indiana Democratic Party went to French Lick Resort for its annual retreat. He built that. So, he was an early hotel person and was apparently a very generous, across-the-aisle kind of politician. When he ran for his second term as mayor of Indianapolis, which he ultimately won, he saw his opponent, a young man with a family, and said "Oh, you don't have the money to pay for this? I'll pay for your campaign." He was that kind of person.
How did you connect with Indiana Landmarks?
When Riverside Park and its master plan came to the front of everybody's thinking, I met with Indiana Landmarks President Marsh Davis, who asked me what we had in mind and I said, "Well, we would be happy to come as far west of the Memorial as you want and put something in. We would like the audience to face toward the memorial. The river will be to the audience's back and they'll be looking toward the memorial, looking east." And he said, "Why would you want to come farther west of the memorial? Couldn't you use the memorial as part of the stage?" I was shocked and said, "We would love to! I just never imagined with such a historic structure that anyone would be allowed to." He said, "No, the way the documents regarding this memorial read and the wishes of the Taggart family indicate, this would beautifully honor the Taggart family and be great if it could truly be incorporated into the structure." It was amazing. I was shocked and so happy. So, everyone who was involved in the original master plan, we all got together when we made it to the second round in June and we had just a quick couple of months to put everything together.
What has been the Riverside Neighborhood reaction?
The Riverside Civic League is one of the primary voices for the neighborhood. It's a very vibrant neighborhood, so there are a lot of organizations and churches. Part of the Riverside master plan was to infuse the parks with arts. It's an extremely active park, both in the community center and the grounds itself. I presented at a civic league meeting earlier this fall and people were super excited. At that point, we didn't know if we were getting a grant, but we knew that we would move there regardless, that it would be our new home. So, we are working with the Riverside Neighborhood and Riverside leadership to see how we can fit into an already-vibrant community. There is a lot going on. For example, their summer camps for kids are terrific. They are well attended and very well run. So, what we decided with the Riverside leadership was, "Let's start small. Why don't we add a theatre unit to one of your existing camps and see what follows?"
Do you feel Shakespeare is culturally relevant to diverse audiences?
Our mission is to share the joy of live theatre to diverse audiences. We have always had color-blind casts. And we will take that even further. We did a great job with our initial traveling troupe last summer with a one-hour "Macbeth" we took to Indy Parks and libraries all over the city. I think our strength is that we do appeal to diverse audiences. So, we want to really take that to the next level and make our mainstage production as integrated into our surroundings and connected to our audience as we possibly can.
Why do you feel Shakespeare is relevant in general?
There is something dynamic about Elizabethan iambic pentameter juxtaposed with an authentic, contemporary sensibility. Some of his words are archaic, yet the ideas are completely relevant, and this provides a "wow" factor to the audience, as in, "Wow, that person just said that line, and some of it I don't even understand, but wow, I get them. I feel what they are feeling. I know people who are like that." The joy and surprise that 400-year-old words seem like they were written yesterday makes Shakespeare relevant. That and the fact that Shakespeare was just plain brilliant! 
Beyond the grant for the new venue, what about funding for your operating expenses?
We have ideas that come from our strategic plan about how we can raise those funds. We pay our artists because that is part of our mission, to provide artistically exciting, fulfilling work for artists. We are an Equity company, so everybody is paid. That is important and when we looked through our strategic plan, we determined that logistically, there is a need in the city for professional outdoor Shakespeare in the summer. It's filling a gap. Most of our artists are gainfully employed during the usual season, but not during the summer.
Is the public getting the message that artists deserve to be valued?
I know the foundations are because they love the fact that we have a high quality, professional product that we are able to offer, through their support, corporate support, and individual support, to the general public for free. They love that…that we are able to do that. But to your question, I do think that the average person, who comes to our productions or hears about them and knows they are free, doesn't understand that it isn't really free. That it's all paid for…that these are professional artists who are paid a professional wage for this. We secured amazing foundation, corporate and individual underwriting, so audiences can see it for free, so that is a message we are trying to relay to individual donors. I don't like when I am invited to a free event and then somebody asks me for money because that's like, "Hey, wait a minute. You said this was free and now you want a $20 donation or a $100 dollar donation?" So, we want people to feel free to enjoy themselves and not give any money if they are unable. However, we would like to solicit people who do have money to give, so that others can see it for free. People have come up to me and said, "Oh, did they all volunteer their time? They were so great." But I want to say to them, "They do this for a living. They were paid. It's just that we were able to underwrite this and give this gift to the city for free." We do love that part of it, but we do need to get the message out to the average person that it does cost money to produce something that is really good.
Where will you perform this summer?
We'll be somewhere at Riverside. We have rented the Indy Pro Audio stage, which we have used in the past at White River State Park. We'll use that for summer 2019 for our production of "Hamlet, " exact location TBA, depending on what's safe and what construction crews are doing and everything. There's some parking, but we'll probably have to figure out more parking options and there will likely be more pieces to that puzzle and we'll have to figure that out. So there are lots of logistical challenges. Our hope is that we can perform in the new amphitheater in the summer of 2020. Now that we received the grant, the partners need to come together and really talk through a realistic timeline, so I honestly don't know for certain what is going to happen, but we are on the fast track to get it done for sure.
What is your programming?
"Hamlet," directed by Lori Wolter Hudson, will be presented in Riverside Park July 25-27 & August 1-3. We are expanding our mainstage production to two weekends for the first time. We have two Indy Shakes traveling troupes this year, an exciting initiative we launched last year. Zack Neiditch will direct a one-hour production of "As You Like It." School performances will be available May 6-25 and evening performances May 30-June 16. Bart Simpson will direct a 30-minute production of "Much Ado about Nothing." Daytime performances will be during the weeks of June 17 and June 24.
When and where can actors audition?
Audition information for the traveling troupe is currently on our website. "Hamlet" details will be posted soon.
What is your vision for the new amphitheater?
It's going to be a world-class facility that will be perfect for Shakespeare and a beautiful home for Indy Shakes. It's going to be terrific for the neighborhood and also for the Riverside Park camp kids to perform there. There has been talk of a neighborhood concert series and maybe even a movie night, so there are a lot of uses for that beautiful facility beyond Indy Shakes. Indy Shakes will be the cultural anchor institution at the Taggart Memorial Amphitheater, but there will be a lot of other activities as well. I think it is going to make Riverside Park an even bigger hub than it already is.
For information about Indy Shakes visit IndyShakes.com.