Having been on the ground floor as a founding board member of several nonprofit performing arts organizations and a co-founder of another, I can speak from personal experience about the risks and rewards of involvement in a startup. That is why the news that Summit Performance Indianapolis, a new theatre with a feminist point of view had been formed, piqued my interest. That, plus the fact that it was going to be a resident company of the new Phoenix Theatre Cultural Centre, where it will also have performances, also got my attention. Then, when I discovered the organization had been co-founded by two women I greatly admire, actors Lauren Briggeman and Georgeanna Smith Wade, co-founder of NoExit Performance and artistic director of Young Actors Theatre, I was thoroughly impressed and excited about this new addition to the city's theatre landscape.
Smith Wade serves ohhin the Summit's board of directors and Briggeman is the theatre's artistic director. An avid fan of both women's work, having reviewed plays they have performed in on various Indianapolis stages during the past few years, I have great respect for the talents of each.
Briggeman, an Indy native holds a B.A. in Theatre from Purdue University. She and her wife Sally have a 13 month-old son, Isaiah.
Recently, I met up with her at a Mass Ave coffee shop where we discussed Summit, which is preparing for its premiere production of "Silent Sky" by Lauren Gunderson, which opens Friday, June 29. What follows is an edited transcript of our interview and excerpts from email communications.
What does Summit Performance mean to you?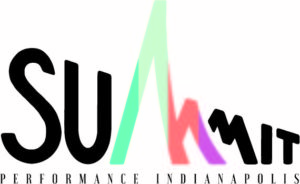 The word "Summit" became important to me because it indicates a place or event where people gather to discuss ideas—I think that theatre, more so than any other medium, has the capacity to inspire empathy and open a door for us to discuss difficult topics in a safe place. We can discuss what may be very personal and fraught subjects in the context of a play and characters, which allows just enough distance to make it safe. A long-term goal of Summit is to hone the art of the "talkback" and capitalize on this capacity of theatre to inspire dialogue, not just about actors and scenery, but about really relevant issues. The word "Summit" also, of course, refers to the peak of a mountain, a reference for us women moving upward and onward. Our original tagline for the company was "What Ceiling?" "Performance" was the idea of my co-founder Georgeanna Smith Wade, former Artistic Director of NoExit Performance. I think for Georgeanna, the word "performance" keeps the door open for using all kinds of performance—dance, music, etc., to be used in our productions. We are a theatre company certainly, but I think it's a term that serves as a reminder to think outside of the box, and push the limits of what "theatre" is, to push beyond always producing only "realism" plays, or straight sort of slice-of-life plays. If you weren't asking about the words themselves, the company means opportunity to me, greater opportunity for theatre artists and audiences alike in Indianapolis. 
Why do you feel it's important there be more women's voices in the theatre? 
The first thing that comes to mind right now is the audience statistics: 60% of theatre-goers are female. Compare that to the percentage of plays that are produced by females, which tends to hover around 20%, and I find that problematic. Historically, theatre, television and film are predominantly telling men's stories, with leading male characters and majority male casts. I worry about what message that sends, whether consciously or unconsciously, to women and young girls, and men and boys too, actually, that women's stories are not worth telling? That our experiences don't count as much or don't count at all? That we cannot or do not deserve to be represented as much as men? The U.S. population is just about 50/50 overall; the representation of women and men in our entertainment should reflect that ratio, both in the writing and in the execution.
What does Summit Performance signify for Indianapolis in general?
I think and hope that it signifies the growth of our city. Indianapolis' reputation took a major hit a few years back with then-Governor Mike Pence and RFRA, as being a bigoted and close-minded community. Living in Indianapolis as a woman with a wife and a son, I can say that for the most part, that is not my experience; however, I think that we have a lot of potential to become a more inclusive and progressive city (not to mention state) and also to become recognized that way. I don't think that our reputation matches our city, and I think the existence of a women's theatre company here is something that is reflective of the growth of our city and what Indianapolis is becoming.
What kind of impact do you hope Summit will have on audiences? 
First, I hope that people enjoy our work. A major priority for us is that the work be good and of a high quality. Without that, I don't really think we can accomplish anything else, and at the end of the day, theatre is entertainment. If we accomplish that goal, of creating a high-quality product, I think the other stuff will come automatically because of the content of the plays we are choosing. It's important to us that the script has depth, that it is taking on issues of substance—that is not to say that the plays aren't funny, or that every play we do will be some overwhelming drama, but that you leave the theatre having been moved or exposed to something new, or made to think about something in a new way or with a different perspective. Ultimately, I hope that our work inspires empathy for others whose experiences differ from our own and opens our eyes a bit wider to the world around us
What have you learned about yourself in this process?
(Laughs) A lot. I am learning and will continue learning. The process has stretched me quite a bit into territory I didn't really anticipate being in. For example, the first board meeting I ever attended in my life, I was leading, and kind of blindly. But, I'm learning that I am a leader, despite my previous thoughts about that, and that one of the most helpful qualities I possess is my willingness to say "I don't know." I've said that more in the past two years than ever, but I think only by saying "I don't know" can I open the door for someone to teach me, or for someone else to say "Oh, I do." That has been the most rewarding. I've learned a lot.
How would you describe the energy associated with working primarily with women?
Firstly, powerful. My board is a hugely inspiring group of 13 women and one man, and I am inspired by the absolute wealth of knowledge, experience, strength and accomplishments of the women that I have the utter privilege of sitting in a room with. The team for our show also consists of one man among a team of several women, and our designers have remarked time and time again about how smoothly the collaborative process has gone. I'm not saying that that's entirely because it is a group mostly comprised of women, but I do think that has something to do with it.
What do you hope audiences will take away from Silent Sky?
Beauty, I hope. Beauty of the words, the design, and of the human spirit. First of all, it's about Henrietta Leavitt, whose name most people don't know offhand, but she is a woman who worked in the observatory at Harvard at the turn of the 20th century. She was one of the female computers who did the math for the male astronomers, but her discovery led directly to some of the work that the Hubble Space Telescope has been able to do. Her work led to the discovery that the universe is vast and that there are planets and stars outside the Milky Way galaxy. It's not just a dry, historical piece. It's not strictly realism. The play explores her position as a woman and choosing between staying home and raising a family or having a career and her weighing a life of personal fulfillment versus a life of professional fulfillment. The play is almost poetic at times; it is imaginative and funny and moving, and I hope that the audience walks out feeling that their souls have been nourished a little bit. I feel that way about my experience with the play, I feel spiritually fed by it. I feel better about the world.
For tickets and information about "Silent Sky" visit summitperformanceindy.com or phoenxitheatre.org.