Though I enjoy reviewing performing arts events, my favorite pastime, when it comes to writing about the arts, is spotlighting performers. Besides seeing the work of numerous artists over the years, I have also developed friendships, or at least become acquainted with many of them. And like others, I have social media "friends" that I do not know personally, but feel like I do because I follow them on various platforms. Such an acquaintance is actor, fight choreographer and teacher Rob Johansen, 52, whose impressive body of work I have witnessed on Indiana Repertory Theatre, Phoenix Theatre and IndyFringe stages for some time now. Another area of Johansen's life that I eventually became aware of, thanks to Facebook, was his work as a volunteer at the Humane Society of Indianapolis and his love of animals in general.
As far as his extensive local theatre acting credits, Johansen's include most recently "Sweat" at Phoenix Theatre, where he has also appeared in such plays as "On Clover Road" and "The Cripple of Inishmaan," and at the IRT in shows such as "The Mystery of Irma Vep," "Twelfth Night," "The 39 Steps," and ten years of "A Christmas Carol." Nationally, Johansen has appeared at Syracuse Stage in New York, The Human Race Theatre in Dayton, Ohio, The Cleveland Playhouse, Victory Gardens Theatre in Chicago and others.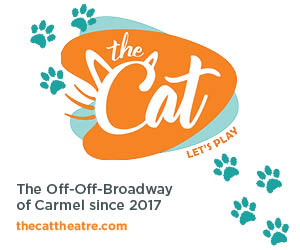 Recently, I met up with Johansen at the Humane Society of Indianapolis shelter on Michigan Road where he gave me a brief tour and we visited with some dogs, prior to sitting down to chat about his dual interests as a theatre artist and animal lover. Herein is an edited transcript of my interview with him.
What did it mean to you to be in "Sweat?"
We had really great responses. We had at least half-full houses, but with a play like "Sweat," gosh, we should have been full every night. That is my hope for people who are theatre-goers in town. When I go to shows in Cincinnati, during curtain speeches, audiences are thanked for coming and then informed about other great plays presented in town. We should be trying our darnedest to get IRT audiences to the Phoenix,  and vice versa, Beef & Boards and intermingle those audiences. The great thing about our city is that at the Phoenix you are going to get new stuff. IRT tends to present plays that have been done previously, but they are amazing plays with amazing production values. At Beef & Boards, you can see musicals and then you have the smaller companies that have grown over the years. There is no reason that the Phoenix shouldn't be full every night. Bryan (Fonseca) amazingly landed the production of "Sweat," the first one after Broadway, in the country. And you know it is going to be done all over the place next season, but we got rights to the first one. I think that is really exciting.
I used to see you regularly at IRT and now I see you more at The Phoenix. Which do you consider your artistic home?
Over the last five years, I have been teaching. I taught full time in Bloomington for two years. I have always been excited in this career. How do people find their artistic homes? I would say, right now, I am lucky to have several artistic hearts in the community. While I have acted in only three shows at IRT in the last five years, I have choreographed countless shows there. As a fight choreographer, I just did "Romeo & Juliet." I did a little bit of "Raisin in the Sun." I was also fight captain for "The Three Musketeers."
Where did your work in fight choreography originate?
I was cast as Mercutio in a production of "Romeo & Juliet" in college. There was no fight choreographer. The director basically told me and the guy playing Tybalt, "Pick up the swords and figure it out." So the result was an extraordinarily dangerous, mildly entertaining fight, but we both got injured multiple times. It was thrilling and fun, but I sustained a bad injury doing that, a really bad one. We both got cut on several occasions. Tybalt was supposed to look like he kneed me in a certain area and he really did. It was awful. That experience made we want to learn how to do it to make it look real and for it to be safe. In the summer of 1998, I went and trained with the Society of American Fight Directors in Las Vegas. I never meant to be a choreographer. I wanted to learn how to do it correctly as a performer. I just started getting in shows where there wasn't a choreographer and they asked me to do it and it kind of morphed into a professional skill.
Is there anybody else in town who is on your level?
I don't know about that, but I do know that I mostly learned on the job. There are several people who have trained and maybe the only thing that I have more than others is that I have done it professionally longer. It's like anything. I have done five fights this year for different companies. You get your chops up and you get that part of you well-greased and you start to come up with ideas on the spot. There are some things that I have learned through training and there are some things I have learned in the moment on stage. It's a lot of fun. I have a great reverence for it and will tell you, every time I go into a fight gig, I am terrified.
What are the similarities between fight and dance choreography?
It is a dance. When I teach combat, I say, "As a performer, you cannot think of this as a fight. It is a dance. That is not your adversary. That is your partner." In "Sweat," we worked really hard on making the fight a dance. Right after the fight, we would always meet and talk about it. What went well? What didn't? We also had fight call before the show where we did it one time in slow motion and then just under show speed. There were times when we spent 20 minutes working that fight before a show, just to make sure we got it.
You are also really good at physical comedy. Tell me about how you developed that expertise.
There are some hard and fast rules to it. Physical comedy has a musicality and a mathematical aspect to it. You want to make sure that you don't muddy a moment. If you are doing a piece of comedy, it has a punchline just like a joke. It has a setup and a release, just like a joke. Technically, when doing a show, the last thing you want to do is hit an angle of your body. That is where you are going to break or hurt something.
How long have you been a working actor?
This is crazy. 25 years! I graduated from IU in 1995. After college, I went to Chicago and worked at the Court Theatre and then I did a tour out of Boston for six months. While I was touring the country with that, I got in "Midsummer Night" at IRT.
Are you one of the rare actors in Indy who is able to make a living practicing your craft?
I have been able to make my living in acting, choreography, teaching or all of the above.
How many years teaching?
It wasn't for many years. I always taught little adjunct things or directed at colleges. I would say for the first 20 years of my career, it was mainly acting or 70 percent acting, 20 percent choreography and 10 percent teaching.
Did you ever have to wait tables?
I did in Chicago right after graduation, but I was terrible at it. I was a better short-order cook. I would always try to find jobs that were closer to theatre than just those. Before I was an actor, I was a hockey player. That is what I wanted pursue at one time. I had a couple of professional tryouts, but didn't cut the mustard. I didn't start acting until I was 19. The cool thing is when I was doing my first play, I realized that it fired me up as much as playing hockey. I think that is one reason I am a good physical actor because I came from a sporting background and there are a lot of things I took from the sport of hockey that I put into my acting.
What is next for you?
I am going to be in the first musical at the new Phoenix facility which I am so excited about. It's called "God Bless You, Mr. Rosewater." To be able to do "Sweat," which was the last main stage production in the beautiful old space, was such a privilege. I didn't fully answer that artistic home question you asked before, so I want to speak to that. But to do the last one and to do the first one is so special. Jen (Johansen's wife who is also an actor) is going to do the first black-box show in the new space, so that is exciting. It's called "The Pill." It's about the birth of the pill for women, the birth control pill, which is a fascinating story and I think it is one the best things Tom Horan (Phoenix playwright in residence) has written.
How is Jen?
Jen and I took some time away from each other. She wanted to explore being in Chicago. I love Chicago, but years ago, I decided I wanted to make Indy my artistic home, so we parted for a while. It's one of those things, but being apart made us realize how much we missed each other and we are now back together.
Will you be doing anything at IRT next season?
I don't know yet. I am trying to start a theatre program up at IU Kokomo. Rather than developing a theatre major, they are trying to enhance their humanities program. Jen and I had done week-long workshops up there and it is kind of a special place. Not a lot of people are going to do it as a profession, but people loved the acting classes we offered, so this year, they hired me full time to do a full contingent of acting classes for their students. It's really cool. So, that's really the primary reason I couldn't do shows at IRT because I am teaching during the day, so I am choreographing at IRT, teaching up at Kokomo and doing the show at the Phoenix.
Sounds like you have a very full theatre career.
I do. I am very lucky.
How long have you been a volunteer at the Human Society?
Five years.
What got you interested in it?
Like so many other people, I have always loved dogs. I have a dog right now that is a Hurricane Katrina rescue. She's kind of particular, so Jen and I thought we probably better let her be an only child. But, I realized there is so much need. Since we can't take on another pup, I wanted to help the needy dogs here. So I came and learned about it and started volunteering. It became almost a second career.
What is your schedule?
Because I am very fortunate to be involved a lot in the theatre community, my schedule changes week to week, so what I try to do at the beginning of every week is map out what time I can give to the shelter. They are very kind. They would prefer I be on a set schedule, but they allow me to float. There are some days I say, "Oh gosh, I can get here for 45 minutes and take care of at least two dogs during that time." Then, on other days, I will get here for three or four hours. If I am rehearsing a show, that is one thing; if I am performing a show, it's another, but I just try to get here when I can.
It appears that theatre and volunteering are your two passions?
Yes. I have had a couple of days when I want to switch careers. Realistically, however, I know people who do this for a living and it's hard.
How do you handle it emotionally?
You have to not make it about yourself. I can't bring all these dogs home because I would have 500 dogs. Also, if I fall in love with a dog and it's time to put them into a kennel and I have to leave and know they're going to spend this night and a bunch of nights in a kennel, it can choke me up. I also recognize every touch you give here is building a bridge to socializing them and getting them ready to be a really good family member. So, though it can be emotionally challenging, the benefits of what I am doing outweigh the heartache.
It sounds like you have learned how to detach.
You have to. There are days that I walk away from here and I have to have a big cry, but it's all worth it. I recognize there are so many dogs that come in, either completely shut down and terrified, or they come in way overstimulated. They are not necessarily aggressive, but they are out of control. By me and all the other volunteers and staff laying hands on them, reassuring them, training them, we are bringing up the shy ones and leveling out the crazy ones. If I stay focused on that, it helps me through my sad times. The other thing is, once in a while, I'll be in the middle of dropping a tear during a shift and all of a sudden an announcement will be made over the loud speaker that so-and-so has been adopted. John Aleshire (former IndyHumane CEO) instituted this beautiful ritual where he put a red carpet at the exit and when a dog or a cat got adopted, they got to walk the red carpet to their new home. When he retired, they laid out the carpet for him, which was really sweet. Volunteering here is worth it, but you have to know how to get through the tough times.
What have you learned about humanity?
Holidays have become reworked in my mind. I spend most of them here. I spend Christmas and Thanksgiving here. I usually spend at least four hours on those holidays here. On Christmas Eve and Christmas Day, I try to do a bunch of time here. Being here with other people who are willing to do that, knowing they have families and commitments, it gives me such heart because it is nice to be with like-minded people who are investing in a place. There's a lot of loneliness. These dogs are lonely and it makes me think there is a lot of hope in the world. Now, sometimes we get, as you mentioned, people who dump off animals. We are really trying to discourage that. There are times, seeing how people treat animals before we get them, that break my heart, so it's a balance, but predominantly, it is a very positive place to come and it heartens me about humankind.
Is our culture changing in terms of valuing animals?
Yes, but there is always room for improvement, promoting the idea that pets are family members. We discourage people from getting dogs because you just want an alarm system or a dog to protect your yard or something the kids can play with. I am seeing less of that. I am seeing more and more of the philosophy of them being members of the family. Something this shelter and a lot of shelters in America are working toward is stopping the Korean meat farms. Several months ago, we were part of a national initiative that shut down one of them. The Humane Society of America gave incentives to a farmer to shut it down in exchange for us taking the dogs. The hope is that the incentive a farmer is given over a span of years, we get him to stop. I believe there is another farm being worked on now. There were 80 dogs taken from that farm and we took ten of them. You could tell the dogs thought of themselves as livestock. We had to win their trust and that took a long time. The cool thing is, all of them found good homes from our shelter. I know that some of them are thriving. So, that is a good thing.
Are there similarities between theatre and the Humane Society?
Yes, there are. It's really important when you work at the Humane Society to not make it about yourself. People commend me by saying "I could never do it," so they give me accolades and it does feel nice, but you can't make volunteering about yourself. You have to take the emotionality out of it to a point. You have to recognize that you are helping these guys, even if it's hard to lock them away in a kennel at the end of the night, or you feel for a dog that is unadoptable because of their injuries or their troubled background. The most important thing about this place is the animals' welfare and getting them home and telling that story. The most important thing about theatre isn't about "So-and-so was so good in that show." It's about the story. That is the focus of both places. My favorite thing that happened in "Sweat," we did a talk-back that lasted for an hour and virtually none of the talk was about the actors themselves. It was about the story and if you think about it, that is why we are supposed to be there. Often times, we think about the actors first and the story second. People go because of the stories. And hopefully, the actors are telling it very well, so I think we should think of stories first and animals first and their well-being. As we were telling the story of "Sweat," what did we need to shine some light on? As far as the shelter, we need to shine a light on all the need that exists here and what we can all do to help.
For information about adoption and their other services contact the Humane Society of Indianapolis at (317) 872-5650 or visit indyhumane.org.