Last month, as I perused the program while attending "The 25th Annual Putnam County Spelling Bee," an ad in the program promoting "Lillian Baxter and Friends: We Enjoy Being a Girl," with special guests stars, the Humperdink Sisters, caught my eye. The show runs March 9 and 10 at 7:30 p.m. each night at Actors Theatre of Indiana on the Studio Theatre stage at the Center for the Performing Arts in Carmel.
The accompanying photo in the ad, presumably depicting Lillian, piqued my interest because she was unknown to me. Coincidentally, Bernie Killian, the set designer for "Spelling Bee," was seated behind me, so I turned around to inquire about the mystery performer in the ad. "Oh, that's John Vessels," he said.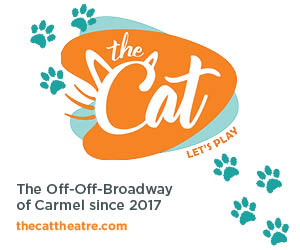 Weeks later, while greeting guests at Keith Potts' Magic Thread Cabaret show at The Cat Theatre, I happened to come upon a group that included ATI founders Cynthia Collins and Judy Fitzgerald (they play two of the Humperdink Sisters) who introduced me to Vessels and his husband Jay Schwandt, who is also the show's arranger and plays Corky Weinstopper.
Vessels, who holds a Bachelor of Arts in Music from the University of Louisville, has been performing in both traditional and musical theater, cabaret, opera, children's theater, revues, recital, oratorio, concerts, and national and international tours since 1990. He has performed all over the country in various venues and locally has appeared at Beef & Boards, Phoenix Theatre and Actors Theatre of Indiana. Over the last few years, Vessels and Schwandt have presented "An Evening with Lillian Baxter" and "A Very Lillian Baxter Christmas" in cities around the country, including New York, Chicago and Key West. Vessels has been a private teacher of acting and singing since 1997 and from 2015-2017, was an adjunct professor of voice at Ball State University. He now splits his time between performing around the country and teaching privately in Indianapolis.
Upon meeting Vessels, I suggested an interview was in order, so after I sent him an email with questions and he sent me his answers. Herein is our correspondence.
How did this show come about?
This current incarnation of the Lillian Baxter franchise came about because Judy Fitzgerald and Cynthia Collins of Actors Theatre of Indiana wanted to be in a Lillian Baxter cabaret. So, I presented a script in which Lillian welcomes The Humperdink Sisters, a fictitious vaudeville child act from years gone by, to join her in a 1976 concert celebrating the fairer S-E-X. Once the script was approved, the brilliant Jay Schwandt (my partner in theater and my wonderful husband) started writing some really creative and fantastic arrangements of various songs.
The Lillian Baxter brand started MANY years ago—2006. I was working in Chicago with a very funny actress by the name of Jane Brewer. She was quite a talent, and I started working on a vehicle for her, "The Lillian Baxter Show." Jay said, "So does her son go to Vietnam, or does she find out she has cancer or what?  What's the turning point of the show?"  To which I replied, "Oh, no. It's not a show about a show. It's a show. An entertainment. A TV variety show." To which Jay further replied, "I don't get it. Ooh! Could a man play her?" We started fiddling around with keys to songs. You see, in some keys, I sound like an Irish Tenor, in some keys I sound like a brassy Broadway belter, and in some keys I sound like Julie Andrews. We found about 18 songs I could belt my brains out in, and Lillian Baxter was born.
The first Lillian Baxter cabaret was "An Evening with Lillian Baxter." It's a pretty traditional cabaret-style show where Lillian's life is highlighted by pretty well-known songs from the Great American Songbook, while chronicling her MGM & television career, as well as her marriages to seven gay ex-husbands. It was meant to be an advertising concept for "The Lillian Baxter Show" variety show. Our first performances were "Living Room Concerts" where we'd invite the casts of whatever show I was in to watch and weigh in. But the cabaret took on a life of its own, and before we knew it, we had our first successful run of "An Evening with Lillian Baxter" in 2013 in Louisville, Kentucky, where we lived at the time. There has since been a national tour and we've been taking Lillian to the Fringe Theater in Key West for the last two years. That created pretty significant demand for a second Lillian show. Our next project was "A Very Lillian Baxter Christmas," in which Lillian, in the course of presenting a Christmas concert, realizes her substitute pianist is Jewish ("Let it Snow" sounds like "Fiddler on the Roof" and "Zorba the Greek" had a baby.) The second act is wrapped around acceptance of other people's traditions and the nice feeling hospitality has for everybody involved.
This most recent concept is great fun and focuses on women & choice and how our lot in life is our decision, once we realize it's our decision to make, and I'm so happy to have had about 12 years' worth of Lillian to draw upon in the writing. Pretty soon, you know exactly what the character would do next, because you know her so well. She's always a classy dame, has a pretty endearing maternal streak, and is darned entertaining through it all.
Who wrote the show?
I write the scripts to all the Lillian Baxter shows. 
What are some of the songs being performed?
There's a grab bag of pretty well-known things: "Don't Rain on My Parade" from "Funny Girl," "I Enjoy Being a Girl" from "Flower Drum Song," "I'm a Woman" by Leiber and Stoller, plus there's a really fun medley of 1970s TV theme songs in the second act. You'll also hear songs you forgot you knew: "Kiss of Fire" made famous by Georgia Gibbs, "If You Hadn't but You Did" from "Two on the Aisle" by Jule Styne and Comden & Green, "I Am Woman" made famous by Helen Reddy, as well as a couple of Kay Starr covers of Peggy Lee favorites, "It's a Good Day" and "Hallelujah, I Love Him So." Plus, we have a surprise or two!
Anything else you want to  tell me about it?
I think any time you put a man in a dress, it can confuse an audience. This is not drag beyond the obvious fact that I'm wearing a frock or two. Lillian Baxter is a fully realized human person living in a comedy format. The shows are funny and maybe even campy, but they're also sweet and every show carries a positive message, and you always end up walking away feeling a little more human after watching one. One of my favorite performers in Indy—Deb Wims who just moved to Nashville, TN—said, "Five minutes in and we forget it's you. I went home and googled Lillian and was so disappointed I couldn't find out more about her because you just made her up. She's that real." Also, this show is family-friendly. Your mom will love it. Your kids can safely quote it. It's good old-fashioned entertainment, served up with a twist or two!
"Lillian Baxter and Friends: We Enjoy Being a Girl" ticket prices range from $40 for a VIP stage-side table seat to $20 for student's regular theatre seating. Tickets may be purchased by calling (317) 843-3800 or by going to http://bit.ly/LillianBaxterTickets.