Over the years, I have seen actor Bill Simmons perform in numerous local productions. Each time, I have marveled at his ability to inhabit the characters he plays and make them believable. His current role as Don Devers, a former NFL player suffering from brain damage in "Halftime with Don" at the Phoenix Theatre is no exception. In fact, it may well be Simmons', an actor's actor, finest characterization thus far.
"Halftime with Don," written by playwright Ken Weitzman, is a Rolling Word Premiere production from the National New Play Network (NNPN) at the Phoenix Theatre. I had the pleasure of meeting Weitzman, after the producer's party following Friday night's opening performance.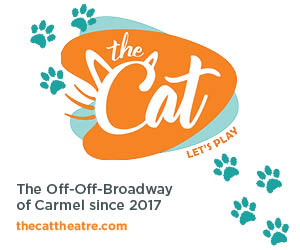 I was totally drawn into Weitzman's gripping drama that explores the timely topic of concussions suffered by professional football players and the impact on both the injured and their caregivers. His play, which provided a very stark, realistic portrayal of memory loss and dementia, had a very personal impact on me. I lost my mother to the pernicious disease that is dementia and have a brother who suffers from the effects of brain injuries, so I am quite familiar with the destructive nature of brain diseases and damage.
Now, after seeing Weitzman's well-researched piece, I know more about chronic traumatic encephalopathy (CTE), which has become a controversial issue for the NFL and its former players, many of whom are demanding the organization be held accountable, at least financially, for their injuries. But rest assured, "Halftime With Don" isn't just about football. The Weitzman's story also reinforces the notion that blood is thicker than water and the importance of human connection.
The play opens with Devers lying in a recliner covered with Post-it notes next to a cart containing numerous bottles of medications and surrounded by what appears to be his stock of Gatorade and Pringles. It's hardly the picture of a once-celebrated lineman, known for not just hitting his opponents, but extending them a helping hand after knocking them to the ground. Following his football days, Devers also enjoyed a career as a successful lawyer. Looking disheveled and in physical and mental anguish, it's clear that this once-vibrant football star and attorney is in critical decline, living an isolated existence in his sparsely furnished apartment.
Into the dismal existence of the alternately charming and volatile Devers— a prisoner of his condition—comes his biggest fan Ed (Michael Hosp), an unsuccessful writer who blogs and his pregnant wife, Sarah (Chelsea Anderson), a graphic designer.  Devers' daughter, Stephanie, (Lauren Briggeman), who is also pregnant, has initiated a meeting between Ed and her father, who refuses to see her. Her hope is that a positive relationship will develop between her severely moody father and his devout fan and help bring her dad out of his shell of misery.
Aside from Weitzman's superb ear for dialogue and often-deliciously sardonic humor that permeates his script, he has also fashioned a riveting plot line that would be a crime to reveal here. Suffice to say, the story in unpredictable, with its share of moments that are light and funny, juxtaposed with some that are fairly shocking, but then again, witnessing the behavior of someone suffering from dementia is a roller coaster of emotions. One simply does not know what to expect next.
As previously noted, Simmons gave a bravura performance as the tortured Devers, struggling to cope with a disease that has robbed him of his mental and physical faculties and in fear of his own potential to inflict violence on his loved ones. Simmons' Jekyll-and-Hyde transformations are, at times, thoroughly astounding, if not a bit frightening.
Hosp brings a bit of quirkiness to any role and his turn as the adoring fan, Ed, is no exception. Hoping to befriend the idol he has been obsessed with his entire life, especially during his lonely childhood, the two of them bond as they engage in nostalgia for Devers' glory days and form a pact to collaborate on a bizarre activity to take place as they watch the Super Bowl game together.
Briggeman, a superb dramatic actor, showed her skill at comedy as the spunky, foul-mouthed daughter, Stephanie, impregnated by, ironically, a football player. Desperate to save her dad from himself, she goes to great lengths and schemes with Sarah to use Ed as a conduit to help her father escape from his self-imposed prison.
Always impressive in any role she plays, Anderson completes this tight ensemble as Ed's sweet, supportive wife, Sarah, who forms her own bond, steeped in compassion, with Stephanie.
During his curtain speech in front of a small crowd resulting from the brutal weather, director Bryan Fonseca pointed out that the show was his very last in the Frank & Katrina Basile Theatre before he goes on to create more of Indy's best theatre in the Phoenix's new space. It opens in May at Illinois Street and the Glick Peace Walk along Walnut Street. Another feather in his hat, "Halftime with Don," like so many other productions Fonseca has masterfully directed, is memorable for the quality of the acting, a script that resonates with humanity and a message that inspires.
Tickets for "Halftime with Don" are $27.00 on Thursdays, Fridays and Sundays, $33.00 on Saturdays, and $20.00 for anyone 21 & under. Tickets may be purchased by calling the box office at (317) 635-7529 or visiting www.phoenixtheatre.org. Curtain times for the production are Thursdays at 7 p.m., Fridays at 8 p.m., Saturdays at 8 p.m., and Sundays at 2 p.m.