As far as holiday performing arts event go, there is always a special energy present both on stage and in the house at an Indianapolis Men's Chorus concert. And this year's annual holiday event, "Believe! 2017" which I attended, along with a full house Friday at Marian University Theatre, was certainly no exception. Perhaps it was the palpable feeling of inclusiveness that existed, which is an important part of the organization's mission. And there is no question, the professional-quality choral group, under the direction of artistic director Greg Sanders, knows how to entertain and do so with lots of flair.
I can only assume that Sanders, who is also vocal director for Indianapolis Symphonic Orchestra's "IPL Yuletide Celebration," the granddaddy  of Indy's holiday shows and traditions, has borrowed a page from that show's high-caliber production values. The evidence showed in the IMC production, which excelled in the quality of its impeccable sound, lighting and staging.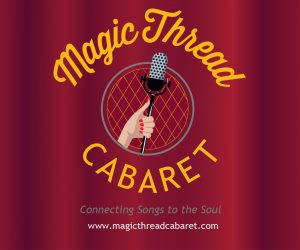 Very impressive as well,  was the choreography by Jared. P. Norman, as performed by the IMC's IMSwing, a group of well-rehearsed singer-dancers whose tap performance in "Parade of the Wooden Soldiers" was a crowd favorite in Act 1,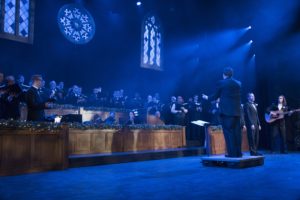 Other highlights of the animated and lighthearted first half of the concert was the opening number which saw the IMC and soloist Pierre Perez singing "Pure Imagination" from "Willy Wonka & The Chocolate Factory;" Kurt von Schakel on the organ in "Twelve Days of Christmas;" the IMC orchestra's infectious rendition of Percy Faith's catchy "Brazilian Sleigh Bells;" and the 50-member IMC singing "Santa Claus is Coming to Town."
Act 2, which was more subdued, was performed with the men standing on risers accented with structures that looked like choir stalls. Above them, hung set pieces designed to appear like stained-glass windows. Dressed in black tuxedos, the IMC sang traditional Christmas carols that were moving and inspirational. My favorites were those which showcased the talents of outstanding soloists. They included "Candlelight Carol" with Michael Sheldon; "Mary Did You Know?" featuring Alex Milligan, Pierre Perez and Drew Hedges, along with the IMC; "Glory, Glory" with Jared Yoder and the IMC, and David Barnhouse who stood out in an affecting performance with the IMC in "If I Have My Way."
During a season that fosters hope and goodwill, the concert offered not only a positive escape from a world that sometimes feels topsy-turvy, but also a reminder regarding the power of music to break down barriers, inspire and heal. As it has done throughout its history, the IMC, through its artistry, has reinforced what a community treasure it is.
For tickets and information about the Indianapolis Men's Chorus's 2017-2018 season visit www.indianapolismenschorus.org.