From Thanksgiving through New Year's Eve, my calendar is typically filled with shows that celebrate the holidays and this year is no exception. Last weekend, I was particularly busy attending three separate performing arts events, all of which offered a unique perspective of what Christmas and the holidays, in general, represent to three groups of artists.
On Friday, I attended "Straighten Up & Fly Right for the Holidays: The Nat King Cole Tribute" starring Ramsey Lewis and John Pizzarelli; Saturday, I saw Dance Kaleidoscope's "A World of Christmas" concert and Sunday, it was "A Very Phoenix Xmas Christmas 12: Up to Snow Good" at Phoenix Theatre. Herein are my reviews.
"Straighten Up & Fly Right for the Holidays: The Nat King Cole Tribute"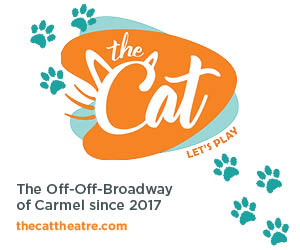 The air in the Palladium was rarified as the legendary Ramsey Lewis Trio teamed up with guitarist John Pizzarelli to pay musical tribute to jazz pianist and vocalist Nat King Cole in front of a nearly full house. As someone who regularly covers performing arts events, I can state unequivocally that it was one of the most racially diverse I have attended locally. That observation speaks to the universality of jazz and Lewis and Pizzarelli's popularity with those who embrace the genre.
Eighty-two- year-old jazz composer and pianist Lewis has recorded over 89 albums and received seven gold records and three Grammy awards thus far in his storied career. Performing as part of his trio was Joshua Ramos on bass and Charles Heath on drums.
Pizzarelli is a jazz guitarist and vocalist who considers Nat King Cole one of his greatest inspirations. Having recorded over 20 solo albums, he has also appeared on more than 40 albums with the likes of Paul McCartney, James Taylor, Rosemary Clooney, and his father, jazz guitarist Bucky Pizzarelli.
Though looking somewhat frail, Lewis hasn't lost any vitality playing the keys. In contrast to the affable Pizzarelli, who delighted the crowd with humorous anecdotes and often lengthy stories, especially one about working with Cole's daughter Natalie, Lewis carried himself with quiet dignity.
The first half of the concert consisted of jazz standards made famous by Cole and included "Route 66" and "Smile,' which Lewis interpreted exquisitely. Other favorites for me were "Nature Boy," and the concert's title song "Straighten Up & Fly Right" which closed Act One.
During Act Two, with the stage covered in gobo-lighted designs that looked like poinsettias, the trio and Pizzarelli performed holiday songs. Highlights included "All I Want for Christmas," which Lewis dedicated to his great-grandson, who was in the audience and held aloft by his mother, "Silent Night" and a passionately delivered drum solo performed by Heath. A unique element of the concert was a crowd-pleasing audience participation segment which featured Pizzarelli organizing the audience into sections for a sing-along of "The Twelve Days of Christmas." The musicians closed the concert with "Walkin' My Baby Back Home," another of Cole's hit songs.
"Unforgettable" which served as the encore was very meaningful for me because I saw Cole's daughter Natalie perform that same song on the Palladium stage when she appeared there in 2012. She sang it as a duet with her father who was shown singing in a film projected on a screen high above the stage. It was a moment, just like the song, which I will always remember for its moving loveliness. Hearing the trio and Pizzarelli play it was a fitting, but bittersweet tribute to not only Cole, but his progeny who carved out her own successful career.
"A World of Christmas"
Of the five holiday shows I had seen prior to taking in this one, Dance Kaleidoscope's offering was the most distinctive for its overall concept and creativity.
Act 1 consisted of a "A Ceremony of Carols" (1997) choreographed by DK artistic director David Hochoy and set to the choral piece of the same title by Benjamin Britten which is sung in Middle English.
Hochoy's piece, which symbolized the giving of presents, saw the dancers all wearing white and entering IRT Upper Stage carrying gifts (white-lighted paper sculptures created by students of Herron High School). Featuring DK veteran Mariel Greenlee, members of the company, which included Timothy June, Caitlin Negron, Stuart Coleman, Brandon Comer, Philip Crawshaw, Emily Dyson, Aleksa Lukasiewicz, Missy Thompson and Manuel Valdes, danced in solos, duets, and in groups to the cantata's 11 movements, which range from festive to sacred. Dancing to Hochoy's eloquent and expressive choreography, the dancers excelled in both artistry and technical execution in a piece notable for its inspirational impact.
Act 2 of "A World of Christmas" consisted of pieces, also choreographed by Hochoy, representing world music with composers ranging from Franz Gruber to Gene Autry to Irving Berlin. Once again, Greenlee dressed like a hip-hop Sugar Plum Fairy, carried signs with titles of each country represented after she coquettishly danced to the "Dance of the Sugar Plum Fairy" from Tchaikovsky's "The Nutcracker."
My favorite pieces during this second half of the program, which showcased the often-brilliant design work of lighting guru Laura Glover and costumer-extraordinaire Cheryl Sparks, were Coleman who soloed in "White Christmas" from the U.S.; Crawshaw, Marie Kuhns, Cody Miley, Paige Robinson, Thompson and Valdes who danced to "Noite para Festejar" ("Night to Celebrate") from Brazil; Comer, Lukasiewicz, Valdes and Kuhn  to "All I Want For Christmas" from Jamaica; the entire company in the campy "Mele Kalikimaka"; and finally, the entire company, once again, dancing to "Silent Night."
What struck me at the concert's end was just how universal the feelings are that are evoked during this time of the year throughout the world. I was also reminded, as beautifully expressed by Hochoy and his company of stellar dancers, of the brotherhood of man during a season in which our commonalities, more than our differences, are celebrated.
"A Very Phoenix Christmas 12: Up to Snow Good."
Speaking of bittersweet, there was an element of that present at Phoenix Theatre, at least for me, when I saw what will be the last edition of this particular vehicle, presented in the former church before the organization moves to its brand spanking new home, which opens in May.
There is no better illustration of the Phoenix's reputation for irreverence and quirkiness than this show, which was served as an alternative holiday tradition for those who like their seasonal entertainment with a bit of an edge.
As I watched the show, directed by Bryan Fonseca, featuring a company of well-cast singers-actors-dancers that included Jean Arnold, Paul Hansen, Andrea Heiden, Rob Johansen, Carlos Medina Maldonado, Gail Payne and Nathan Robbins, I couldn't help but think, "SNL performers have nothing on these folks." That estimation is based on the quality of their physical comedy, timing and delivery.
Basically, a series of sketches with some set to songs and music directed by Brent Marty and produced by Tim Brickley, the show's scripts were written by an assortment of writers. With Fonseca on tape introducing some of the sketches, the audience was made aware of certain ones that were favorites in past Xmas shows.
The pieces I enjoyed the most in Act 1 were the opening production number featuring the company dancing to "Walking in a Winter Wonderland," set to choreography by Mariel Greenlee; "Twas the Tweet Before Christmas," written by Michael Hosp and Jeff Martin, featuring both a Trump and a Wolf Blitzer character; "The Baby," written by Jack O'Hara, which featured large puppet heads of Mary, Joseph, Baby Jesus and animals telling their own wacky version of The Nativity in song; and devilishly clever indeed was the mash-up of "Rudolph, the Reindeer Christmas Special" and "Les Misérables"
An Act 2 highlight was Paul Hansen dressed as a forlorn Santa Claus backed by a quartet consisting of the company's women, singing a poignant mash-up of Handel's "The Hallelujah Chorus" and Leonard Cohen's "Hallelujah." I also thoroughly enjoyed physical comedy master Rob Johansen as a film noir detective in "Christmas Heat" written by Andrew Black; and "Tacobel Canon" which is a silly song parody by Christine Lavin of Johann Pachelbel's classical piece set to a video by Michael Runge. Finally, a real treat and unlike anything I have ever seen on a Phoenix stage was Johansen executing a silk aerial acrobatic act as the ensemble harmoning on "You Can Fly."
For a generous dose of laughter, a bit of sacrilege, a moment or two of reflection and the antics of some gifted comedians working with often-hilarious material, I heartily recommend you see "A Very Phoenix Xmas 12: Up to Snow Good" before it closes on Dec. 23.
To purchase tickets, call (317) 635-7529 or visit phoenixtheatre.org. Prices range from $25 to $35. There are five performances a week. Wednesdays and Thursdays begin at 7:00 p.m., Friday and Saturdays begin at 8:00 p.m. and Sunday matinees are at 2:00 p.m.