I am just one of many  who are absolutely delighted that former resident and Phoenix Theatre actor-director Suzanne Fleenor has returned to Indy.  She's here to direct five-time Tony Award® winning "Fun Home," which opens the Phoenix Theatre's 2017-2018 season Friday, Sept. 22 and plays through Oct. 22 on the Livia & Steve Russell Stage.
As a founding board member of the Phoenix I have known Suzanne since those early days of the theatre's history when she was one of its original artists and have benefited first hand, from her personal qualities as a loyal and caring friend.
Though I never performed in any shows with Suzanne, she appeared in several television projects I produced and directed when I was employed at WRTV Channel 6 during the 70s and 80s, so I can attest to her uncommon talent and instincts as a performer.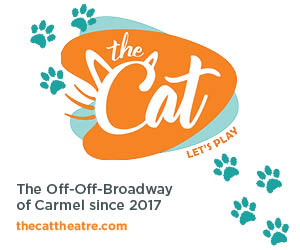 As an Arts Indiana and NUVO reviewer, I  made it a point to see all the shows she appeared in at the Phoenix when she resided in Indy. They included its inaugural production of "Warp,"  "Talking With," "The House Of Blue Leaves," "Steel Magnolias," "The Heidi Chronicles," "Jeffery," "The Marriage Of Bette and Boo," "On The Verge,"  and "The Three Penny Opera."
I also reviewed shows Fleenor directed that included  "My Name Is Alice," "The Cemetery Club," "Assassins," "Mama Drama," "The Rocky Horror Show," "Six Women With Brain Death," "Company," and "No Way To Treat A Lady."
Given Fleenor's expertise in directing musical theatre as well as provocative  material, a show like "Fun Home," is right up her alley. With a book and lyrics by Lisa Kron, and music by Jenine Tesorit, the musical is based on the graphic novel by Alison Bechdel.  While struggling with her father's suicide, Alison re-examines growing up in the uniquely toxic household of the family funeral home run by her father, an aloof parent and closeted gay man. Featuring storytelling that is both funny and  heartbreaking, "Fun Home" portrays seeing your parents through empathetic  grown-up eyes.
Recently I met with Suzanne in the Frank and Katrina Basile Theatre for the following in-depth interview which covers her recent retirement, Phoenix history, "Fun Home" and her future.
When did you retire?
I worked for J.C. Penny Corporate and was with the company for 25 years. I started at J. C. Penney stores here in Indianapolis, then I was sent to Rochester, New York where I lived for three years. Eventually I landed at the J.C. Penney headquarters in Dallas, Texas. I retired May 1. As I was making that decision I called Bryan and said  "You know what? I took a job and moved away 17 years ago to make enough money that I could retire and return to what I am passionate about. That is the Phoenix and doing theatre." And I said, "Keep me in mind when you get to the new space. Perhaps I could direct or perform and he said, "Well, as a matter of fact "Fun Home" is in a slot in the opener and the last opener in the space here at the church." And if that wasn't the most synchronistic type of thing to happen I don't know what is. It just buoyed me through this entire summer to get to back here.
Could you ever have imagined such a scenario?
No. I dreamt about it. I had been in New York City every month for the past 13 years working for J.C. Penney so I saw shows all the time plus, I see shows in Dallas and have always felt so uplifted when I did. My job was extremely creative but it was a corporate job and was stressful and though there was a portion of my job in which I could exhibit— working in the theatre truly defines who I am.
I had not realized that you so carefully planned your future?
Who knew that would ever happen but that is what is so marvelous that this opportunity came on the horizon just as a huge part of my life was ending.
Tell me about your work at J.C. Penney.
I was the visual merchandising display director for the company. I designed mannequins, props, anything that wasn't a fixture. I oversaw all the visual as it relates to floor sets. We had a lab store in NYC. I would be there two weeks a month and we would style all the mannequins and photograph them capture all the information.
Did you participate in any theatre at all during those years?
Never in Dallas. When I was in Rochester, New York I did "Fuddy Meers." It was during Christmas break. I played the role that Gayle Steigerwald played here at the Phoenix. It was the Shipping Dock Theatre which was where Philip Seymour Hoffman started out. It was just a rag tag bunch and just a delight. It was the last time I performed but that was 17 years ago.
Did you miss participating in theatre?
Oh my gosh, yes. Most especially the close connections that I have with people in Indianapolis who are lifelong friends. The thing that the corporate job gave me, however, was a type of career and corporate growth that now informs how I direct. I also learned how to manage my time. When I used to direct, I worked a 40 – 50-hour work week and then would come to the theatre. Now I have all the time in the world to prepare which is just absolutely mind blowing. My set designer Jim Ream says, "Just what we want, a director with a lot of time on her hands." (Laughs)
Let's talk about the auditions for "Fun Home." When were they?
It was the week before Memorial Day and the Indy 500. Coming in as a stranger and not as a person who knows the community or the talent pool, I had to rely heavily on Brent Marty, my amazing musical director and Bryan (Fonseca).
Had you worked with Brent previously?
No, we had never worked together. He was on my radar though. The man is fabulous and I had such a wonderful experience. I relied on those guys to tell me who was who when they sent me the list with all the bios and resumes and pictures.
Did they also recruit actors to audition?
They absolutely did. Emily Ristine Holloway, who plays the mother in the show, also has connections and she helped too. It was wonderful to  see a ton of people in one night. There were a finite number of slots and not what is used to be when I directed here. You would just show up and see everybody. You'd do an x amount of monologue and you sang and then we'd have a discussion. I am an "all ruling" type. I let all my staff have a role in collaborating and give me feedback and we all agreed who we wanted to see come back. When Amelia Wray, who is small Alison sang "Ring of Keys" we were all so stunned because it was so show-ready. She understood the song. This is when her character  is in a diner with her dad and a butch lesbian delivery lady enters and she immediately makes a connection about who and what she is. That was the number that "Fun Home" elected to do at the Tony Awards instead of either of two big two big fun, lovely dreamy numbers in the show. I think that was a bold choice and very meaningful to the show. Amelia is so intelligent. She can connect emotionally just like her character to many things that people can't access until they are much older.
Did you explain the show to Amelia or did someone else?
I think someone else had because when we did talk about it, she was very circumspect about, butch vs femme, understanding what it is to be gay, lesbian and just homosexuality in general. She was very attuned to all that ideology.
Was it tough choosing cast members?
It was very tough. We narrowed it down to two people per role but it became very clear to all of us who was right for each role. It was tough though. But then again, I opened it up to everyone. We went around the table and everyone gave their opinion. Everyone was honest but ultimately, it was up to me to make the final decision.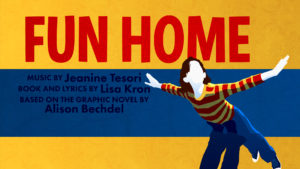 What are the show's themes?
Although the experience of the show is very specific, there is a universality about the themes of growing up and discovering what oneself.  It is more than a coming of age or coming out story, it is a story about family and a story about kids and the things we don't know about our parents. When we grow up and look back, we realize things that we didn't understand or suspected but was not made completely clear until we became adults. I think that is a universal experience.
And family secrets?
Yes.  Lisa Kron who wrote the book and lyrics laughingly said" butch lesbians, closeted homosexuals, suicide—all perfect material for a musical theatre piece." (Laughs)
Not your typical material for a musical, right?
Yes, and that is why there are two very, very buoyant numbers that are terrific and fun and which make the heartbreak more heartbreaking. There is a number with small Alison and her brothers in the casket. Mariel Greenlee is choreographing and the number is an absolute laugh riot. It is so wonderful. There is also dream sequence of a Partridge-like family in "Raincoat of Love." It's sort of a dream sequence for small Alison. Her parents are arguing and she's been watching a Partridge Family show and she dreams that the whole family is happy as they dance around.
How much of this show do you relate to your own experiences?
It's completely universal. That is why it resonates with me. I was an adult when I suddenly realized the secrets that my parents had between each other and the world. I think everyone has that same experience to some degree, I thought I must have been so self-absorbed that I missed all that, that I was just a kid, or that I just ignoring it. I think that is where the show really resonates with the audience because we all had families and even the happiest Von Trapp- like family scenario involved stuff that you do not find out until later in life.
Is it difficult to follow the action in the piece?
It occurs in three timelines simultaneously so for us to make dramatic points we must use juxtaposition of the characters in montage.  What I have done is position adult Alison sitting with small Alison or looking over medium Alison's shoulder. They are picking up the same gestures so that we reinforce for the audience that although adult Alison is going back in time, these two are living in real time in their lives but they are the same person. 
Who plays the dad?
Eric Olson. He is so collaborative. If I am having an issue and say"I need to get this off." He is always the first to volunteer and will say things like "I am here. I'll find a way to make this work when I take it off." And Cynthia Collins from ATI is making her Phoenix debut. She is playing adult Alison. She is just wonderful. We have a Ball State student names Ivy Moody who is a Ball State student playing medium Alison. She is wonderful too as is Teneh. Karimu. She plays Joan who is Alison's college girlfriend.
How has your own experience having LGTB friends informed your work on this play.
I directed "Whoop-Dee-Doo! and" "Falsettos," both of which have gay themes.  I believe I have an understanding because gays and lesbians are some of the most special people in my life. Can I as a straight woman completely understand the experience?  No, but do I think I understand more than many people. AT least, I hope so.  And I hope that makes my work come to life.
What do you want the audience to take away from "Fun Home?
I think that it is realizing that what they experience is universal. You find out early in the show when Alison announces that her dad was gay and that she grew up to be a lesbian cartoonist. Sometimes people will get up and leave because when you look at a logo it looks like it's fun and it's called "Fun Home." There is nothing mentioned about a funeral home. It is up to our marketing to help people understand what's going on with the show. But again, I want people to walk away and feel that, although it's a very specific theme, it's all about family.
Tell me how it feels to be back in Indy, at this moment, now in the Phoenix's history.
You know it was Broad Ripple Playhouse where I met Bryan and then moving on to the space that we had at the Ambassador and then us building this church into a theater. I remember we would have prisoners working on renovations on the weekend. They would have to do community service. When we were putting the bleachers in, I was under helping install these with these prisoners (Laughs). That is one of Bryan's favorite stories. For me coming back and stepping on that stage for the first time was overwhelming. This place helped me become who I am. It is very much like the theme of the show. That's the truth.  I feel so blessed that I get to stage a show.
What are your thoughts about the new theatre building?
I am going on the next walk through. I of course have driven by. When I first saw the renderings, I ran to work and said, "This is my theatre" (Laughs).  It's spectacular and it is going to be wonderful for the community. This old place is going to be ripped down and they are going to build condos but every time I pass by this space I will think about all the amazing experiences I have had here.
Have you seen the Phoenix Wikipedia page on which all the shows that were presented here are included? Isn't it mind blowing?
It is. What is crazy is I had to write my bio for the program today. I had to go back to look through the history to understand. I remembered many but forgot some of them. It was so overwhelming to realize the body of work the Phoenix has done.
Would you say that "Fun Home" is a homecoming for you? If so, why? 
Absolutely it is a homecoming. I left to pursue a creative career outside of the theater, vowing that one day my dream was to return to my passion—directing. Bryan took a chance on me years ago when he gave me my first directing gig in our old storefront space, he offered me "Fun Home" when I called to tell him I was retiring and would he think of me for something in the new space.
What does it mean to you to be directing a show that is part of last season at the soon to be known as the old location?
It is pure serendipity. As one of the founding members of the Phoenix, returning to direct the final season opener in the current space is a great joy.
What's next after "Fun Home?" Are you by any chance thinking about coming back?
Not right now but I have thought about it.
So there a strong possibility you may return permanently?
Oh, absolutely. However, I think that by January of 2018 I need to find some sort of job or volunteer opportunity and then make decisions.
How much in Indy has changed and how much has remained the same since you relocated?
Indy has changed dramatically in the years I have been gone, and it is thrilling. The arts scene is fuller, with The Booth Tarkington Civic Theatre now in Carmel, ATI (Actors Theatre of Indiana) offering additional paid opportunities to actors and designers, The IndyFringe Festival is huge and exciting, the Cabaret showcasing amazing Broadway performers.  There are also fabulous restaurants, great new hotels and Airbnb's, the Indianapolis Cultural Trail, the expansion of the Monon Trail and more biking. And now, wow, my alma mater, Butler University has evolved and changed so wonderfully. How has Indy not changed? All of my forever friends are here.
For tickets and information about "Fun Home" (adults only) visit www.phoenixtheatre.org or call the Phoenix Theatre box office at  (317) 635-7529.