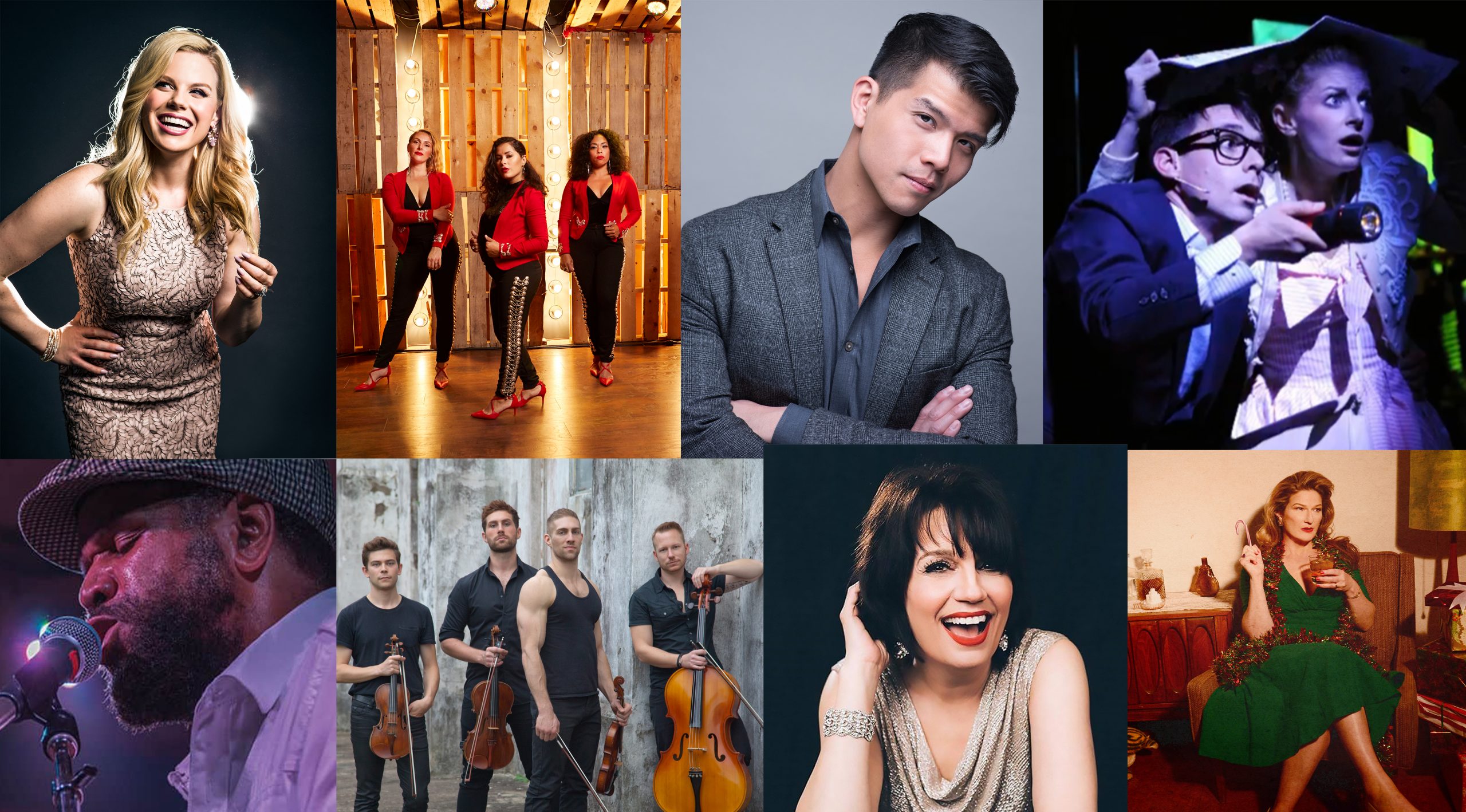 2021-22 The Cabaret Season performers – L. to R. Megan Hilty, Flor de Taloache, Telley Leung, The Skivies, Lasana Kazembe, Well- Strung, Beth Leavel, and Ana Gasteyer – Courtesy of The Cabaret. Used with permission.
Despite the curve thrown by the Delta variant and fears that recovery from the pandemic could be slowed, the performing arts are making their comeback all over the world, including here in Central Indiana. Having weathered over 15 months of shuttered venues, organizations have launched or are about to launch their 2021-22 seasons. One such group is The Cabaret, which presents nationally known performers, many from the Broadway world, at its Pennsylvania Street, Old Hollywood-style home in downtown Indianapolis. Its new season kicked off with "Hadestown" star André DeShields on August 12.  Prior to that, The Cabaret had been successfully spotlighting local performers in its outdoor venue, The Alley since July
Seeking an update regarding the status of The Cabaret, I reached out to CEO and artistic director Shannon Forsell. Recently, we sat down for a wide-ranging chat about the organization, which has been in operation since 2008. Following is an edited transcript of our conversation.
How did the pandemic affect you both professionally and personally?
It's really hard when you are a really small team to work remotely. There is just so much that we all do that is integral. So much of what we do is about collaboration. It happens in the moment. Personally, it gave me some time to take a little breath that I needed. I was pretty burnt out before the pandemic hit, so it gave me some personal time. We were at a 90-hour pace to get this place opened and once we did, it was full steam ahead. So, it gave a little chance to do some strategic work that we really don't have time to do when everything is full force, especially as it relates to equity, diversity and inclusion. Gave us some really good time to delve really deep into that. Now, I wish I had the lifestyle that is somewhere between now and during the pandemic. A little more pandemic calmness. I had more quiet time. We cooked. I saw my husband a lot more. We saw friends more. We had worked really hard on our patio to have a heater and fire pit and because we couldn't have big groups, it was always more intimate. We got to be with people and have deeper conversations and deeper relationships and just rest more.
Did the Black Lives Matter movement influence your organization?
Well, we already felt very strongly about issues the movement raised, but it certainly galvanized us, as it did a lot of other organizations. We luckily have a board that is 30 percent people of color, which has always been interested in equality, but the pandemic gave us some time to do further work in that area.
How did you keep your audiences engaged?
We did a lot of surveys during the pandemic to see what people needed and what they wanted. We aren't huge fans of virtual cabaret because, as you know, cabaret is about the thread between the artist and the audience and if you don't have the two, you don't have the conversation. You just have the one-sided show. Our folks made it pretty clear they just weren't that interested in virtual programming. However, they really liked our archived performances because they still have the magic of the audience. Also, because everyone had a hard time sitting for a long period of time virtually.
There was a really interesting article in The New York Times called "Collective Effervescence." It talks about that thing that you can't put your finger on about what makes a group live experience. Collective effervescence has more to do than just the show. The show is only part of the whole experience. The buzz created when people gather, we all learned, was a huge piece of the experience. It wasn't just the show, it was the gathering. That created this collective sense of effervescence. It is this little bubbly thing that you can only have in a group setting.
Releasing the archived performances exposed The Cabaret to a world-wide audience, did it not?
Yes, that worked because the performers weren't entertaining from their living rooms. It was a novelty for a while during the pandemic, but people missed the magic-of-the-show feeling. So, we released 525 archival pieces of individual performers, which received over two million views on our YouTube channel last year. We wanted to provide content for people to enjoy, but also keep our brand in front of people.
What are your current COVID-19 safety protocols?
Beginning on September 24, folks have to show proof of vaccination and everyone is required to wear a mask when they are not actively eating or drinking.
Have you met any resistance?
We have to do it because this is what the performing artists are saying, "If you don't do this, we will not come." Megan Hilty has two children under the age of 12 and she is very concerned about her health. Plus, her piano player has a baby. Some folks are looking at it in in such a way that we are taking away their rights. We also want to protect the unvaccinated. This is not a safe environment with people singing, spewing out things; so, wearing a mask protects you. And now, if you are vaccinated, you can still have COVID and send that out into the world and people who are unvaccinated are 20 times more likely to get the Delta variant and 11 times more likely to die, so we want people to be safe. It will be a little bit safer when everybody is vaccinated. The artists are coming from these places where this is already a policy, and they are saying if we are coming to Indiana, which has the 12th highest number of COVID cases per capita, we want to be protected.
Do your audiences prefer Broadway singers?
Our audience does like Broadway, but they also like those performers because they are actors and they are telling stories. I think there is no difference between traditional cabaret and Broadway content; rather, it is the difference between American Songbook and the acting-personal side of things, so I would say, in general, they really want performers who share on a personal level.
So, your audiences really appreciate it when performers allow themselves to be vulnerable?
And that's what happened with André's show. From his experience of being an older, gay, Black man, who watched all of this happen over the last two years, he created a show based on his feelings about all of that. It was very powerful, yet disappointing for me when people were not receptive to it, but that's the way we are right now. We are a divided country on this topic and this man is sharing his soul about what his life is like. We will probably have some people who don't like certain things. Some people have said, "The Cabaret shouldn't have political content on their stage," not realizing that cabaret rose out of the politics of Hitler. So, that is sort of something new, that we are going to have artists sharing stories that may be a little bit uncomfortable for some folks these days.
André's show was very Black Lives Matter oriented. His show was brilliant. It is unfortunate that politics is so divisive right now that it keeps people from listening. These people are here to tell their story. Their story isn't your story. If you don't want to hear a story that is different than yours, then cabaret is not for you. I encourage people to really take a look at the shows we've got because we have (preview) videos and some shows may not be your bag and some shows will. So, if you just want to hear someone singing Broadway tunes, we've got that too because there is also a piece of us that wants to get away from difficulties and see shows that take us away from the divisiveness. So, we have shows for that. We don't dictate the perimeter of stories that people want to tell. I am always amazed when someone says, "You shouldn't have this on your stage." I am not telling people what they can and cannot say on my stage. We are in a time when people share their feelings. This is an art form of sharing your story. If you don't want to hear people's stories, really research what is comfortable for you. If you don't want them to have a voice, cabaret is not for you and that's OK. We want people to feel authentic.
It sounds like you have really developed a thick skin over the years.
You kind of have too. You are never going to please everybody. What has helped us the most is to realize that it is not really personal. It is hard to not take it personally, the work you're doing, but the issues they have with a lot of things, with a lot of shows, has nothing to do with me. It has to do with a million other things. All you can do is the best you can do. What we do is look for a pattern. When we do a survey, we try to determine what is an opinion and what is an issue we need to deal with. Also, we need to figure out, what's a pattern? If we continue to hear a certain comment, we look into it. I think that you are ever-evolving too. And what we are experiencing is breaking away from the Columbia Club. When we were in the Columbia Club, doing a show like André's would be hard to do, so we are doing things that do push an envelope that we didn't push before. So, we are navigating that transition a little bit too.
Last question, and one that many are asking. Is Feinstein's at Hotel Carmichael now competition for The Cabaret?
We don't feel like they are competition. I feel like they have a whole different thing they are doing and they are serving a community just like we are. Why call them competition? Their brand is very different than ours. They are more American Songbook-oriented than we have come to be, so that's great. Everyone has their niche of what they are doing with their organization and there are plenty of niches to fill. "A rising tide lifts all boats."
For tickets and information about the 2021-22 season, visit thecabaret.org.