One of the advantages of blogging is the ability to write about whatever or whomever I choose. Having written for television, websites and print publications for years, I was used to adhering to their policies and styles. And since my professional interests and activities are so diverse, I find a lot of intersection between them. In any case, it's refreshing and liberating for me now that I don't have to follow any rules regarding the content of my pieces.
For instance, the following is a Q&A with internationally known jazz musician, Pavel Polanco-Safadit. I have the opportunity to not only profile him, but to do so from the standpoint of a writer, who is also a producer, who is currently working with him on stage. He and his band Direct Contact are performing in "Cabaret Latino," a revue of Latino music I conceived and am producing through Magic Thread Cabaret, of which I am managing director, along with my producing partner, Dustin Klein, the artistic director. When I say "work with him," I mean I serve as the show's emcee. "Cabaret Latino, Songs of the Americas," starring singer Iris Ramirez, is the Magic Thread Cabaret entry in the 2021 IndyFringe Live Theatre Festival. The show opened Thursday night at The Athenaeum and will run August 22, 26 and 29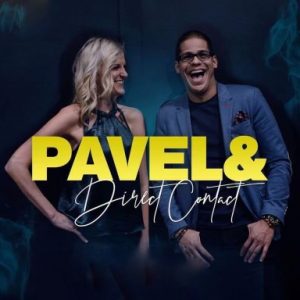 Thus far, our collaboration has been an ideal fit. While creating the show, Dustin and I knew we were going to need a large band with horns in order to do justice to the Latino music on our carefully chosen song list. After months of dead ends in finding the right musicians, Polanco-Safadit was recommended by one of his former students who was not available. Considering his main forte is Latin music, the musician-songwriter-recording artist and bandleader was the perfect fit to help us properly pay tribute to the songs and artists.
A native of the Dominican Republic, Polanco-Safadit has lived in Indianapolis for the past 15 years. In addition to his impressive resume, he has a successful brand that has made him well known all over the world as a Latin jazz performer and expert. Read more about his illustrious career here.
A few days ago, I had the pleasure of chatting by Zoom with Polanco-Safadit, who rarely sits still due to his hectic schedule, which often has him on the road. Couple that with his boundless, almost manic energy and enthusiasm, the gregarious, gifted artist is a veritable ball of fire and force of nature, both in person and on stage. Below is an edited transcript of our chat.
What is the mission of your band Direct Contact?
Our goal is to connect cultures. To connect people, no matter who you are, no matter where you come from. That's why we have a singer who doesn't even speak Spanish, but sings it. So people can connect and learn a little bit about our music, at least about Latin jazz and Caribbean style. So they can be interested. So we can connect different cultural groups, be they Hoosiers or whomever. That's why we do things in both English and Spanish. When I write my own music, I make sure it is completely bilingual. The point is to create an atmosphere where everyone feels welcome.
When we asked you to participate in "Cabaret Latino," which is bilingual, there was no hesitation, correct?
That's correct. It was very appealing to me. It was very attractive.
What sort of feedback do you receive from your fans?
We've had sold-out shows for the last few years. Kudos to the guys in the band. Our fans love what we do. They believe our music is very high quality. That is due to the guys we hire and their musicianship. We have professionals. It is not like a garage band (laughs). Our band members all have their own fans as well. People come to see our bass player Steve Dokken. It is amazing. He played with Henry Mancini and a lot of big names. He even recorded stuff with Disney. People come just to see Rob Dixon and Dave Allee. They come and see Leah Crane and the percussionist Matt McGraw.
Why do you love jazz?
I like making things up. I like the structure that is found in Latin jazz. And I also like the flexibility. You just can't go crazy, which I do occasionally (laughs). You have to have a theme to everything. You have to keep it connected. So, I like to have both.
And why do you love playing the piano?
I love watching my two hands choreograph something. I enjoy going up and down and making music at the same time.
What about playing with other musicians?
I love it. It's not only the ones here. It's everywhere I have traveled because everywhere is different. They bring different swings and different knowledge. They play different ways every time they are playing my music. They sometimes make it more interesting. I try to listen to them and keep an open mind.
Tell me about the music festival you founded in the Dominican Republic.
It's held at the UNPHU (Universidad y el Conservatorio Nacional de Música) and called "Music Ed Fest." Our vision is to introduce many facets of music in a shrinking world: education of an art form, subtlety of performance, symbol of heritage, tool of communication, amplifier of liberation, touchstone for spirituality, window into thoughts and feelings, unmask taboos via creative therapies, products of technological innovation, and a vehicle to effect change.
(Here, Polanco-Safadit directed me to the website so I would include the following description of the program.)
"In 2013, a seed was planted…in the minds and hearts of Dominican young adults. In a weekend retreat outside the town of Bani, DR, they learned how to read music, how to perform as ensemble and soloist musicians, how to dream big about things musical: vocation/avocation/education/spiritual growth. They wanted more…They listened, then played in the capital city of Santo Domingo at the prestigious UNPHU auditorium at the collaborative 'Music Ed Fest' to learn about Dominican musical heritage, American jazz, and to see their heroes on stage teach and perform, and share lessons in life…They jammed on stage before the eyes and ears of their mentors, established new friendships, and some jumped headlong through these connections into a musical career, at the renowned Musical Conservatory and University…some even flew to Indiana for a cultural exchange visit."
Don't you have a friend who lives in Carmel who is a fellow Dominican, and co-founder of Music Ed Fest?
Yes, his names if Dr. Bill Sando. His practice, located in Carmel, is called "My Plastic Surgery Group -Sando Aker Aesthetics."
Tell us about the nonprofit you run in Richmond, Indiana.
It is called Amigos Latino Center. We are the only Latinx organization in the East Central Indiana Latinx community in education, health and social services.
What makes Latino music so special?
The rhythms are in my blood. Sharing my musical heritage is very important to me. This goes for all of us; being an ambassador of the music or whatever you represent, changes communities in a positive way, as well as towns, cities, states.
Finally, tell me why you chose music as a career and what it means to you?
Music means life to me. I could not imagine myself not ever doing music. It gives me happiness to see people happy and I do see that when we play. It is important to me to connect cultures through the universal language, and it is also very important for me to collaborate with different musicians, organizations, producers, etc., from different parts of the world.
For tickets and information about Cabaret Latino, go to indyfringe.org.
For booking information about Pavel Polanco-Safadit and Direct Contact, click here.
For information about Amigos Latino Center, visit amigoslatinoscenter.org.