In early May, I did a phone interview with actor-singer-recording artist Liz Callaway and at the time, like most of us, she was hunkered down in her home because of the coronavirus with her husband Dan. Their son, Nicholas, who had just finished his first year of graduate school at NYU Stern School of Business, had just returned home to join his parents in quarantine. A few days later, as I prepared to publish the story, I saw Callaway had posted on her Facebook page that Dan was hospitalized in the ICU following a serious car crash while driving near their Croton-on-Hudson home in Upstate New York. He had suffered 12 broken ribs and a broken ankle.
Rather than publishing the story, which had suddenly become outdated, I decided to shelve it until I could speak with Callaway again and possibly get an update. Last week, Callaway contacted me to tell me Dan was recovering nicely from his injuries and doing much better. His boot had been removed and he was walking, albeit slowly. Feeling very grateful, she was also eager to share news about some exciting opportunities that had come her way. A few days later, we spoke by phone.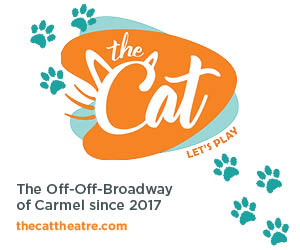 I have been acquainted with Callaway since meeting her in 2009 after reviewing her show at The Cabaret during its first year in operation at The Connoisseur Room on Ohio Street. Since then, I reviewed another show she headlined at The Cabaret when it was housed at The Columbia Club, as well as several concerts she performed with the Indianapolis Symphony Orchestra. Joining her sister Ann Hampton Callaway, Callaway co-hosted ISO's 2011 "Yuletide Celebration," which I also covered. Over the years, I have interviewed Callaway numerous times and have always been struck by her warmth, kindness, authenticity, and of course, her singular talent.
For those unfamiliar with Callaway, here's a thumbnail sketch of the Tony-nominee and Emmy-winning artist's stellar career. Making her Broadway debut in Stephen Sondheim's "Merrily We Roll Along," she went on to star in "Baby," "Miss Saigon," "The Look of Love," "The Three Musketeers," and appeared for five years as Grizabella in "Cats." Callaway sang the Academy Award-nominated song "Journey to the Past" in the animated feature "Anastasia." Other film work includes Jasmine in the two "Aladdin" sequels, and "The Swan Princess." Her extensive concert and symphony career include appearances in London, Paris, Vietnam, Australia, China and nearly every major city in the U.S. She performs regularly with her sister Ann, as well as composer Stephen Schwartz and has six solo recordings, including her newest album, "The Essential Liz."
Callaway's big news is that she will be a featured guest on Seth Rudetsky's "The Seth Concert Series," Sunday Aug. 9 at 8:00 p.m. and Monday Aug. 10 at 3:00 p.m. Rudetsky is the afternoon host on SiriusXM satellite radio's "On Broadway," as well as the host of "Seth Speaks" on the SiriusXM Stars channel. His concert series, which is now virtual, first began in Provincetown at The Art House in 2011. Presented by Mark Cortale, it has been staged in more than a dozen major venues worldwide. The show offers a mix of the gregarious Rudetsky's insightful, quirky questions and music from the artists' careers. Previous guests include such Broadway luminaries as Kelli O'Hara, Lea Salonga, Norm Lewis, Audra McDonald and others. Accompanied by Rudetsky on piano, along with other musicians, Callaway will sing selections from "Baby," "Miss Saigon," some Sondheim's songs and others. In the wake of the pandemic and theatres across the world closing their curtains indefintely, Rudetsky and his husband, producer James Wesley have created Stars in the House, a daily livestreamed series to support the Actors Fund and its services. With shows airing at 2 p.m. ET and 8 p.m. ET, Stars in the House is a combination of music, community and eduction.
"I have done a lot of livestreams and benefits. You sing alone in your house and it is really strange, but this is my first livestream concert," said Callaway, adding, "I'll be in my home and Seth will be in his. They have figured out the technology so that he can play for me at the same time. It's a conversation, almost like an interview. We'll share stories. We'll talk and I'll sing songs from shows I've done. I love the format, a give and take. I am delighted to be doing it." The concert, for which tickets are $25, will be streamed on thesethsoncertseries.com
As mentioned before, Callaway has done her share of benefits during the pandemic, including The Actors Fund, which she said "is very near and dear to my heart." Currently receiving unemployment benefits, Callaway says she, like many other artists, is trying to figure out how to make a living now that all of her gigs have been canceled until further notice. Besides "The Seth Concert Series," she said she's been working on her YouTube channel where she's posted over 50 videos. "On social media, I ask people 'Hey would you subscribe to my YouTube channel?' And if you click the bell, you get an email every time I post a new video. Right now, I am editing concerts I've done. I just put up something I did at the White House. By doing this, if you reach a certain amount of watch hours, you can monetize it. I'll probably make $50 a year," she laughed, but said, "I know I am not going to make any money, but for me, it is a tangible goal."
Callaway's other big news has to do with another project she has been working on that was inspired by the George Floyd murder and subsequent protests. August 14 is the release date of a single she recorded of her friend David Shire's "The Morning After." Composer Shire wrote the song in 1968 in reaction to the Detroit race riots, which followed the assassination of Martin Luther King, Jr. Barbra Streisand included the song on her 1969 album "What About Today?" "I found it very overwhelming to try and figure out how to respond on social media in a way that was sincere to me," Callaway said. "Everyone has to do their own thing, but you always have to ask 'What are my motives?' I felt, as a privileged white person, I had not necessarily been asleep at the wheel, but did not really understand or take the time to understand the problem of systemic racism." That is why Callaway recorded the song with lyrics such as "The morning after/We ask for right questions/The morning after/We make the suggestions/We've gotta make changes/When I'm going to wait/But the morning after is too late…" Regarding the song's message, Callaway said, "The morning after bad things happen we think, 'We've got to make changes.' We have been saying this for years. Gun violence is an example. After a terrible shooting, we call for a ban on guns and nothing happens. I do think there are going to be changes made now. And we have to think there are positive things that are going to come out of this pandemic." Callaway first recorded the song and posted it on YouTube, after which she received an enthusiastic response from fans.
Later, she contacted Shire and asked his permission to do a studio recording, which he granted, while also offering to arrange it for her. "So, we did this amazing collaboration from his house to mine, along with an engineer and orchestration in California," Callaway said. Eventually, she went into a NYC studio to record it. "It was fun to have a recording project and it was fun, as David said, to have something to do, to actually be collaborating on a song. Just do something for the love of it and the message of it, not for any reason but to share the music. And I am really happy we are going to have a recording of it just because I want more people to hear the song." The single will be available on all digital platforms, including iTunes, Spotify and Apple Music. 
Although she is doing her best to occupy her time in quarantine with creative projects, Callaway said there is nothing she misses more than performing live for an audience. When I asked her if she has imagined what it will be like when she is finally able to sing in front of a crowd of people sitting next to one another, she said, "I just imagine crying. The first time I get to do that, I just have a feeling it is going to be incredibly emotional." Still, she said, as she prepares for her livestream concert, she has to get her voice ready to sing for an hour and 15 minutes, so she has been rehearsing in her car. "As I was driving in my car yesterday, I sang what I think will be a nice opening number 'You There in The Back Row.' Even though I am not going to see the audience during my live-steam show, it will be incredibly emotional knowing they are there to hear me perform live."
For information about how to obtain Callaway's "The Morning After" single, go to lizcallaway.com. For tickets and information about her show on "The Seth Concert Series," go to thsethconcertseries.com. Also follow Callaway on Facebook @LizCallawayOfficial and Twitter & Instagram. See Callaway's videos on her YouTube Channel.