Acting as a balm to soothe the pain resulting from the absence of live entertainment during the COVID-19 lockdown are virtual performances streaming on Internet platforms. And bringing comfort and joy to those in quarantine are the multitude of singers and musicians appearing live from their homes for these concerts and shows, many of which are fundraisers.
As a Stephen Sondheim fan, I was especially drawn to "Take Me to the World: A Sondheim 90th Birthday Celebration," all-star tribute to the iconic composer, that streamed on Broadway.com on April 27 and featured many of Broadway's biggest names. The tribute was a benefit for ASTEP (Artists Striving to End Poverty). One of those luminaries was singer-actor Linda Lavin, who sang "The Boy From…," with lyrics by Sondheim and music by Mary Rodgers, that she originated in the 1966 Off-Broadway run of "The Mad Show." A parody of "The Boy from Ipanema," it is one of my favorite show tunes. And when it comes to one of my favorite Broadway performers, Lavin is at the top of the list.
Lavin is a stage and screen doyen, who won a Tony for "Broadway Bound" and a Golden Globe Award for TV's "Alice." Her Broadway credits also include Tony-nominated turns in "Last of the Red Hot Lovers," "The Diary of Anne Frank," "The Tale of the Allergist's Wife," "Collected Stories," and "The Lyons."
Later, after seeing Lavin appear once again on "Jim Caruso's Pajama Cast Party," streamed weekly on Facebook, I reached out to Caruso, who then put me in touch with her. Earlier this week, I spoke by phone with Lavin from her home in New York, where she is quarantined with her 13-year-old dog Mickey in her Central Park South apartment.
Quickly, I discovered Lavin is not only taking the pandemic in stride, she is also using the time in lockdown to be creative and serve others. Of the several projects commanding her attention is a weekly show with long-time friend, composer, arranger, vocalist and jazz pianist Billy Stritch, who is also a downstairs neighbor in her building. The series, "Matinee at Home," streams every Wednesday at 3:00 p.m. on her official Facebook page. "We are about to do our ninth concert and are rehearsing at about 1:00 p.m. to produce a whole new concert with all new material," she shared with excitement, adding, "I looked at Billy nine weeks ago and said, 'Let's do something we know how to do. We can be six feet apart, but we can be in the same room together.' Every week, we do different material and take suggestions and requests. Since we started, we've had thousands of viewers."
Teaming with jazz violinist, mandolinist, and arranger Aaron Weinstein, Lavin is also appearing in regular episodes (to date there have been five) of "Yvette Slosch, agent," on YouTube. The hilarious sketches feature Weinstein, who writes the Jewish humor-infused scripts, playing himself, and Lavin as his clueless, overbearing agent. "Aaron is a special guest in my act and on my album. We enjoy each other's humor and I just admire and love him. His comedic comments and pieces on Instagram during the pandemic have been so funny, so I asked him to write something we could do together."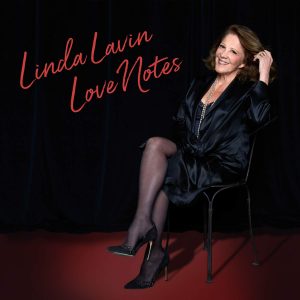 Further proof that show-business veteran Lavin enjoys a career that continues to flourish is her new solo album, "Love Notes," released on March 27 as both a digital (available on all music sites) and physical release. Lavin is joined on the album with Stritch, who produced the CD and also leads a band that includes Weinstein on violin and mandolin, Tom Hubbard on bass, Jeff Barone on guitar, and Daniel Glass on drums. When asked what governed her choice of songs on the album, Lavin said, "I chose songs that tell my story. It is a story that is constantly changing and evolving, so they express who I am and who I was."
As far as any projects interrupted by the pandemic, Lavin said on March 12, she returned to NYC from her Los Angeles home to begin rehearsals on March 16 for "The Bedwetter," a musical written by comic Sarah Silverman that was set to open on April 27. It just so happened that the day Lavin landed, Broadway theatres shut down and a few days later, Off-Broadway houses followed, including the Atlantic Theatre Company, where the show was to have been staged. I asked Lavin if the postponement of the show was a shock to her system. She replied, "It was. It was for everybody. It was not expected, but it was not unreasonable. It made a lot of sense. That is why I like to live in the moment, because there is a lot of truth to the expression 'Make plans and God laughs.' Living in the moment turned out to be a reoccurring theme throughout my chat with Lavin.
"I went through a lot of grieving in the last few months. There is a lot of loss during this time. We have lived very privileged and very fortunate lives of affluence and comfort and suddenly, all of that was taken away and we were locked down, forced to live in isolation, away from each other, and away from physical touch. There is this thing that is looming all around us and not knowing what to do except for what the authorities recommend. A part of your life has stopped. A creature of habit is faced with the challenge of changing those habits. There is loss. Loss deserves grieving and grieving is deep and sad, but it must be met and must be experienced."
Creating a structure for herself in quarantine includes taking care of her dog, Mickey, whom she takes for early-morning, daily walks in Central Park. "I take care of myself. I start my day in ways that are about self-care that include certain kinds of spiritual, meditational connections with my place in the universe. And that helps. I also connect with people in my life who are important to me." Lavin said, mentioning her husband Steve Bakunas and adult children,  who are quarantined in Costa Rica. "I find connection with others is crucial and essential to my staying in the moment. So much of the news during this awful time is focused on the future and what's going to happen, and what's going to be worse. It takes us away from the moment. You have to work on it. Staying in the moment is not easy. It really is a practice."
Summarizing her "new normal," Lavin said, "A lot of what I have been doing to live a full life in this time of isolation has given me hope. I want to continue to connect with people. I love people. I care about people who care about me. Giving a concert every week gives me hope. It allows me do service for people, who want what I have to give. In that way, I am connecting and that gives me hope. I want to be flexible, have the courage to change and meet whatever challenge comes my way. I have no need or desire to live in the future. So, I don't live in anything but the moment, connecting and making friends and bringing joy and a certain serenity to the conversation."
For more information about Lavin and her projects, visit her Linda Lavin Official Facebook page athttps://www.facebook.com/LindaLavinOfficial