I have had the great pleasure of reviewing numerous performing arts events at the Palladium, located at the Center for the Performing Arts in Carmel, ever since it opened in 2011. During that time I have witnessed many bravura performances by some of the most renowned artists in the world, some of whom left me feeling simply astonished. Now, add a semi-staged concert version of "Sweeney Todd: The Demon Barber of Fleet Street" presented by Carmel Symphony Orchestra, in collaboration with Actors Theatre of Indiana, to my list of rare evenings spent in the theatre. I had the good fortune of seeing the production on Friday, the first night of a two-day only run.
Impeccably directed by Richard J. Roberts, who serves as dramaturg for Indiana Repertory Theatre, the production also featured a chorus of 80 singers from Indianapolis Arts Chorale and Indianapolis Children's Choir. Coupled with 31 musicians from CSO and the Actors Theatre cast, the overall scale of the production far eclipsed the 2016 ATI production, also directed by Roberts, held in the intimate space of The Studio Theater, the group's regular venue at the Center.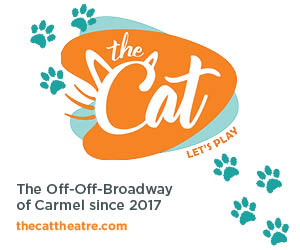 For someone who prides himself on the number of Broadway musicals he's seen, somehow "Sweeney Todd," including the previously mentioned ATI production, has eluded me. Consequently, seeing this concert version of such gargantuan scale and scope made the experience even more impactful.
For the uninitiated, "Sweeney Todd" is a 1979 Tony Award-winning musical that is considered one of composer-lyricist Stephen Sondheim's most significant masterpieces and regarded as his "most perfect score." Operatic in nature, 80 percent of the musical is set to music, either sung or underscoring dialogue, making it ideal for a concert presentation. The darkest of comedies, "Sweeney Todd" is the disturbing tale of a Victoria-era barber who returns home to London after 15 years in exile to exact revenge on a corrupt judge who ruined his life. When his plot goes awry, he becomes obsessed with seeking revenge on the entire human race, murdering as many people as possible with the help of the equally depraved Mrs. Lovett, who bakes pies using the flesh of his victims, selling them to clueless customers.
Regarding the ATI cast, I simply cannot say enough about the often-electrifying performances turned in not only by Don Farrell (Sweeney Todd), Judy Fitzgerald (Mrs. Lovett) and Cynthia Collins (Beggar Woman, et al.), the group's co-founders, but also their castmates whose names certainly deserve mention. They include Matthew Conwell (Anthony Hope, et al.), Tim Fullerton (Judge Turpin, et al.), Elizabeth Hutson (Johanna, et al.), David Cunningham (Tobias Ragg, et al.), Mario Almonte III (Adolfo Pirelli, et al.) Michael Elliott (The Beadle, et al.), Karaline Feller (Bird Seller, et al.) and Rory Shivers-Brimm (Jonas Fogg, et al.).
Over the years, I have seen the trio of Farrell, Fitzgerald and Collins in numerous roles, so many that it would be difficult to single out any specific one that was not totally convincing. Their work in this show was no exception particularly that of Farrell and Fitzgerald, who played off each other exquisitely, giving dramatic and vocal performances that were explosive in their execution. Nowhere was their unequaled chemistry more evident than in their compelling duet of "My Friends."
Other favorite moments included Farrell, Conwell and Fullerton singing "Johanna," Fitzgerald and Cunningham in an affecting rendition of "Not While I'm Around," "Pretty Women," sung by Farrell, Conwell, and Fullerton and Almonte, as flamboyant, preening Pirelli, singing "The Contest."
Only my second time hearing the Carmel Symphony Orchestra (I saw them accompany Michael Feinstein last season,) I was once again thoroughly engaged and impressed with the full-bodied, sumptuous and richness of its well-blended sound under the baton of Janna Hymes. Leading the orchestra and splendid chorus with confidence, the maestra and musicians rendered Sondheim's brilliant score with passionate aplomb. Deserving of praise for her contribution to this admirable effort was associate music director Johnna Tavianini.
Contributing to the concert's high measure of artistic quality was the production's creative team, which included lighting designer Erin Meyers, who transformed the massive Palladium into a Broadway house, costume designer Katie Cowan Sickmeier, scenic designer Paul Bernard Killian, prop master Amanda Pecora and wig master Andrew Elliott.
Previously, I have experienced collaborations between Indianapolis Symphony Orchestra, Indianapolis Symphonic Choir, Indianapolis Chamber Orchestra, Indianapolis Children's Choir and Dance Kaleidoscope that remain memorable for their exceptional caliber. I hope this most recent partnership between CSO and ATI results in a cooperative trend that combines the finest talent our vibrant arts community has to offer because in the end, we all benefit immeasurably from such creative partnerships and sharing of resources.