When Bryan Fonseca, whose role as producing director of Phoenix Theatre ended about a month after the grand opening of its new space, he hit the ground running and founded Fonseca Theatre Company. The new theatre group launched on Indy's Westside with a production of "Building the Wall" in September at Indy Convergence. Renovation of the theatre's new building across the street at 2508 West Michigan Street is scheduled to open in July. A second building at 2514 for office space, classes, rehearsals and a community center for neighborhood meetings will open later in the year.
With a company made up of artists who are 80 percent people of color, Fonseca Theatre Company, according to its  mission statement exists to "give voice to and celebrate the minority communities of Indianapolis through the prism of purposeful theatre and civic engagement. The goal is to bring about social justice through programs which educate, illuminate, and ignite conversations on equity, diversity, and inclusion."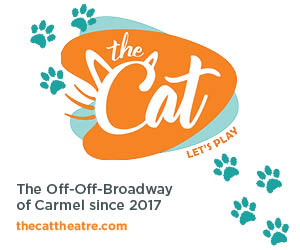 Right alongside Fonseca from the start as he began pursuing his new venture was Jordan Flores Schwartz, who currently serves as the FTC's associate producing director. As I came to know her, I concluded that her rich background, knowledge and impressive skill set are ideal for the unique arts organization that the FTC is. Consequently, I sought her out so I could learn about her journey since arriving in Indy and the impact she has helped to make since. Herein are answers to questions I posed to Schwartz in an email exchange.
How is it that you came to Indianapolis and your history with Bryan.
As part of my master's program at the University of Oregon, I had to complete a summer internship placement. This was 2016. My program was in arts administration and I was focused on literary management and new play development. During the internship search process, I discovered Bryan's work and the Phoenix through a combination of my undergraduate alumnae network and the National New Play Network. After the phone interview, I decided to take the offer and spend the summer here in Indy, where I knew I would have more of an opportunity to make contributions than the larger institutions I had offers from. That internship ended up being a fantastic experience and Bryan and I had started discussing a full-time position before I returned to school and I came back to Indy to start working full time shortly after graduation.
What is your background?
Geographically, I grew up in Atlanta, moved to Philadelphia for undergrad (Bryn Mawr College), then I went to graduate school in Oregon, and now I'm here in Indy! Theatrically, I started performing at a small community theatre by my parents' house when I was seven and then when I was nine, I started producing shows through a small project of mine, The Children's Bilingual Theatre. During college, this blossomed into several student-theatre projects and internships at a few theatres around Philly. I took some theatre classes, but ended up a history major because I wanted to hone my research and writing skills (and really enjoyed the range of classes in the department.) However, I knew I still wanted my career path to be in theatre, so when senior year came around, I applied to graduate programs in arts administration and went for my master's to make sure I had the necessary skills for the job. Here in Indy, I started out as the director of literary programs and outreach at the Phoenix and had been working with Bryan in the Near West Community through his Transformational Impact Fellowship from the Arts Council of Indianapolis.
How does your multi-cultural background inform who you are?
Culturally, I am Mexican-American and Jewish. It was important to both my parents that I was raised with an awareness and appreciation for my heritage, so I grew up with double the holidays and double the cuisine! The biggest thing growing up multi-cultural taught me, philosophically, was a more personal understanding of the incredible diversity in the world and how to be a global citizen.
What is your job description?
In addition to logistical support of our main season (contracts, schedules, etc.), a lot of my focus is on nurturing our community and educational programs. Right now, we offer a youth drama class for ages 6-12, where students develop their own original play based on a theme – this class is focused on wacky inventions. We'll be adding a similarly-structured teen class in the fall with themes that will be more issue-oriented and offer more opportunities for students to get involved on the technical side. I also handle a range of daily administrative things within finance, development, and marketing.
What is it like working with Bryan? Is he a mentor?
Ever since my internship as a grad student, I have considered Bryan a mentor. He's an incredible director and it's been wonderful learning from someone who also believes that professional theatre can and should be applied to community issues. I also really appreciate that we can be completely candid with each other and I think our respective strengths and weaknesses complement each other well.
Describe your journey with FTC thus far?
Being responsible for such wide-ranging job tasks and having such a large voice in the organization means I have been acquiring new skills and honing others every single day! It's also been great to get back to what theatre is really is about for me – building bridges and sharing stories. Theatre is so much more than just entertainment. For youth, it's a critical educational tool that imparts countless life skills like teamwork, good study habits, and public speaking. For everyone, the theatre is the best way to walk in someone else's shoes and really open your mind and heart to a culture or experience different from their own. I am so deeply proud to be part of an organization that recognizes this and is using theatre for the purpose of community-building and sparking dialogue around key issues.
What has been the public's response since the theatre started operating?
Right now, we are the only professional theatre in Indy totally dedicated to representation and producing our community's stories. This means we are filling a huge gap in the Indy theatre scene and, most importantly, people want to see these plays and they're excited we're here. At every single performance we've had, audience members comment on how deeply they were impacted by the production and how unique the experience was for them. We are so incredibly grateful for the many, many folks that have rallied behind us these first eight months!
What kind of community support has the FTC received?
Many incredible individuals, from both the neighborhood and the theatre community, have stepped up as donors and volunteers. We can never thank them enough. Being such a small staff, we really do rely on their support to keep everything moving forward and we would have not come together as quickly as an organization without them.
How have you been received on the Westside?
We spent the time during Bryan's fellowship to get to know the community and have always taken neighborhood response into consideration with our programming. In addition to our mission of working with the neighborhood, it's just good business sense to create programming people want to be a part of. Our ticket sales within the neighborhood have grown with each production, selling out at least a couple of performances every show, and our educational programs have doubled enrollment specifically because our families have been recommending our classes to their friends and neighbors. As long as we continue to listen to the community and create a welcoming environment, I am confident this momentum will continue.
How have you been received by the minority community in general?
Our educational program is roughly 60 percent Latino, 30 percent African American, and 10 percent White/Other. Being culturally-focused, our shows have also brought together some of the most diverse audiences in the city and engaged a lot of first-time theatre-goers. Our collective reflects the community, and it's important for folks to be able to see themselves reflected in an organization and on stage.
How have you been received by minority artists?
Art and culture are so deeply connected. We can all agree that working on a project rooted in your own experience makes for a better artistic product and a more satisfying process. Several of our artists have identified their experience with us as among the most impactful in their careers, both artistically and professionally. Folks are also simply excited for those shows they most identify with, as anyone would be.
Please provide me with an update regarding the theatre's progress?
We just wrapped up our third production, "The Ballad of Klook and Vinette," and are starting rehearsals for "Lady Day at Emerson's Bar and Grill" (opening March 13 at The Linebacker Bar). We're also in the middle of our second round of youth classes, which has double the enrollment from our first class! Even more exciting, we've made it through all the pre-construction steps and the real renovations have officially begun in the building! Getting to our permanent home is the critical next step, so we can begin rolling out all of the expanded programming Bryan and I have been planning.
What are the theatre's biggest challenges?
Honestly, the biggest challenge we are up against right now is our youth. Being a brand-new organization means we are building everything from the ground up – beginning with the small things like putting together a website and debugging our ticketing system, all the way up to the largest item on our to-do list, renovating our new building. Our youth also poses a challenge with development, as a lot of funders require a minimum of a full-year of operation. However, with the help of some incredible volunteers and very generous donors, we are tackling these obstacles one by one.
What are the FTC's greatest needs?
What would help FTC more than anything is for folks to spread the word about the work we're doing and about our capital campaign. The urgency of our mission and the caliber of our work speak for themselves. If you know of anyone who would be interested in volunteering, donating, enrolling in a class, attending a show, or even just learning more about what FTC is – send them our way! We are not shy about sharing our contact information.
What has the experience meant to you personally? As an arts administrator?
Being part of building a brand-new organization is a once-in-a-lifetime opportunity. Professionally, I honestly don't think I would have learned half as many skills at another job. Personally, I am so excited to have found a community to call home here in Indianapolis and to have such an amazing opportunity to do exactly the type of work I want to do so early in my career.
What are your hopes and dreams for FTC?
In the immediate sense, my focus is to get the new building open and launch our full range of programs. Long term, I am excited for FTC to find its place in the national theatre landscape and, more importantly, to be part of the national conversation about the role the arts play in gentrification and how we can do better for our communities.
For tickets and information about Fonseca Theatre Company visit fonsecatheatrecompany.org.