I had the great pleasure of seeing Jane Lynch, best known as impervious coach Sue Sylvester on Fox's "Glee," her sidekick Kate Flannery, who played boozehound Meredith on NBC's "The Office," silky-smooth baritone Tim Davis, and the Tony Guerrero Quintet when they last appeared together in Central Indiana. The occasion was their show at The Cabaret (then at the Columbia Club) in 2016. Consequently, I knew what to expect when they performed again together Saturday in their holiday show, "Jane Lynch: A Swingin' Little Christmas," at the Palladium on the campus of the Center for the Performing Arts in Carmel.
Guerrero's quintet, consisting of the bandleader on trumpet, Mark Visher on saxophone, Matt Johnson on drums, David Siebels on piano/keyboard, and David Miller on bass, opened the show and set the tone for a night of swing, with jazz renditions of "Angels We Have Heard on High," "Santa Baby," and "Winter Wonderland," prior to introducing Lynch. The quintet performed with Lynch, Flannery and Davis on an album, "A Swingin' Little Christmas" that was released in 2016 and was the genesis for thislive show with a 50s and 60s-flavored vibe that they are touring nationwide.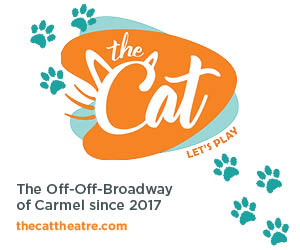 Appearing on stage under dim lighting, along with Flannery and Davis, Lynch and her guests then launched into the solemn "Coventry Christmas," a 16th-century carol, which, in the moment, seemed an unlikely selection for this trio of entertainers, whom I knew to be upbeat and goofy. After singing a verse or two, however, Lynch suddenly stopped the song, making it clear that it was all a gag, as the wacky trio proceeded to launch into the show's title song "A Swingin' Little Christmas." It was a harbinger for all the unanointed in the audience that these three, each in possession of fine voices, were also masters at harmonizing.
I can't know for certain just exactly how many in the packed house, filled with a diverse audience, were actually fans of Lynch's from her turn on "Glee" or her stint as host of "Hollywood Game Night," or Flannery's from "The Office." One could safely presume, however, based on their audible, enthusiastic responses to Lynch's droll banter, which reflected an acerbic wit and deadpan humor similar to her alter-ego Sue and Flannery's, which was quirky and off the wall, much like her TV persona. As far as Davis, who Lynch repeatedly referred to as "eye candy," he played straight man to the two comediennes, who affectionately mocked him for his good looks when he was not singing in a gorgeous, velvety-toned voice. Not just a pretty face however, Davis, who was a producer and arranger for all six seasons of "Glee" and ABC's "Boy Band" also arranged all the songs for "A Swingin' Little Christmas"
90-minute in length with no intermission, the show featured a set list which included such songs, performed by the three with screwball antics, as "Good King Wenceslas," "We Three Kings," "The First Noel," a folk-song parody called "Blood on the Christmas Coals," and "Jingle Bells."
For my money, a highlight of the show was the encore, which began with the trio lying supine on the floor singing "Russian Child" a capella. That hilarity was followed by what some might consider an irreverent, ultra-swinging version of Handel's "Hallelujah," with the three  concluding the concert with a reprise of "A Swingin' Little Christmas."
Having reviewed three fairly traditional holiday shows prior to seeing Lynch and company's, it was refreshing to view the season through the prism of Lynch's quirky sense of humor and musical gifts and those of her accomplished posse of collaborators. As evidenced by the long line of fans waiting to meet the entertainers, who sat at a table in the west lobby after the show, I wasn't alone in appreciating Lynch's unconventional, yet lighthearted take on Christ