Recently, I was asked how many Indianapolis Symphony Orchestra "Yuletide Celebration" productions I had seen during its 33-year history. Upon reflection, I realized that I had reviewed nearly all of them during my 40-plus years as a freelance writer. But I can say without reservation that the current "IPL Yuletide Celebration," led by ISO Pops conductor Jack Everly, is among the finest of the lot. Featuring co-hosts, opera singer Angela Brown, an Indy native and Josh Kaufman, a sixth-season winner of the NBC reality series "The Voice," who grew up here, the annual Broadway-style, holiday extravaganza opened Friday to a packed house at the Hilbert Circle Theatre downtown on Monument Circle.
It occurred to me when it was announced that Brown and Kaufman would be co-hosting this year's "Yuletide" event, that there was no more unlikely pair than the two who excel in their music genres. I wondered how it would play out and what kind of chemistry an opera singer and a pop, rock and R&B vocalist co-hosting a holiday concert would have, she hosting it twice before and he only once. Happily, my skepticism went out the window once they took the stage joined by ensemble members to intone George Frederick Handel's imposing "Joy to the World." The fact is, the two complemented each other, and thanks to well-written banter by Yuletide Executive Producer Ty Johnson and Aaron Fuksa (Who played one of the best Santa Clauses ever!) they both projected appealing stage personalities, both individually and separately. And there is no question that soprano Brown and Kaufman, a tenor, both possess exceptional vocal instruments, which were superbly displayed.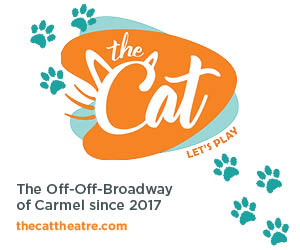 With choreography and stage direction impressively overseen by "Yuletide" veteran Jennifer Ladner, the show's supporting 61-member cast was made up of both local and national performers. They included star attractions, acrobatic artists' Troupe Vertigo and also Expressenz, a local dance group who recently gained fame for their participation in NBC's "Word of Dance," produced by Jennifer Lopez.
Aside from so many magnificent performances, what made this year's "Yuletide" spectacle so special was its impeccable programming which included song selections that best showcased the talents of the hosts and Yuletide Singers and production numbers that showed off the superbly trained dancers in the ensemble. Adding to the show's effectiveness as superior entertainment was its fast pace (the show is two hours with a 20 minute intermission,) which left me yearning for more.
There were so many moments that were memorable, but a few stood out. Wearing a gold turban and purple gown with gold accents, just one of the many lavish and glamorous ones designed by "Yuletide" costume designer Clare Henkel, Brown sang a stunning rendition of the spiritual "Mary Had a Baby," arranged by vocal director Greg Sanders and accompanied by the Yuletide Singers. It should be added, that throughout the concert, Brown also showed her comedic side, as she brought the crowd to laughter with sassy one-liners she delivered with spot-on timing.
The show's excellent writing also paid off for Kaufman, who came off more relaxed and definitely more confident in the musical theatre arena than the last time he hosted "Yuletide" in 2016. This time around, his versatile talents were better utilized as well in "Santa's Choice," a clever parody of the show that made him a star, during which he sang a takeoff of Bruno Mars' infectious "Uptown Funk," and one of the best male renditions of Mariah Carey's omnipresent holiday hit "All I Want For Christmas" I have ever heard.
A highlight of the show was "The Enchanted Toy Shop," which was introduced by Brown, who sang "Once Upon a December" from "Anastasia" and Kaufman as the toy maker, and Amanda McCarthy who sang "A Million Dreams" from "The Greatest Showman." Featuring Troupe Vertigo performing high above the stage and the ensemble members dressed as toys in more of Henkel's lavish costumes, with all lighted phenomenally by Stuart Duke, the entire number was not only eye-popping, it was also poignant and mysterious.
Moving, indeed, was Brown and a trio of sopranos, Donata Cucinotta, Robin Leigh Massie and Christina Nicastro, all of whom sang jaw-dropping solos during "O Holy Night." Their combined performance was one of the most breathtaking I have seen on any stage anywhere, anytime.
And of course, this review would not be complete without mention of the world-class ISO musicians, whose artistry and skills produced the lush, enveloping sound that even Broadway shows with orchestras, that are not usually larger than 20 pieces, can ever hope to produce.
If there were ever a "Greatest Showman" on the local scene it would be "Yuletide" executive producer Johnson. His uncommon vision, executed by a expert creative team and brought to life by the top drawer co-hosts and cast, has resulted in an entertainment package that exhibits the highest production values of any locally produced show. Some stats listed in the program indicate the use of 12 tons of scenery and light grids, 350 costumes and props, 96 microphones, and 12 snow machines are evidence of its size and scope.
During a time of division when we can all use a break from the conflict that surrounds us, "Yuletide" is an artistic endeavor which we can all be proud of and embrace for the magical feeling and wonder it engenders for both young and old. There is nothing like music to unite us as we celebrate this season of light and joy to all and "Yuletide" does it very,very well.
For tickets and information regarding "IPL Yuletide Celebration" visit indianapolissymphonyorchestra.com or call the box office at (317) 639-4300.