I met Mayor Joe Hogsett in 2011 when he was considering a run against then-incumbent Mayor Greg Ballard, but opted to stay out of the race that would eventually result in the defeat of Democrat Melina Kennedy, deputy mayor under former Mayor Bart Peterson. A partner at Bingham McHale law firm at the time, Hogsett was aware of my passion for and involvement in the arts and wanted to connect with the city's arts leadership in order to gauge interest in his potential candidacy. After reaching out, we met for lunch, where he spoke about making the arts a priority if he were to become mayor. He also asked me if I could introduce him to the heads of local arts organizations. I was pleased to do so because I was impressed with his ideas and seemingly sincere commitment to prioritizing the arts. All those leaders with whom he eventually met reported back to me that Hogsett was a breath of fresh air and were as disappointed as I was when he decided to sit out the 2012 mayoral election.
Fast forward to 2016, no one was more pleased than I was when Hogsett did run and became Indianapolis' 49th mayor. Since then, I have seen him at numerous arts events around the city. Most recently, upon encountering him at a Dance Kaleidoscope benefit, I asked if he would sit down with me and provide an assessment of the state of the arts in Indy. Herein is an edited transcript of our conversation this week in the mayor's 25th-floor conference room in the City-County Building.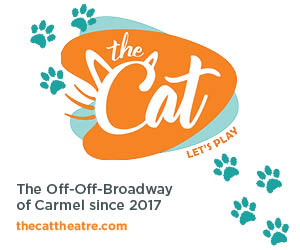 What is the economic impact of the arts?
I think the economic impact of the arts is profound. The arts allow us, as a city, to get to that next level because arts and culture are an important part of that. They also help us develop our neighborhoods economically and revitalize our city in the areas that have fallen victim to urbanization in the 60s, 70s and early 80s that this administration has made a considerable effort to revitalize. Mayor Bill Hudnut is originally credited with building a downtown that is the envy of the Midwest, if not the country, when he articulated what he called the "Hudnut Doctrine," which stated that "You can't be a suburb of nothing." Of course, in the last mayoral campaign, I just simply tried to make the people of Indianapolis sensitive to the corollary, "You can't be the downtown of nothing." We have a beautiful downtown now and when Mayor Hudnut was speaking of the suburbs, he was talking of the townships. Well, the townships are not the suburbs anymore. The suburbs, we all acknowledge, are the contiguous counties and they are developing their own arts and culture, such as Carmel, which is a good example. I see our arts community really being a community dedicated to enriching our experience, but as economic developers. Where there is art in a neighborhood, there is economic hope.
Speaking of neighborhoods, what do you thing the impact will be for those downtown areas where The Cabaret and the new Phoenix Theatre are situated?
Those facilities are a positive step forward, not only for Indianapolis, but they also send a powerful message, that as a city, we are willing to partner with arts organization, as we have with the Phoenix, in regard to New Market Tax Credits. It may be the first time the city has used federal allocation of New Market Tax Credits for a building dedicated to the arts. They have been used in the past for traditional economic development. They've been used to transform the Ivy Tech Corporate College and Culinary Center. They have been used in a wide variety of different ways to grow and evolve, but the Phoenix Theatre is the very first example of where we have used New Market Tax Credits to help a developer bridge the gap. We are trying to be nimble and creative in ways the city has never embraced before to help not only the arts community, but the community as a whole. As far as development of those areas where The Cabaret and Phoenix are, it all starts with density and I can't take credit for it. Investments made by previous mayors have brought a population of residents to our downtown area that didn't exist 20 years ago, the apartments and condominiums, the migration downtown. Mayor Ballard called it the "Center Township Strategy," where they tried to increase property tax and income tax revenue inside Center Township to create a density of people downtown who enjoy the arts and want these amenities. I think for the Phoenix, the existing structure, there was no parking, or parking was very difficult, even though it was in a wonderful neighborhood. Now, with the brand new building, I do think retail and commercial will come along with it. You will have restaurants and other forms of entertainment and I hope you will see arts organizations encourage the presence of other arts organizations.
What is the origin of your own love of the arts?
My grandmother was an accomplished pianist. At an early age, I took years of piano lessons, free of charge, because she was a piano teacher. As a family, we would attend performances of Broadway musicals, whether it was the Hilton Brown Starlight Musicals or Emens Auditorium at Ball State. I was born and raised in Rushville, so we were a bit isolated and had to go out of town. At a young age, I was in the band and choir. I loved the theatre and participated in local troupes. Love for the arts always starts at a very young age. When someone of an impressionable age is exposed to the arts, he or she develops a love for them and then it becomes second nature.
Do the arts drive tourism?
I don't think there is any question that they do. I will tell you that the folks who visit Indy will probably, statistically, be able to give you quantifiable examples of how they do. Probably the best example I have is I had not been mayor for more than four or five months when the U.S. Conference of Mayors came to Indianapolis. Mayor Ballard was responsible for submitting a bid that was accepted by the organization for its annual meeting to come to Indianapolis in the summer of 2016. We had 225 mayors from all over the country, coming to our community to talk about the issues of the day, such as crime, infrastructure, all the things that mayors have to deal with on a daily basis. In the evenings and off hours, what the mayors wanted to do most was explore Indianapolis and downtown and not just restaurants, bars and other places where they could socialize with one another. We had it at the JW Marriott. They were ecstatic that right across the street was the Eiteljorg Museum. Many mayors went over there to take advantage of the Eiteljorg. They wanted to know what opportunities existed within walking distance and frankly, the good thing about Indianapolis is you don't need to Uber or take a cab or God forbid; you don't need to drive a car anywhere. You can get to all of these local, cultural destinations on foot and I think that was probably the most striking thing about my early time as mayor that really underscored for me how the arts really do make an impact on tourism. People do come here to see performances, but even those who are here for a business conference want to know what other cultural opportunities are available when they are in town.
When the city recruits companies to locate here, do they ask what our cultural amenities are?
Absolutely. The truth is it is probably among the highest priorities that any company will look at. I am not saying anything that is out of school. In the most recently reported and highly profiled Amazon bid, when we as a community, the metro area, submitted our bid for HQ2 Amazon, it won't surprise you or those in the arts community that cultural opportunity and availability and our progress in that regard were among the most highly prioritized aspects of our bid. "When you come to our community, we will give you X in terms of incentives; we'll give you Y as it relates to tax breaks or what have you." Well, what we did, initially, was to try to sell Amazon on Indianapolis. We tried to say, "Here's Indianapolis; here's our community; here's our culture; here is what we have to offer; here is why you'll enjoy it if you choose to come here, but most importantly, as you suggested, we can offer your employees amenities that include a symphony orchestra, a ballet and opera company and professional theatre, amenities during the day and at night." Now, that's not to say that some of our emphasis on sports hasn't paid dividends. I think the fact that we have an NFL and NBA franchise is not something we shy away from, but what I think you have seen in the last 40 years is the success of an emphasis Indianapolis placed in the 80s on athletic endeavors and sports facilities. What is that next step? What is that next level that Indianapolis will take and achieve? I do think, profoundly, it will be our cultural life.
Will the arts ever be as much a priority as sports are in Indy?
Yes, I think that time is long overdue. I am not trying to diminish the efforts of Mayor Hudnut, who was the architect, with Jim Morrison who was with the Lilly Endowment and the success of having the National Sports Festival and Pan Am Games, ultimately bringing an NFL team and a Super Bowl. I am not trying to diminish those events, but I think the arts and cultural opportunities that we continue to promote and grow here in Indianapolis will be every bit as important for our future as our sports endeavors.
There is a real disparity in terms of dollars when it comes to arts versus sports, is there not?
Yes, I think you need to acknowledge that there are differences, but beyond the dollars involved, it is a matter of what kind of priority does the city leadership, both public and private, place on the arts? One of the important things I tried to do, at least in the two and half years I've served, is whenever my schedule permits, I take a great deal of joy in being able to attend as many different performances as I can. It is not only for my own personal edification, although that is my primary motivation. I want to see the performances, but I think in addition to that, when people see the mayor attending the Indianapolis Opera or the Indianapolis Ballet, it sends a strong message. This weekend, I will travel to Washington D.C. for the Indianapolis Symphony Orchestra, the Indianapolis Symphonic Choir and the Indianapolis Children's Choir's performance at the Kennedy Center. The Metropolitan Youth Orchestra is also performing there. I have never been to the Kennedy Center, so this is going to be like nirvana to me. When the mayor flies to D.C., I think that sends a very important message. Not just to the arts community, but to the community as a whole that as far as this administration is concerned, our arts and cultural life is very important and inextricably linked to our progress.
How do we overcome negative perception resulting in labels such as "elitist," "a luxury" and "liberal" when it comes to the arts?
I think those generalizations are exactly that, generalizations. They are contorted and not really keeping with reality. This administration has worked with the Arts Council of Indianapolis and other arts groups to see how collaboratively we can push art out into the community. And frankly, some arts organizations already do that. A good example is The Children's Museum. That is an arts organization that, for years, made every economic strata in Marion County available. But I think other arts organizations could do a better job of that and we want to partner with them. We continually struggle with the level of public funding the arts receives, but I am very proud of the fact that one of the first ordinances passed by the City-County Council after I became mayor was the "percent for art" ordinance. It is only one percent, but it is a beginning.
For the past several years, the city has allocated $1.3 million to the Arts Council of Indianapolis, $1 million from the City-Council and $300,000 from Capital Improvement Board (CIB). Would you like to see that allocation increased?
It requires council approval because it is part of the budget, but I remember when the city's support was maybe not double that, but nearly double that. I think during the Peterson administration, it was maybe $2.5 million. Now, is that going to answer all questions? No. But to be able to say, "Look, as a city, we have made a conscious decision to increase, if not perhaps double, the amount of city support, public support that we are providing." I don't know what the one percent for art has generated, but I think that was a step in the right direction and I know we have created, as a result of some support we have received from the CIB, a cultural economies commission that frankly, is somewhat reminiscent of the Cultural Development Commission that Mayor Peterson impaneled that Indiana Supreme Court Justice Ted Boehm and attorney Keira Amstutz and others definitely guided back in the early part of the last decade. We are trying to replicate what we have done as a city in the past that has worked well and then, at the same time, work with arts organizations. There are 25 members of the council. My hope is that if each of those 25 members hears about really creative arts occurrences and endeavors in their districts, they'll take a little closer look at the arts budget when the time comes to put budgets together for the future.
What do you think can be done to offset the cuts in arts funding in our schools?
I don't think there is any question that we need a comprehensive arts strategy. I don't want to give up on our schools. I want to use the bully pulpit to encourage public school corporations where there have been cuts in music funding. It goes back to my own experience. When you are exposed to the arts at a very early age, you see things in ways, that if you didn't have that same exposure, you might not be able to see. There has been an exponential rise in the level of poverty in the last 25 years. I think when talking about public safety concerns among young people, it helps to offer them hope and opportunities they may not be aware of, such as exposure to the arts and that is why I love the Metropolitan Youth Orchestra program, where young people are really being exposed to alternatives they would otherwise not be exposed to. What do I mean by that? If you pick up a violin at a very early age and learn to love it and the music it creates, you are less likely to pick up a gun at an early age.
How important are the arts to Indy's quality of life?
There is no question in my mind that the quality of life and the quality of place in Indianapolis is going to depend on our continued commitment to a robust arts community that is engaged in all levels as much as it can be, from the large arts institutions to the smallest neighborhood groups. As part of our Kennedy-King commemoration, I thought it was perfectly appropriate for the IndyFringe Basile Theatre to open its door on one of its Jabberwocky nights to invite people who were there the night of Kennedy's speech to come and make a presentation. I attended that. A couple of weeks later, I was back at that very same theatre watching "Dear Bobby: The Musical." So here is a historically important event that occurred in our city that really sets us a apart from all other communities in the country. So, we're celebrating 50 years of looking back on the memory, but doing so through artistic endeavor, instead of what would normally be a tent put up in a park, a bunch of speakers getting up, a replaying of the speech and everybody goes home. Now, you have an understanding fundamentally, at least for the many in this community who put together performances, that help the city celebrate this historically significant night in our city's history. I think that is indicative of what we need to pursue.
Not a regular "On The Aisle" reader? Please subscribe by entering your info on the upper right-hand side of this page.