"Electricity hung in the air."  Yes, it is a worn out cliché but there is simply no better way to describe Friday's opening night of "Fun Home" at Phoenix Theatre.  There was a great deal of anticipation emanating from the sold-out audience because it was the regional premiere of the five-time Tony Award winning musical. Also making the evening special was the fact, pointed out by Bryan Fonseca, the theatre's producing director in his curtain speech, that it was the final opening night performance in the former church building. Next year, the Phoenix will occupy its brand-new facility located at Illinois Street and the Glick Peace Trail in downtown Indy.
And if that were not enough, the momentous evening marked the artistic homecoming for "Fun Home" director Suzanne Fleenor, Phoenix Theatre founding member who relocated 17 years ago but returned, at Fonseca's request, just to oversee the production.  Thanks to what turned out to be Fleenor'a impeccable direction, stupendous performances and first-rate production values, the previously mentioned palpable excitement that filled the air was not in vain because for me and others present, the entire experience couldn't have been more rewarding.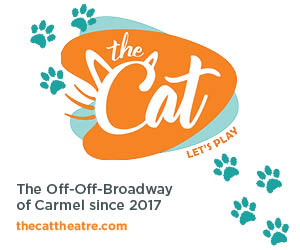 "Fun Home" which is both funny and heart wrenching, features a book and lyrics written by Lisa Kron, and music by Jeanine Tesori. Based on the graphic novel by Alison Bechdel and is not your typical feel-good, escapist romp musical.  Bechdel's often harrowing coming of age and coming out as a lesbian tale is about the challenges she faced growing up in the troubled household of the family funeral home run by her father, a remote parent and closeted gay man who ends up committing suicide. It's heavy stuff, often sad and painful to watch, yet because of the convincing acting, one simply cannot help but be drawn into the story and find the humor and hope the story also conveys.
Fleenor,  a gifted actor herself, couldn't have cast the show any better. Cynthia Collins who plays the adult Alison gave a performance that was an absolute revelation. Proving her mettle as a serious actor, Collins, who I have seen often in frothy musicals at Actors Theatre of Indiana of which she is a co-founder, was thoroughly believable as cartoonist Bechdel who somehow managed to survive her sometime toxic childhood and damaged father's behavior and emerge with empathy towards him.
Ivy Moody also turned in a superior performance as Medium Alison who comes out while attending college, when she meets Joan. Singing in a lovely soprano voice, Moody sparkled during "Changing My Major," sung by her character after she engages in sex for the first time with Joan. Moody's strong acting skills were especially evident in Alison's tension-filled encounters with her overly- controlling father.
12-year old Amelia Wray, as small Allison was explosive with star power. Her nuanced performance was one of the most effortless intelligent and beautifully drawn characterization, I have ever seen from a child actor anywhere on any stage. A diminutive force of nature,  Wray, was absolutely dazzling in her rendition of "Ring of Keys," a song her character sings upon sighting a butch lesbian whom she instantly identifies with. Based on her riveting performance and phenomenal talent it is not hard to imagine Wray starring on a Broadway stage, in films, on television or on the concert stage.  She is scary good.
Eric Olson, another blue-chip talent, whom I admire for his work in previous shows at the Phoenix, once again triumphed. He plays Bruce Bechdel, the demanding, tortured father and husband whose actions lead to tragic consequences for a family held captive by his emotional instability. Olson's creation of a multi-dimensional character that one can alternately despise and have compassion for at the same time, was highly effective.
Rounding out the outstanding lead actors is Summer Stock Stage co-founder Emily Ristine as the vulnerable, long-suffering wife and mother Helen Bechdel who suffers the emotional and verbal abuse of her deceitful, philandering husband, while trying to protect her children in an environment that is often toxic. In a singing performance that brought down the house, Ristine as Helen astonished me when she sang "Days and Das."  One of the most moving songs in the "Fun Home" score, it is powerful lament in which Helen reveals to Medium Alison, her distress and unhappiness with her loveless marriage with Bruce.
In smaller roles. yet nevertheless giving appealing performances. were Teneh B.C. Karimu as Joan, Brandon Alstott as Roy and others, Aiden Schurr as Christian and Jacob McVay as John.
As far as Tesori and Kron's lovely, lyrical score, some of which is reminiscent of Sondheim's work, Fleenor couldn't have chosen a better music director than Brent Marty to interpret it along with a top-notch 10-piece band.
Responsible for balancing the sound of Marty's superb band with the show's impressive vocals was sound guru Ben Dobler. I dare say it was one of the best sound designs and mixes I have ever heard in a Phoenix production during its entire storied history which I have covered since its inception.
Finally, as production elements values go—praise-worthy as well were the creative contributions of Mariel Greenlee whose choreography  brought joy to the proceedings; veteran designer Jim Ream's imposing funeral home set; Jeff Martin's evocative lighting design; and Stephen Hollenbeck's  costumes.
Depending on your exposure to provocative subject matter in the theatre, you may be hesitant to experience a work like "Fun Home" which has its share of controversial content. But keep in mind, that this is the sort of work that the Phoenix does best.  You will be challenged but you will also come away empowered, entertained, and possibly uplifted.  Lastly, this piece  is really about families so  you will definitely  experience universal truths common to us all.  Fun or not, home is where the heart is.
"Fun Home" tickets are $30.00  per person on Thursdays, Friday, and Sundays and  $35.00 per person on Saturdays, $27  per person on 5 p.m. Saturdays, and $25.00 for anyone 21 & under. Tickets may be purchased by calling the box office at (317) 635-7529 or visiting phoenixtheatre.org. Curtain times for the production are: Thursdays at 7 p.m., Fridays at 8 p.m., Saturdays at 5 p.m. and 8 p.m., and Sundays at 2 p.m.
.