It's been a while since I've seen a play that packs as much an emotional punch as  does How to Use a Knife. Infused with affectionate comedy,  the compelling drama by playwright Will Snider is a  National New Play Network Rolling World Premiere that opened Friday night at the Phoenix Theatre on the Frank and Katrina Basile Stage.
The play is set in the kitchen of a Wall Street burger and steak restaurant in NYC's Lower Manhattan. Smarmy restaurant owner (Rob Johansen)  has hired his friend and former supervisor, Chef George (Ryan Artzberger), a recovering alcoholic, in order to help him get on his feet. With a goal to improve the restaurant's quality control and productivity, Chef oversees an unlikely staff consisting of  Carlos and Miguel, two jovial Guatemalan cooks (Carlos Medina Maldonado and Wheeler Castaneda ); Jack,  a pouting food runner who dreams of becoming a writer (Tommy Lewey); and Steve, an enigmatic dishwasher (Ansley Valentine) with a questionable past. Drawn into the story late in the play is no-nonsense Kim, an immigration official(Chelsea Anderson).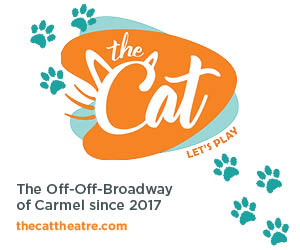 Phoenix producing director Bryan Fonseca excelled in directing his actors who faithfully captured the fast-paced, hectic nature of a restaurant kitchen which demands that food preparation, cooking, serving and even dishwashing, be skillfully choreographed in order to meet the needs of often demanding diners.
IRT veteran Artzberger, one of Indy's most proficients actors,  turned in a wonderfully nuanced performance as the fragile Chef, who, once at the top of his game, struggles to stay sober as he tries to win his life back.
Valentine was striking as eccentric, wise, and elegantly spoken Steve, an East African immigrant who Chef George befriends. They quickly bond once they discover that they share a similar pain brought about by traumatic events experienced by  both during their tragic pasts.
Johansen was pitch perfect as sleazeball Michael, who, despite his blatant racism and misogyny exhibits at least one redeeming quality. Out of symphathy, Michael hires Chef George, who hopes he can find redemption by working again in his chosen profession.
Lewey, most well known locally for his acumen as a dancer and director, gave a solid performanxe as Jack, who bides his time working a quintessential day job while pursuing his artistic goals.
Maldonado and Castaneda showed comedic flair as the constantly bantering cousins   (one Spanish and the other bi-lingual) who work as line-cooks in the establishment. Despite the fact that Carlos and Miguel are from a totally different country and culture, they are constantly referred to as Mexicans by the restaurant owner and their other clueless colleagues. It's a running joke throughout the play that reinforces the lack of education that many Americans possess when it comes to knowledge about Latin America.
Also turning in a believable performance was Anderson who played Kim, a steely immigration official, whose very presence threatens those in the kitchen who are undocumented or possibly on the run from the authorities.
Another character in the well devised production is James Gross' marvelous set which consists of a realistic-looking, partially functioning, kitchen. It features equipment and all the accoutrement of a restaurant kitchen, including a  sink with running water. Complimented by designer Zac Hunter's lighting, the set even includes obligatory swinging doors through which one can see wine bottles displayed on a shelf and a dining room ambiance, that can be viewed whenever actors enter or exit the kitchen.
Attention to detail was also evident in the care that props designer Emily McGee took towards depicting meals.  If you haven't had dinner prior to seeing the show, the hamburgers and other food items prepared on stage may induce you to visit one of nearby Mass Ave's many fine eateries afterwards.  Once at your chosen dining spot, don't be surprised if you speculate about what might be going on in the kitchen as well as dissect a piece of meaningful theatre that is guaranteed to spark discussion.
Tickets for How to Use a Knife are $27.00 per person on Thursdays and Sundays, $33.00 per person on Fridays and Saturdays, and $20.00 for anyone 21 & under and may be purchased by calling the box office at (317) 635-7529 or visiting phoenixtheatre.org. Curtain times for the production are: Thursdays at 7 pm, Fridays at 8 pm, Saturdays at 8 pm, and Sundays at 2 pm.