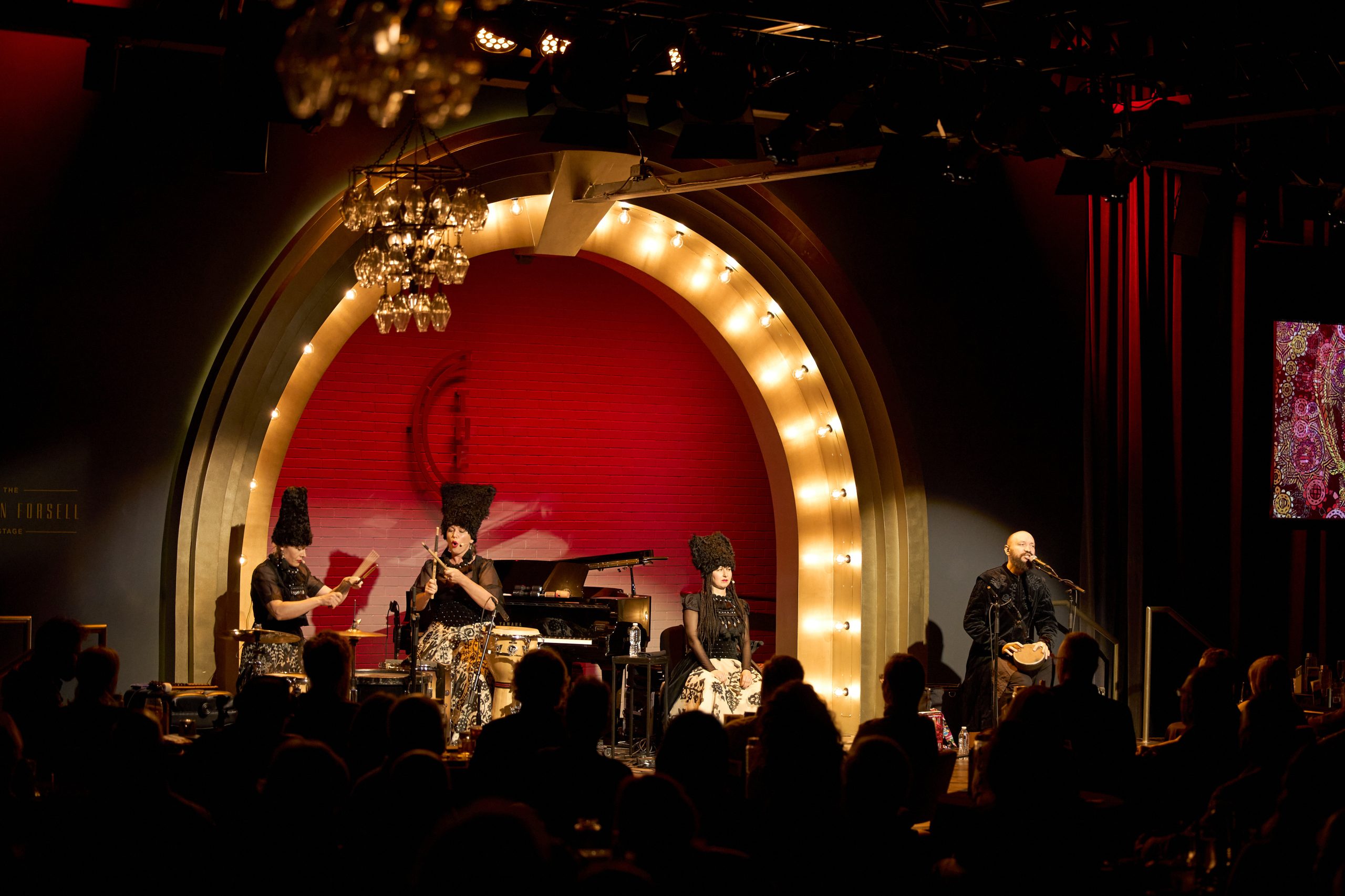 DakhaBrakha – Courtesy of Dave Pluimer. Used with permission.
Performing Tuesday at The Cabaret for one night only was DakhaBrakha, world music quartet from Kyiv, Ukraine. It was an intriguing evening of music, expressing sounds that were magical, mystical, exotic, and even weird, in a good way, featuring a band that was undoubtedly one of the most original I have ever heard. Making their edgy, provocative performance even more special, and timely, was the anti-war and specifically anti-Putin message that was given special emphasis in their program.   Present at the event was a significant number of Ukrainians in the sold-out house.
DakhaBrakha first came together in 2004 as a house band for an experimental theatre company led by avant-garde theatre director, Vladyslav Troitskyi, and they have toured the world many times over ever since. The band included cellist Nina Garenetska, multi-instrumentalist Marko Halanevych, multi-instrumentalist Iryna Kovalenko, and singer and percussionist Olena Tsybulska.
Loosely translated into English as "Give-Take," DakhaBrakha's sound, referencing regional music from throughout Ukraine, incorporates a rich variety of musical styles, including jazz, punk, ethno, rock and even hip hop. Their music also incorporates Afrobeat, traditional Eastern European folk, Arabic, Australian, Indian and more, combines to create an unpredictable, often-breathtaking live experience that was expansive, yet ironically, intimate as well.
Introducing the band was Svitlana Ramer, president of the Ukraine Society of Indiana, with a mission that revolves around 3 pillars: cultural heritage (including community events), education (including educational resources for refugees), and civics (forging connections between Indiana and Ukraine, advocacy, etc.).
Dressed in traditional Ukrainian garb with a twist, with the women wearing their signature foot-tall hats (called the "papakha," a headdress that was traditionally worn by Cossacks) the group captivated the full house – including many Ukrainians – with their impressive musicianship and variety of sounds made by traditional instruments from different countries and more common ones. Vocal duties were shared by all four members of the group, with each utilizing their vocal range to change the mood throughout their act, creating atmospheric sounds that even included bird noises, all to brilliant, gripping effect.
Representing both the chaos and hope now extant in their beloved, besieged Ukraine were wondrous illustrations projected on dual screens that flanked the stage. They included psychedelic-flavored animations, archival stills, and disturbing videos depicting the horror and destruction visited upon Ukraine by Russia.
The message "No War – Stop Putin" was also projected throughout the show and was a constant reminder of what was at stake in Ukraine, the activist musicians of DakhaBrakha, through their singular artistry, created a sense of shared humanity with an audience and an atmosphere that reflected a common bond for a cause that impacts us all. It was an experience that I will long remember for the immediacy of its themes and the originality of its uncommon artistic expression.
For information about the Ukraine Society of Indiana, visit their Facebook page at https://www.facebook.com/UKRIndiana or email ukrindiana@gmail.com.