There's a reason the musical "Dear Evan Hansen" has received so many accolades, including six Tony Awards, a cult following, and broken box-office records ever since it opened on Broadway in 2016. Evidence of its esteemed renown was on display on Wednesday in the North American touring production, presented by Broadway in Indianapolis at Murat Theatre at Old National Centre.
To describe "Dear Evan Hansen" as brilliant is not mere hyperbole, considering it features a book by Tony Award-winner Steven Levenson ("Fosse/Verdon"), a score by Grammy, Tony and Academy Award-winners Benj Pasek and Justin Paul ("La La Land," "The Greatest Showman"), and direction by four-time Tony Award-nominee Michael Greif ("Rent," "Next to Normal.")
Loathe to include too much information regarding the musical's plot and thereby spoil the meandering journey that awaits those who see it for the first time, I will share just share the minimum. It's a story that follows a bullied 17-year-old high school student named Evan Hansen, raised by a single mom, who is plagued by social anxiety and isolation. Hoping to secure the attention and acceptance he so desperately craves, he misguidedly formulates a deceit, which snowballs and ultimately backfires in major ways. The musical, in a nutshell, is essentially a coming-of-age story that makes it clear how tough it can be for adolescents navigating the modern world.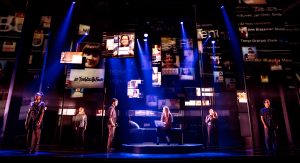 I had the opportunity to see "Dear Evan Hansen" in NYC in November 2019, just months before the pandemic shut down Broadway. Thus, I can attest to the quality of the acting, band and production values of the touring company at the Murat matching what I saw at Music Box Theatre in Manhattan. Long gone are the perceptions that touring companies are inferior to their Broadway counterparts. That goes for Stephen Christopher Anthony, who plays the title role in this production. Filling the immense shoes of Ben Platt (I saw Michael Lee Brown play the role in NYC), who created the title role, is by no means an easy feat, but Anthony was up to the task as he interpreted Pasek and Paul's catchy and thoughtful score magnificently. In fact, the audience was spellbound as Anthony sang two of the show's most familiar songs, "For Forever" and "You Will be Found."
Standing out in a uniformly well-formidable cast was Jessica E. Sherman, who played Evan's mom Heidi Hansen, and brought down the house when she intoned "So Big/So Small," a song in which she pledges to never leave him alone and always be there for him. Also turning in an impressive performance was Stephanie La Rochelle (whom I interviewed previously here), who played Evan's feisty, yet vulnerable sister Zoe.
If you are expecting a happy story from beginning to end, this show is not for you, but if you like a musical with a message, this absorbing, thought-provoking, nuance-filled creation is your cup of tea.
"Dear Evan Hansen" tickets are available now at ticketmaster.com. Groups of 10 or more may call 317-632-5183. The performance schedule will be Thursday evening at 7:30 p.m., Friday and Saturday evening at 8:00 p.m., Saturday matinee at 2:00 p.m., Sunday matinee at 1:00 p.m. and Sunday evening at 6:30 p.m.