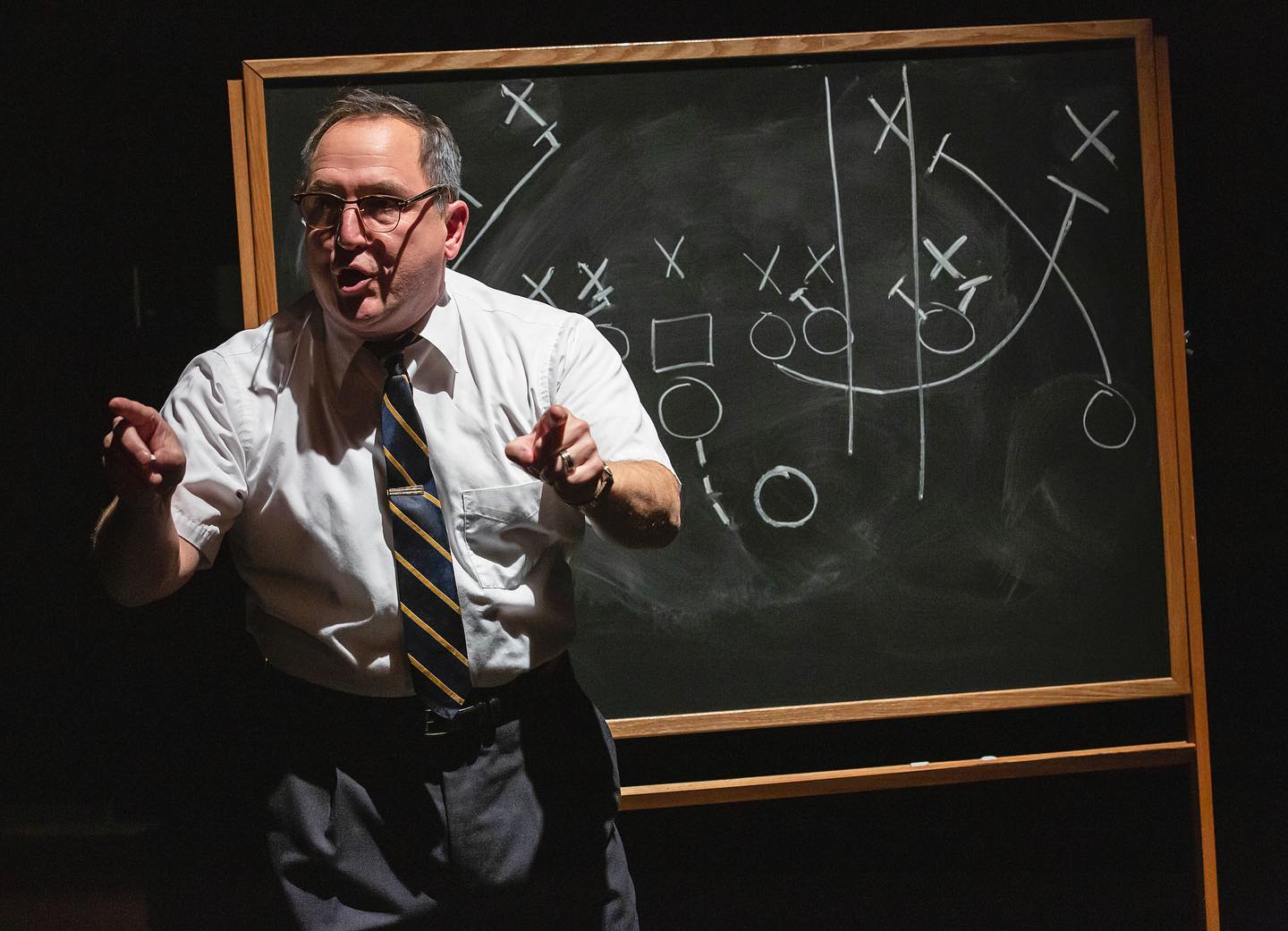 Don Farrell – Courtesy of Zach Rosing. Used with permission.
Since 2011, when Actors Theatre of Indiana became a resident company of the Center for the Performing Arts in Carmel, I have attended numerous productions featuring co-founder Don Farrell, an actor-singer-dancer. Having seen so much of his work, I can attest to his versatility and ability to transform himself and channel any character he plays. Most importantly, every time I have seen him perform, he has always been believable and convincing in every single role he has played. Having established his talent as a character actor, I will go one step further to call his performance as iconic football coach Vince Lombardi in ATI's "Lombardi" simply phenomenal.
Because we are still amid season openers for theatre, dance and music groups, as a reviewer, I have been stretched to the limits and unable to see every show, which I usually try to preview or review on opening night. Such is the case regarding "Lombardi," which I finally had the chance to see on Thursday. Good thing I did, since the show runs this Wednesday, Thursday, Friday and Saturday at 7:30 p.m. and closes with a 2:30 p.m. performance on Sunday, November 21 at Studio One Theatre.
"Lombardi" is a biographical drama by Eric Simonson that premiered on Broadway in 2019. The play is based on Lombardi's biography "When Pride Still Mattered" by Pulitzer Prize-winning reporter David Maraniss. The journalist was inspired by an incident, recounted in the book, in which a young reporter attempted to profile the legendary coach, but eventually gave up after he found Lombardi to be belligerent, obstinate and uncooperative.
"Lombardi" is a tribute to the accomplishments of a sports leader, who instilled professionalism and desire for excellence in young athletes so dedicated, they played their hearts out for him on a frozen field. And in doing so, within a single season, a formerly losing team turned into a winning one. What followed was a series of history-making championships for his Green Bay Packers, including their first two Super Bowl titles.
With its emphasis on Lombardi's obsession with winning and working from a playbook that emphasized a collective, team effort, the play is meant to be an inspiration, especially for sports lovers. However, even though I am a football fan and have a deep appreciation for the sport, it was hard for me to find anything redeeming about Lombardi, who employed intimidation, insults, and bullying tactics to motivate his players and achieve his goal, winning at any cost.
Frankly, I found very little to like about the man, who is portrayed as verbally and emotionally abusive, not only to his players, but also to his wife and family. I could not help but feel this man, who is celebrated for his focus and strength of character, was instead very insecure, damaged and in desperate need of therapy. Fully aware of his temper, he went to Mass every morning, hoping to pray it away, but to no avail. So, at least he demonstrated he did have a conscious. Nevertheless, instead of empathy for him, I only saw hypocrisy.
In the end, the portrayal of Lombardi in this play, other than lauding his football achievements, does him no favors. However,  no doubt those fans, who subscribe to the theory that aggressive, macho behavior gets results, will forgive Lombardi's "flaws" because of his stellar accomplishments on the field.
Despite all of my objections regarding the play's titular character, I was still able to appreciate Farrell's astounding portrayal. His artistic choices included him changing his vocal tone to recreate the coach's speaking voice used constantly to bark and bellow. Farrell also adopted Lombardi's physical characteristics, tics and mannerisms with a remarkable subtlety and nuance. It was truly a performance to behold. To say that Farrell merely captured the coach's essence alone would be inaccurate. He channeled Lombardi and I, for one, could tell, like any actor up to snuff,  Farrell did his research.
Jane Unger's fine direction is obvious, not only through Farrell's virtuoso performance, but also in the stellar portrayals of Adam LaSalle as the earnest, principled "Look" magazine reporter Michael McCormack who is trying to find out what made Lombardi tick.
Turning in her usual excellent character work was ATI co-founder Judy Fitzgerald as the coach's long-suffering and submissive wife Marie, who was also the only person in his sphere who could hold her own and stand up to him when she had to.
Totally convincing as stars on Lombardi's famed Packers, each demonstrating believability, individually and collectively as professional football players linked by their close camaraderie, were Joel Ashur as Dave Robinson, Christian Condra as Paul Hornung, and Mat Leonard as Jim Taylor.
Responsible for the production's technical excellence are the high caliber contributions of a production team that consists of sound designer and composer Barry G. Funderburg, video designer Philip Paluso, and costume designer Kathryn Rohe, who chose just the right clothing to reflect the styles of 1965. Bernard Killian, the show's scenic designer, effectively utilized the Studio One space to fashion Lombardi's office, the living room of his home, a locker room and Lambeau Field. Lighting designer Quinten James added his expert touch to create the appropriate atmosphere for each of the show's scenes.
Despite my objections to the titular character's methods, this play does have a lot of worthwhile things to say about the pursuit of perfection, which is, in reality, a journey and not a destination. In this case, an imperfect man came closer than most to achieve the impossible, if not the improbable. The play, which also explores the nature of collective, team effort and how it can bring great results, is reflected in this ATI production and deserves to be seen. I highly encourage readers to do so before it closes.
For tickets and information about "Lombardi," call 317-843-3800, visit atistage.org or  thecenterpresents.org.