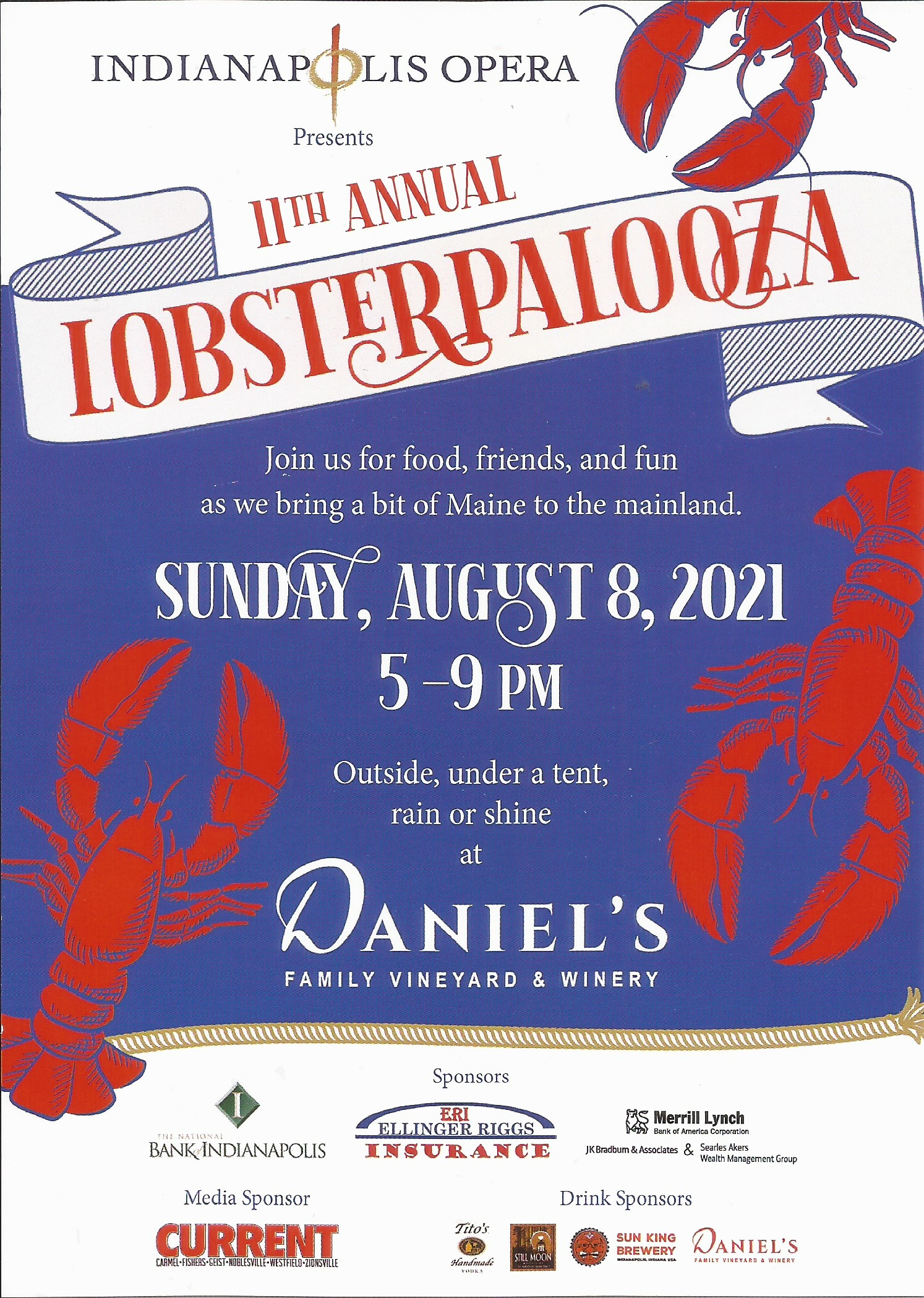 It's not often one associates a lobster feast with opera, much less something heralded as a "Lobsterpalooza" held in a vineyard in Indiana, right? That's exactly the unlikely combination of attractions featured in the 11th Annual Lobsterpalooza, benefitting the Indianapolis Opera. Held at Daniel's Family Vineyard & Winery in McCordsville, Indiana (south of Geist Reservoir) on Sunday, Aug. 8 from 5:00 to 9:00 p.m.
Described as "A casual, New England-lobster bake," it's an informal event I have covered previously and can verify, as fundraisers go, Lobsterpalooza is one of the most festive. No stereotypical opera fans here. Just lots of "let-your-hair-down" fun, all for a good cause. Proceeds from the event go toward the opera's general operating expenses.
Unfortunately, I will miss it this year, so I reached out to my friend, Indianapolis Opera board member Kevin DeFord, who chairs the event for a preview. DeFord, who is in his third year on the IO board, is employed by Lilly, where he executes forecasting, reporting and planning for an internal project titled "Nexus." DeFor is married to attorney Jody Spangler DeFord, an active community volunteer (she is a co-founder of Dress for Success) and fashion influencer. The couple, who often attract the spotlight when they attend charity events in coordinated outfits, live on Heritage Lake near Coatesville, with their three dogs.
At the time of our Zoom interview, DeFord reported over 100 tickets were sold with 150 expected. The event, which is capped at 250, is prepared to move inside to the upstairs ballroom if it rains, with room for social distancing. "We do not make a million dollars," DeFord laughed, "but we will still have a lot fun." A lot of the fun he is referring to will come compliments of Dean Martini, an increasingly popular Indianapolis band, headed by attorney Ryan Wright. Here is how the group describes itself on its Facebook page: "18 Karat Kings of Cool – A tribute to the music, fashion, attitude & swing of jump blues, rock n roll & jazz all rarin' & raving. Elvis, Louis Prima, Etta James, Brian Setzer/Stray Cats & other modern '50's lovin' players, baby!"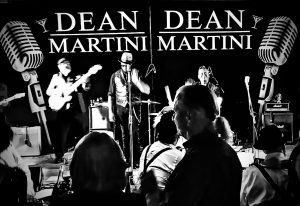 DeFord, who attended Simpson College in Iowa, which is highly regarded for its music program, opted to major in international management and German rather than music. "I sang in the choir and was in the symphonic and pep band. I was a good horn player and singer, but not good enough to perform. I kept it going, but I knew it was not going to be part of my life," said DeFord, whose seat on the IO board is his first. "It's been a really nice experience. I have mostly been in a supportive role with Jody's board activities, but this is the first of my own. It's a good opportunity and since I love opera, it's doubly satisfying."
Cocktail hour for Lobsterpalooza begins at 5:00 p.m. Dinner is at 6:00 p.m. The Dean Martini band and dancing is from 7:00 to 9:00 p.m. Tickets are $175 per person, $1,400 for a table of eight. $100 of the ticket price is tax-deductible. Signature drinks are provided by Daniel's Vineyard, Titos, Sun King and Still Moon. Complimentary parking is available onsite.
To purchase "Lobsterpalooza" tickets, visit indyopera.org.