I first encountered singer Lillias White while watching YouTube videos, which I am wont to do in my downtime. The video that piqued my attention was one in which she sang "Don't Rain on My Parade" from "Funny Girl" during a 2001 Actors Fund Concert. A huge fan of the musical and Miss Streisand, who brought down the house every time she sang that song, I was curious to see how Ms. White would pull it off. Not only did she do so, but she also made it her own, without venturing too far from the song's melody as written. Belting with the best of them, she, no doubt, shook the rafters at the one-night only event and left me feeling stunned by her vocal powers, range and electrifying stage presence.
Unfortunately, I missed White when she last played Indianapolis in October 2019 at The Cabaret in downtown Indy. I always regretted not seeing her back then, but now I will have my chance again on opening night when she performs at Feinstein's at Hotel Carmichael in Carmel on Friday, July 9 and Saturday, July 10, accompanied on piano by her music director, Mathis Picard.
Born in Brooklyn, New York, White made her Broadway debut in "Barnum." She has also appeared on the Great White Way in "Cats," "Carrie," "Dreamgirls" (originating the role of Effie), "Once on This Island" and others. She also starred in Ira Gasman's "The Life," for which she won the Tony Award, Drama Desk Award and Outer Critics Circle Award for her portrayal of a world-weary, no-nonsense hooker named Sonja. White has also toured internationally with her one-woman show, "From Brooklyn to Broadway" and graced the stages of the Kennedy Center in Washington D.C., Carnegie Hall, Lincoln Center, and Jazz at Lincoln Center, just to name a few. If taking Broadway by storm weren't enough, White has also appeared in numerous television shows and films, including Disney's hit "Hercules" in which she voiced the lead muse/narrator Calliope.
Recently, I had the great pleasure of speaking by Zoom call with the warm and easygoing White, who was calling from her home in Harlem, where she has lived for 30 years. Below is an edited transcript of our chat about her upcoming Feinstein's show and a few other timely topics.
What is your history with Michael Feinstein?
I have known him a long time. I have played his clubs in New York. We once shared the stage in a PBS special. He's a good guy. We have a lot of friends in common.
You last played Indy in 2019 at The Cabaret. How was it?
It's really a gorgeous room and we had a wonderful time. The dressing rooms were beautiful and very comfortable. They made us feel very welcome and it was great. I enjoyed being there very much.
What is your program for the Feinstein's show?
Most of this show is focused on the songs I recorded a couple of years ago on the new album called "Get Yourself Some Happy," which will be released July 23. These songs were recorded at the Old Mill Road Recording in East Arlington, Vermont. It's a brand-new, state-of-the-art studio. It is on a river in a beautiful place in Vermont, where you can actually stand in the booth and watch the river flowing over the rocks. It's just stunning. Really gorgeous. We were produced by Joshua Sherman, who owns the studio and the mill and some property there. What he is creating is an art commune, where people can work on projects. They can come and record. You can come and rehearse. You can write there. There is space where artists can live. It's a work in progress, but the studio is done. Timothy Graphenreed was the music director. He has since passed away. He was a great guy and wonderful friend. We worked together for 30 years, so there is a hole in my heart and I miss him deeply. He would be with me in Carmel if he were here. We all picked songs which we loved and wanted to record. Timothy arranged them and we recorded them.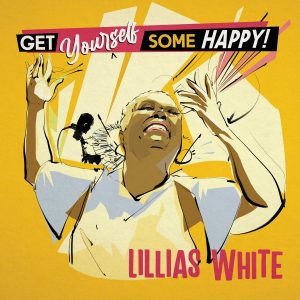 What are some of the songs?
"Get Happy," "You're My Best Friend," "You've Made Me So Very Happy." They are not all songs that have the word "happy" in the title, but we recorded some of the songs that we liked, such as "A Brand New Me" and "When you Wish Upon a Star." We recorded them over the course of 10 days. It was a lot of fun and a lot of work. On March 1, 2020, Timothy passed away. We started with just the piano/vocal track and after Timothy passed, we had to work it out so that the sound was made fuller and more complete. Joshua did that with Ben Arrindell, a Grammy Award-winning engineer. So, he and Ben worked it out with some local musicians in Vermont. Our goal is to get people to smile when they listen and to reminisce about happier times. To dance and maybe sing along if you want to. And feel good. A feel-good record.
Have you resumed performing live now that the pandemic is winding down?
Yes. It was incredible. I reopened a place called The Green Room 42 in NYC and it was such a wonderful feeling. It was very moving to have a live audience in the house in front of me, even though everyone was in a mask and there was no food or beverage service because we were not completely wide open here in NYC at that time. It was astounding to see just how many people were moved to tears, to be in a room with live performance. It is why we do what we do. I could see people in tears.
During the pandemic, how did you engage with your fans? Fundraising concerts?
I did a lot of fundraising with Seth Rudetsky. He created a virtual show called "Stars in the House" and we did a few things together, including a "Dreamgirls" reunion that was just outstanding. I did my own concert for Seth for "Stars in the House" and I did something for a performing-arts facility in Queens and then several things online. Not my favorite thing to do.
Did you reach fans worldwide?
We did get a lot of people from around the country and around the world for Seth's shows. I don't how many or to whom I reached out, but I was just happy to get it out there and get it out of here (points to her body).
How was it performing virtually?
It's very different. What I try to do is just interpret the songs and make it heartfelt and just make believe there are people there. Those of us who are performers; yes, we do it for the applause. Yes, we do it for the money, but really, truly, for me, it's about having people in a room and if they clap, that's fine, and if they laugh, it's better. If they laugh, that's the ultimate. If they are there and they are moved some kind of way and they tell me that afterwards, "Oh, you sang that song and it reminded me of something really wonderful in my life." Or, "It reminded me of a sad time, but you made me feel better." That means all the world to me.
What did you learn from the pandemic?
I learned that sometimes we need to stop and rest. Sometimes we are forced to stop and rest and the pandemic taught me that we shouldn't have to be forced to stop and rest. We should build that into our lives sometimes to stop, rest and reflect, read, take a bath, take a walk, watch a movie. I tend to get very busy. I like it when I am very busy, but I learned to get busy at home. I did do a lot of work while I was at home during the pandemic. I recorded a lot with my new music director Mathis Picard. He will be with me in Carmel. He's a wonderful person and a wonderful musician. We have been working on a Sarah Vaughan project that we hope to have open next year. We did a lot of recording. We were able to find some recording studios here in the city that were open, of course, with all kinds of protocols for COVID. But we were very careful and we worked hard. So, I was glad about that.
Like many others, did you have to sequester yourself from your family?
Yes. Yesterday, I saw the grandkids on the west coast. I saw them frequently on the Google Chrome thing, but I got to see my others yesterday for the first time in a very long time. I have eight grandkids.
Did you lose a lot of bookings during the pandemic?
I did lose a few bookings, but when the pandemic broke, I had just started sort of a mini tour of Southern California. One of my dear friends moved to Ghana and we had planned to go to Ghana in May or June of last year. So, I couldn't go to Ghana and I couldn't go anywhere. I wanted to go to Aruba or St. Martin or St. Croix and sit on a beach and just relax and I didn't get to do that. So, I lost that, but I gained time to just rest. A lot of times, I am running around the country or the world and I don't get the chance to just turn off and relax.
Did you miss traveling?
I didn't miss going through the airport and that kind of thing. But I did miss the freedom of getting on a plane and going wherever I wanted to go. My kids are grown and obviously, I have grandkids. I had done this tour so that I would have this extra money, or my lunch money (laughs), and I really wanted to go someplace I had never been, so I wanted to go to Ghana. I still plan to go there. I missed being able to call up a friend or two or five and say, "Let's meet downtown at our favorite watering hole or restaurant and have dinner" or "Let's get together and go to the theatre" or "Let's go to the movies." I have missed that a lot.
How did George Floyd's death and subsequent developments impact you as a Black artist?
Unfortunately, as a Black artist, it brought to mind times and instances where I felt either threatened or disrespected or unbelonging in this business. It made me feel very afraid for my son, who is a gentle, soft-spoken kind of guy. He's a good guy. He's never been in trouble. He has never been to jail. It made me afraid for him. It made me afraid for my daughter, who has a very hot temper and a hot mouth (laughs) and it made me very angry. As an artist, I got together with some other artists and became a founding member of an organization called Black Theatre United. I have been working on voting rights and getting people to fill out their census. We have been making people aware of what is going on around the country. We've done summits to get together with other artists and theatre owners around the country to see how situations can be improved, how conditions can be improved in the theatre around the U.S. How we can get can a better inclusion of Black writers, directors, producers and choreographers and how we can expand the mindset of theatre workers around this country to understand that Black artists are capable of doing any role and lending our expertise. We have many, many years of expertise in our fields, so it's time that it is recognized and upheld and time that we are pulled into the fold, you know. It made me realize how precious Black lives are and how dangerous it is to be Black in America. That's a very real thing.
Did you get a lot of support from your white friends?
For the most part, yes, but there were some of my white allies whom I have yet to hear from. Are you OK, Lil? Are the kids OK? How is this affecting you?  Some of them, I have yet to hear from. But that is to be expected because a lot of people don't know what to say. And a lot of people didn't believe this was happening. What happened to George Floyd happens every single day to Black people in this country. Not just driving while Black, it's walking your dog while Black. It's walking through the park while Black, bird watching while Black. So, this happens every single day. Somebody is killed by the police. Somebody Black in the U.S is killed by the police every single day and a lot of white people didn't realize or recognize that until they saw it with their own eyes on the TV or the internet with George Floyd being murdered in the street.
Was it heartwarming for you to see the white and Latino kids out there supporting BLM?
Yes. It gave me hope. It gave me a feeling that these kids, these white kids who may be coming from a very privileged background and whose parents may be pulling their hair out saying, "Where are you going Nancy?" "Where are you going, Robert?" "I am going to the protest." It may scare the parents, but they need to know their kids are doing the right thing by standing up for what's right and what should be.
I like to think that those kids came home and sat down with their parents to talk.
I would like to think so too, but the reality is that racism is alive and well and kicking in this country. There are racists who can't even acknowledge they're racist.
Does Black Theatre United intend to hold theatre industry folks' feet to the fire?
Absolutely. Absolutely.
So, you don't think things will return to business as usual?
That ain't going to happen on our watch.
Money is at the core.  That is why it is a business. Isn't that right?
Yes, and that has been a sticking point at some of our meetings. That some of these theatre boards who contribute money to these theatres, some of them don't want to acknowledge Black Lives Matter. Some of them don't want to be affiliated with BLM, but the reality is that the situation in the U.S., as far as Black people and racism and us being held back and us being murdered in streets, has to change.
For tickets and information about White's upcoming show, go to feinsteinshc.com.