In my role as an arts reporter, I have had the great pleasure of attending several live performances during the last few weeks and witnessing the interactive joy and gratitude happening between audiences and performing artists. My most recent expedition was Friday at the historic Hilbert Circle Theatre, to see the Indianapolis Symphony Orchestra, led by conductor Jack Everly, in a pops concert that was part of its "Spring Inspirations" series.
Expressing his gratitude to the 200 enthusiastic souls in attendance, all masked and socially distanced, Everly introduced the 90-minute program, "That's Entertainment: Broadway & Hollywood Blockbusters," that included many of my personal favorites. Scattered throughout the show were informative and interesting anecdotes told by the always-witty and clever Everly. Typically, there are special guest vocalists who participate in pops concerts, but in lieu of such performers,  exemplary ISO musicians were featured in instrumental solos and duets.
Maybe because I was starved for live music, much less that played by an entire symphony orchestra, but there was not a single music selection that did not hold my complete attention and interest. However, some did stand out. At the top of the concert, they included "Hooray for Hollywood" by Richard Whiting and Johnny Mercer, "My Fair Lady Overture'" by Frederick Loewe and Alan J. Lerner, and the very recognizable in commercials, "Sous le Dôme Épais" from Léo Delibes's opera Lakmé, featuring violinist and ISO concertmaster Kevin Lin and violinist Yu Jin. One of my favorite selections was highlights from the film "La La Land" by Justin Hurwitz which I have seen multiple times.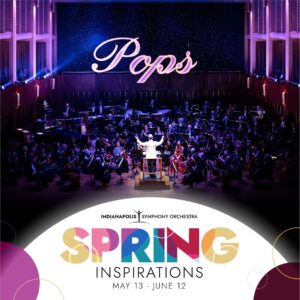 Acknowledging he is a fan of composer John Williams, Everly talked about the time the renowned music conductor led the ISO. Following his remarks, he launched into "Gabriel's Oboe" from the film "The Mission." The piece featured ISO cellist Austin Huntington's gorgeous interpreting of Ennio Morricone's haunting composition.
Exhibiting more exceptional ISO musicianship was trumpeter Conrad Jones and bass trombonist Riley Giampaolo, who were featured playing Astor Piazzolla's sensual "Libertango."
Paying further tribute to film scores, the ISO shined in a medley titled "Heroes and Heroines" that included music from the films "Wonder Woman," "The Dark Knight," "The Avengers," "Black Panther," and "Superman."
Sharing news that he'd received a joyous call from performer Ben Crawford, an ISO pops favorite, who told him he was returning in September to the title role in Broadway's "Phantom of the Opera," Everly led the orchestra in selections from the long-running musical.
Capping the über-entertaining evening of music from Tinseltown and The Great White Way, the orchestra concluded with the Overture to "George M!" a musical about the life of George M. Cohan. It was a fitting conclusion to an evening that reinforced how special it is to sit in a theatre with like-minded music lovers and absorb the wall of luscious sound emanating from gifted artists playing it together on the stage. It's was a collective human experience that was a balm for the soul and one I have deeply missed.
For tickets and information about the Indianapolis Symphony Orchestra, visit indianapolissymphony.org.