Like everyone else who yearns for the return of full-scale, live performances that have been on hiatus since the beginning of the pandemic in March, whenever the opportunity presents itself, even if it is in a limited fashion, I jump at the chance.
Sust was the case on September 11, when I attended the annual "Opera in the Park," presented by Indianapolis Opera at MacAllister Amphitheater at Garfield Park. The concert, sponsored by Indiana Spine Group, was hosted by IO, Indianapolis Park & Recreation Department and Friends of Garfield Park. Performing for a sold-out audience, the event featured soprano Angela Brown, baritone Rafael Porto, mezzo-soprano Lyndsay May, baritone David Starkey, the Indy Opera chorus, and Sky Lee on piano. IO's artistic advisor Alfred Savia conducted.
The marvelously entertaining and satisfying program was a mix of favorite operatic and American music, including "Un bel di vedremo" from "Madama Butterfly," "My Man's Gone Now" from "Porgy and Bess," "If I Loved You" from "Carousel," "I Am Easily Assimilated" from "Candide," "He's Got the Whole World in His Hands" and "America the Beautiful."
Though unmasked while singing, with space between each other on stage, the singers performed for an audience composed of couples, groups and individuals who were socially distanced from one other, with everyone wearing masks. It was obvious the event was carefully produced by organizers with the utmost care for the health and safety of the attendees and performers, crew and volunteers.
Recently, I checked in with IO director David Starkey to congratulate him and the company on the success of the concert and also get an update on a very important upcoming event. Below is a transcript of the interview conducted via Zoom.
How long was the preparation for "Opera in the Park?"
We started doing research in April. I put together a national task force of colleagues of mine, not only here in Indy, but certain parts of the country to study how we could safely do singing events outside. There were a number of things that happened nationally and internationally that we studied. We looked at it from a scientific, medical, legal, and vocal-science standpoint, as well as insurance considerations.
I presume you also had to be concerned about liability issues?
Yes, there is a very heightened awareness of that, but at the same time, we have spent time with our legal experts, who helped us understand that liability is pure negligence. And if you are literally trying your best, researching, studying, talking, putting things into place, you are demonstrating precaution. We didn't have to put the plan together with the Marion County Health Department. That was done through the Friends of Garfield Park, but we worked side by side with them and went above and beyond requirements.
Who chose the program?
Alfred Salvia, who is a just a master of these things, and I did.
The program was heavy on musical theatre.
I think classical musical theatre is really the early-Americana opera. When we look at "Porgy and Bess," "West Side Story" and "South Pacific," it is more apparent. I think it is very important for us to look at Americana music and the pieces by Aaron Copland, the spiritual, the gospel, and bring all of these influences together. I believe we purposely have to do that, so we can showcase the diversity that does exist in opera and in singing for the cultures. Angela Brown is an African American, Rafael Porto is a Cuban American. One third of our chorus is African American or people of other cultural backgrounds. This is something that is inherent in opera, but we've got to be able to be more purposeful to showcase how diverse we actually are and not just make it about the repertory. It's about the artists and what they are doing with the repertory.
Did you receive any feedback from anyone wanting more opera?
No. I did not. I got feedback from people who wished we were able to sing more songs together. But I think that's more the atmosphere of the times. I think the way Alfred and I built the program was we really wanted people to come along with us on a journey of where they wanted to sing their favorites and so, by the time they got to "If I Loved You," or "Climb Every Mountain" and "America the Beautiful," they were ready to stand up and sing.
What's coming up for IO?
We have a fundraiser on October 17 hosted here at the Opera Center. It is going to be a fundraiser of auction items that we have been gathering for months. We do a famous auction every single year. So, we are going to be featuring the auction items. We have the tremendous support of six corporate sponsors that have stuck with us all year long and we can really showcase their efforts. We're going to have some live performances, along with some taped performances of some different projects we have been doing. The title of the event is "Wings of Love." This is the influence of how "Madama Butterfly" is one of our underlying themes. It represents Americana. It represents another culture. It represents the mixture of relationships. It talks about war. It talks about very difficult times. So, "Wings of Love" is also a reference to a butterfly, how it becomes a brand-new creature and spreads its wings with beauty and how it is nothing but a loving experience.
Have you studied how other organizations are doing events during these unprecedented times?
Yes, locally and nationally, I think it is something that has been influencing a lot of nonprofits and the performing arts, but I think organizations are going to have to recognize what is their mission? And for us, we are a live-theatre organization, so how can we present the live-theatre environment, whether we are together or apart? That's got to be the foundation of what we do. Also on November 1, we are going to doing a live broadcast of a showcase, salon version of "Madama Butterfly," a combination of opera and TV, which will air from the Basile Center rehearsal hall. Alfred is conducting it with a small string quartet and piano. Ganson Salmon is making his lead debut with us as Pinkerton and our resident artists are going to do the other lead roles.
We will have a very limited group of people in attendance. Maybe 50, at most, but it really is designed to be a live performance and on demand for several weeks afterwards. It will be a multi-camera shoot, with theatrical lights, some set pieces, some costumes. It is not going to be a full-blown situation, but there are going to be some things that represent the context of being shot in a TV studio. The video technology is going to be run by Dustin Jenkins and Double Exposure Studios. This is a production team we have been working with for over two years now and they have done other projects of ours at the Tarkington and the Schrott at Butler.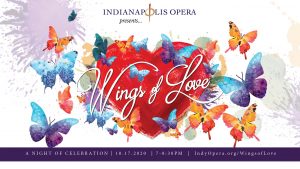 How has the pandemic impacted on the IO financially?
Well, we have actually kept running the entire time. First, we had to shift and get all our educational stuff online and while we were out of the classroom and had that stopped, we immediately brought in all the resident artists and the education team and we taped everything before we had to go home. So, we were able to get things out to the classrooms and out to teachers and parents and we tripled our visibility through that. We have been writing grants. We have been fundraising. We have been sending out special videos. We have been doing interviews of artists who have been with us. We have kept alive the entire time and we have spent a lot of time getting ready for the resident artists to be here to do all of their programming this fall in the TV studio, so that later this fall, we are going to be releasing everything to schools, and libraries and senior centers. We have been doing some small community concerts for 20 to 30 people in the backyards of some places and somebody's driveway, so we've been alive and moving forward. And from a financial standpoint, we have had to reduce the size of the company a little bit, but the core staff has stayed intact for the entire time and we are a very flexible and nimble organization and thank God for the building. It has been the saving grace for us to be able to film things.
Do you rent out to other organizations?
Yes, we do. This is the principal rehearsal location for the Indianapolis Symphonic Choir. The Chamber Orchestra rehearses here sometimes. This is the rehearsal location for the Indianapolis Men's Chorus and also for IMAC, Indianapolis Movement Arts Collective. Four organizations do artistic things here. Besides, these are the state offices for the Indiana Music Education Association.
How is the morale of the organization in general?
It's been rather optimistic. Yes, we have had to make some about-faces. Like, we had to cancel Lobster Palooza and we had to turn the Opera Ball into an online fundraiser. We had to postpone "Butterfly" from a live performance and we are now planning to produce it as a virtual performance. We have had to make some big decisions. We've had to continue to adjust, but be optimistic because when we do have an opportunity to do something, the enthusiasm is just so, so meaningful and I think the future is not going to be so much about marketing. It's going to be about communicating what you are doing and audiences will be there because they are hungry.
It's been pretty amazing how creative and adaptable artists are these days, right?
Well, I always say to my students when I lecture, "Artists are creative problem solvers." That is what we are inherently designed to do. We have got to be able to be out there and be part of leading the charge of how to be problem solvers.
What is your secret for success?
I pray a lot (laugh). I have got so much support in this community. The board and the community are a family and I am just so thankful for that. And all the things we have had to go through before I got here.
How long have you been with Indianapolis Opera?
I am coming up on my fourth year here.
I can't believe you have been here that long, and with a pandemic thrown in to boot.
Why not? There is going to be an opera written about it, Tom.
For information about Indianapolis Opera and upcoming events, visit indyopera.org.