It has been my great pleasure to have had an acquaintance for some time with the Callaway sisters, Liz and Ann, both familair faces to Indy audiences.  I first met Ann when she appeared with the Indianapolis Men's Chorus, of which I was a member, in 1996, and later in 2009, I met Liz when she performed in the inaugural season of The Cabaret (at The Connoisseur Room). Not only have I interviewed them both numerous times, I have also reviewed their many solo and joint concerts (2011 Indianapolis Symphony Orchestra's "Yuletide Celebration") at various venues in Central Indiana. Ironically, Callaway's POPS concert with the ISO, "Ann Hampton Callaway: The Linda Ronstadt Songbook" was the last live show I saw on March 12, right before the shelter-in-place order was issued.
Most recently, I profiled Broadway-star Liz here and notified jazz singer-songwriter-actor and Tony-nominee Ann that I wanted to do an interview with her as well. Eventually, she followed up with news about an upcoming livestream show she is excited about. It's Sunday, Aug. 30 at 4:00 p.m. EDT. The show is called "The Bergmans and Beyond," a tribute to the music of legendary lyricists-songwriters Marilyn and Alan Bergman. Songs will include "The Way We Were," "How Do You Keep the Music Playing?" "Where Do You Start?" "Nice 'n' Easy," "It Might Be You," and more. The Bergman show is part of her livestream series "The Callaway Hideaway" that takes place the last Sunday of every month on Zoom.
Below is a transcript of questions about Callaway's livestream show and a wide range of subjects I sent her, to which she responded via email.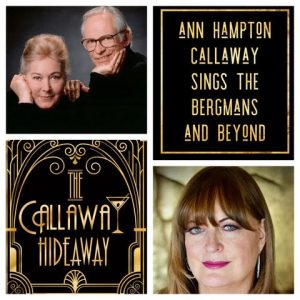 Tell me about your show on the 30th?
I'm excited because I am told that Alan, and possibly Marilyn and their team, plan on watching so that will be fun! I've known the Bergmans for many years and Kari (Strand, her wife) and I spent some quality time with them when Alan was my guest artist when I premiered "The Streisand Songbook" with Keith Lockhart and The Boston Pops in 2012. We've been in the room where they've written most of their hits and heard the stories and they are two of our favorite people in the world.
Tell me about your virtual activity since the pandemic began? 
In February, I saw the light and I started planning. I devised an AHC offering called "Dial-A Diva." Here's the blurb of what I've been up to:
"Presenting Dial-a-Diva: Ann Hampton Callaway Offers Personalized, Original Songs, Workshops and Livestream House Concerts."
Like so many of my performer friends, I have had numerous canceled concerts and my live performance career is totally on hold. This is very distressing financially, but also a wonderful opportunity to be useful during this challenging time. So, I am putting three things out there:
1. If you would like me to write you a song for you, for someone you love, for a special occasion, or for a cause, let me know and we can discuss how to make this work. (I've had 20 songs commissioned; some I am still working on. I have also been writing several other songs for my own pleasure.)
2. If you are an educator in a music department and would like me to give a masterclass in song interpretation, arranging songs and making them your own, the music business, songwriting or improvisation, I'd be very interested in doing Zoom classes with your students. I love seeing the potential in people and helping them to dig deeper and shine. (I've done some lovely workshops at the university level and have one lovely, weekly voice student.)
3. If you have a special occasion and would like me to give you, your friends and family a private Zoom concert with requests or a theme that is meaningful to you, I am your diva. (I've done numerous, private Zoom concerts, ranging from 15 to 90 minutes, all over the country and as far away as London and Buenos Aires. I've also done ticketed, Zoom livestreams. I'm so happy I have a monthly series called "The Callaway Hideaway" that began last month, where the last Sunday of each month I do a different themed show."
Besides "Dial-a-Diva" activities, I've been writing a poem a day for all of 2020 and publishing them with relevant art images on Facebook, Instagram and occasionally Twitter. A poetry agent and I have been in conversation about putting a book together. I've been very busy recording pandemic videos of my commissioned songs, as well as other relevant songs of this time like COVID-19 parodies I've written and my standards series I just started. Everything is taped at my piano and people say it's brought a lot of comfort at this time. I never had time to work on my YouTube Channel, but since most people are in lockdown, this is part of our new stage. My sister Liz inspired me to spend more time giving people song performances that would lift spirits during this crisis.
I also released two COVID-inspired singles on CD Baby. One was "The Handwashing Song" for kids to learn how to wash their hands thoroughly and the other is my inspirational ballad "Carry On," which has gotten almost 50,000 streams on Spotify. I have two, new original songs that are being arranged and recorded for me to add my vocals on for two upcoming singles. Both new songs are inspired by this time and both were commissioned by Debra DeMartini, who has been very supportive of my work during this time. I am very grateful for my supportive fans and the angels who are there showing compassion for what a very difficult time this is for artists whose entire concert schedules have been on hold for most of the year. 
What kind of response have you received? 
Aside from some technical glitches when we didn't realize how much broadband Zoom required, the shows have been beautifully received and the song commissions have all gotten rave reviews. People love that we can celebrate in so many innovative ways. I do many birthday improvisations for people and it's been a lot of fun.
Like your sister Liz, I am sure you have done your share of fundraisers, right? 
Yes, it was great doing "Stars in the House" with Seth Rudetsky for The Actors Fund, as well as a recording of "Pick Yourself Up" with Tony DeSare and a host of Jazz all-stars to raise money for them. I've been the headliner in numerous virtual galas and just got a commission to write a song for the Fox Theatre here in Tucson, which is a beloved landmark and I will headline their gala as a new resident here. I can't give what I used to give to causes I believe in, so singing for them is the next best thing.
Have you also been able to monetize your performances? If so, have you been able to offset your loss of income? 
I've done many things that aren't monetized, but it's been crucial to find ways to monetize concerts to survive. I know some people work just for tips, but I like people to just enjoy my shows and not have to stop in the middle and feel they have to tip, so doing ticketed concerts seems best. If people don't have money for my concerts, they get all my videos for free and I hope that makes a difference. I am managing, thankfully, and hope I can keep doing this until it's safe to go back on the road. 
How has the pandemic affected your career in general?
Sometimes I ask myself "Did I retire? Is this it?" The strain this pandemic has put on clubs, theaters and symphonies makes me wonder how many of them will survive to go back to. I don't know what the "new normal" will look like when we go back to the world of live performance. Will everyone be working for drastically lower fees with socially distanced venues, but have the same travel expenses as we did before? We might be incorporating more virtual offerings for a while, even when we start to go back. One thing that is cool about this time is we can reach people around the world in a show, not just the town we are singing in. I love feeling the global family coming together.
What are your thoughts about the Black Lives Matter movement and how do you think you can affect change? 
My feeling about this movement is that it is time to finally do the work as a culture, as a country, as a world, to own up to all the inequities and systemic traps that have kept a huge part of our global family deprived of their rights and opportunities that should belong to all of us. Many people just don't get it, but I am reading, talking, thinking, and writing about this with my friends. I've written several poems on the subject and have done several #BlackLivesMatter-inspired videos of songs like "We Shall Overcome," "Blowin' in the Wind," "Amazing Grace" and an improvised quote of John Lewis. My single, "Carry On," came out after George Floyd and I hope it's been a reassuring part of the voice for this crucial movement. Here's the lyric video of "Carry On."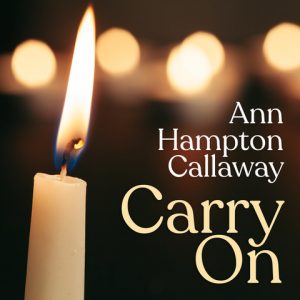 How many gigs did you lose and can you name some?
From March to October, I lost 76 gigs and I'm not so sure how likely it is I will get to do the 29 remaining concerts from October to New Year's Eve. Some people have said they don't think we will go back to touring until spring or even summer. That is a LONG time to wait to perform and enjoy great music live. But living is the most important thing, so we will do what we have to do. I just think we need a major arts endowment for this nation—we are the last to go back to work and the last to receive support. And we are the heart of our culture and of much of the economy.
Have you been able to adapt singing virtually?
Yes. It's really hard not to have the technical excellence I expect in my live concerts, but since this is a new frontier, everyone is forgiving. Even though I miss the live energy in a hall, there is a beautiful intimacy of seeing up close the people I am singing for if it's an intimate Zoom concert or my beloved "postage stamps" (Zoom gallery view) if it's a monthly concert with a hundred or more people. I like to have interaction with my audiences, so we do singalongs while they are muted and I try to acknowledge them and my fellow artists who show their support in between songs when they are unmuted. One of my recent things is doing full, 75-minute concerts at my piano in one take for venues who are offering a virtual series and want the people they had booked to be part of it. That is what we would call EPIC! But I do it and just pretend they are there. Thank God I have a good imagination!
It seems like you have really worked on your production values? It shows. How do you make it work?  
Oh, if I didn't, I'd be lost and in the streets. I figured out that we needed to get better Internet service and tried many things until we got what is working now. I called fellow artists and asked them about sound and lighting equipment. I ordered a lot from Sweetwater.com and they were very helpful. Our friend Jill Whelan hooked me up with lighting that is great, so now our living room looks like a TV studio! I found out who was a good IT guy to come wearing a mask to our house and make our setup better. He told me to get Logic Pro X and put together a template to use every time I do a Zoom show. Soundchecks are important. And comparing notes with fellow performers is a big help to us all.
What do you miss the most during this crisis?
Seeing my sister, family and dear friends. Being in favorite places. And, of course the indescribable joy of singing for people with its raw, live energy. I say I live on Earth, but I work in heaven. I miss heaven.
Have you maintained your optimism?
Nothing can dash my optimism, not even this. Sure, silver linings seem a little tarnished these days. But a good attitude and some faith can shine those linings back to a luster.
Is there a silver lining to the pandemic? 
There are many silver linings. It's actually lovely being home. Kari and I fell in love with our historic house and then were gone all the time. Now, we can enjoy the stunning sanctuary of the mountains and dazzling skies and the rustic, haunting beauty of the desert. And we can be with our beloved cats, Leo and Sammie, whose life has been extended by our being home. I've had a lot more time to write, which is one of my great loves. I think this time has taught us to take nothing for granted, especially each other and life itself. And the Earth, whose life we have jeopardized, has had a bit of a break from our mistreatment. 
What do you hope the "new normal" will be post pandemic?
We'll live with more gratitude, more simplicity and hopefully a greater attention to equality and justice. And we artists will give even more of our hearts; we'll go deeper, we'll be truer and we'll be more daring.
What do you think it will feel like for you and the audience when you are finally able to perform live?
I'm probably going to sob and be weepy through some of the first concerts. It will be a thrill and the pain of not having been able to do it for so long will have to come out somehow. But, so will the joy. We'll all have such a collective story to bring all the songs alive in new, profound ways. 
Is there anything you'd like to share that I have not asked you?
What do I love about you? You're a class act and an excellent writer. Thank you for asking and writing about this all.
Please make your payment for tickets to "Bergmans and Beyond" at PayPal.Me/annhamptoncallaway and a Zoom link for the concert(s) will be emailed to you.