During a time when many in this country and around the world are condemning racism and demanding equality through the Black Lives Matters movement, I feel it is critical to continue providing artists of color the opportunity to share their personal experiences with the cruelty of prejudice and its effect on their very psyches. One such artist is 20-year-old theatre student Tiana Williams, who represents the younger generation in the vanguard of clamoring for change during this cultural reckoning.
I first met Williams, a rising junior in the musical theatre program at IU, when she was cast in "Calder, The Musical," an original work I directed and co-produced with my collaborator Dustin Klein through our company Klein & Alvarez Productions, LLC. in 2017. Playing the role of the legendary black entertainer Josephine Baker (who inspired sculptor Alexander Calder), the wildly talented Williams, mature beyond her years, was a junior at Pike High School at the time. After graduating from Pike in 2018, she went on to study theatre at Ball State University, but later transferred to IU in 2019. Williams's theatre credits include "The Wiz" (Dorothy), "In the Heights" (Vanessa), Booth Tarkington Civic Theatre's "Legally Blonde" (Pilar) and "Ragtime" (Sarah), Weathervane Playhouse's productions of "Aida" (Nehebka) and "Matilda" (Ms. Phelps/Big Kid). Her most recent roles were in an IU production of "American Idiot" (Extraordinary Girl/Ensemble).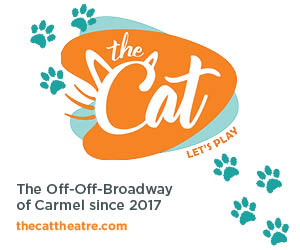 Quarantined with her parents, Kevin and Nina, and her younger sister at their northwestside home, Williams and I communicated by phone and in emails, in which she shared some of her life experiences, including her present one as a student studying for a career in the entertainment industry.
When she and I spoke, Williams was fresh off of having participated in three separate protests following George Floyd's murder. Two were in Indy and the other took place Bloomington, and according to Williams they were "extremely motivational and reassuring," adding that, "On a normal day, I wouldn't know where everyone's views lied in regards to the racism and treatment of my people in this country, but in protests, I can walk next to a complete stranger, a white stranger at that, and know where their views and morals lie. The unity and ally-ship I have witnessed within these protests have truly moved me and renewed my hope in this country's potential." Williams said the Bloomington protests solidified her comfort with living there. "As a black woman, Southern Indiana can be kind of tricky, but due to IU's welcoming environment, I felt safe."
Williams story is filled with incidents in which she was always reminded of the differences from her white peers. Her family is originally from California, but when she was in second grade, they moved to Whitestown, Indiana where she attended a private Christian school. "It was a challenging time for me because I was the only black kid in the entire school. My parents thought I would not experience racism because it was a religious school, but that was not the case," she said. Williams went on to say, "When you are little, you really don't see race or color, but it is really traumatizing when you realize people think you are different." Williams recalled being called names like "Black Oompa Loompa" (from "Charlie and the Chocolate Factory") or the time someone held up a black crayon and said, "Oh, this is Tiana's color." "Such incidents really got to me, to the point I would come home feeling totally broken." Fortunately, according to Williams, she was able to survive her grade-school experience because of her parents' love and support and their teaching her how to develop a "thick skin." Plus, she said, "More kids who looked like me started to attend school there and helped me get through the bad experiences." Williams said her life as a student changed dramatically when she transferred to New Augusta Public Academy in eighth grade, a predominantly black school. "It was a total swap. Up until then, I wasn't used to being around other black kids, but I made friends there I still have to this day," she said.
Williams went on to spend her high-school years at Pike High School, where she said, "I found myself and my love for theatre." Near the end of her freshman year, she auditioned for the role of Dorothy in the school's musical "The Wiz." Up to that point, she had only taken dance classes and sang for six years with the Indianapolis Children's Choir, but had never performed in a musical and was "extremely scared." Encouraged by her parents, she auditioned and when she got the role, "It was the happiest day of my life. The director saw something in me that I did not see myself. In learning the songs and dances and working with other people like me, I soon felt very comfortable on stage," she said.
After "The Wiz," Williams said she caught the theatre bug and found herself in a Booth Tarkington Civic production of "Legally Blonde," in which she played a member of Elle Woods' posse. Only one of two black performers in the show, Williams endured her first negative experience working in theatre when, after the show's dress rehearsal, the director, in front of the entire cast, asked her "Tiana, can you be a little more 'ghetto?'" Mortified and humiliated, Williams told her mother about the incident, so later, the two of them sat down with the director, who said, "I was simply using 'ghetto' as an adjective," after which they explained the term's negative connotation for black people. In that same show, Williams recalled a scene in which she and other cast members all wore white. "I was the only person of color in the dressing room when one of my castmates laughingly said, 'Oh, we look like the Ku Klux Klan.' I was really bothered by that. In both instances, I don't think they meant to be intentionally racist. I don't think people are intentionally racist, but ignorance has power. That is something I try to teach my white peers."
As far as her early experiences with racism, Williams said, "I was able to put it together pretty quickly. I felt like I had to mature at a very young age. My parents taught me the concept of racism and how to cope with it early on so the stress wouldn't get to me. Stress is a huge issue in the black community. It can kill you. Going through life being constantly being reminded that you are 'different' is very stressful." Reinforcing her point, Williams shared an anecdote about being followed by store clerks in high-end departments stores while shopping with her mother and being told certain items were "perhaps too expensive" for them to purchase. Another had to do with how her family would make a game of dining at restaurants and seeing which table of white customers would be served before them, though they had been seated prior.
Regarding additional stress resulting from other pressures, Williams said, "We have to work three times better to get half as far. It is definitely a thing. I always have to present myself in such an unrealistic way to always create a good impression. As a person of color, you definitely are pressured to act like a complete angel to make up for any problems they have with you."
Circling back to the impact the protests have made in the struggle for social justice, Williams said she is encouraged by the presence of so many of her white peers who participated. "The first few days, it was really tough. The pain of seeing the video of George Floyd being murdered, and knowing it could be your own father, messes up your psyche and really gets to you emotionally. But seeing so many white people come out to join you and say, 'I stand with you.' I think that is huge and it gives me hope."
When I asked for her prediction of what the Black Lives Matters movement will ultimately accomplish, Williams said, "I believe it will truly invoke great change. Our voices are finally being acknowledged and heard on a larger level than before, and this gives me hope. I hope this movement pushes our government and states to reform the police force, once and for all. Dismantle and reform it so the safety of all people can be the priority, rather than the first sacrifice. I believe the movement will push for a change in the system that indisputably holds officers accountable for everything they do. There should be no leniency for losing a life. This nation constantly espouses the narrative of 'innocent until proven guilty;' yet, through their treatment of people of color, we are apparently guilty until proven innocent (after death). The reality that black lives are subject to either police brutality or mass incarceration at exceeding rates is painfully unacceptable. I believe the Black Lives Matter movement will give this country no choice but to bring justice for those who have passed."
As for her long-term goals, Williams said, "I hope to be a versatile actress working on both the stage and screen. Within the next three years, I see myself working in the industry and establishing a notable platform for myself. With this, I hope to be a positive representative of African-American culture and people within the performing industry."
For the bigger picture, I asked her what she hopes to accomplish. "As an actor of color, I really want to invoke social change in the small, but creative way that I can," she said. "I want to continue what the industry is slowly starting to do, and that is to challenge the narrative that black and brown people are limited in roles and stories they can portray. Everyone is a protagonist, the innocent ingenue, the daring prince in someone's story, and I want to encourage those possibilities. I also want to motivate the black and brown youth, and let them know, the stage is a reality for them too. Growing up, I had very few role models to look up to in the industry. In all seriousness, Audra McDonald was the only black female actress whom I consistently saw in significant roles and shows that I saw myself in. Not seeing yourself in your own dreams (of being on stage) invokes a sense of doubt that was hard for me as a young, black performer. I don't want that to continue. Representation is so important. It is simply crucial. It plays a huge part in how young people can identify themselves, their qualities, and their stories. So, that is what I want to help change. I want everyone to be able to see themselves within their own creative dreams and aspirations."
Concluding our conversation, I asked Williams why she loves performing. "I love to express the humanity within every song and story," she replied. "I love challenging myself and an audience to empathize and see themselves within the various characters or circumstances portrayed. In my opinion, performing holds great power in how it is society's way of seeing itself. Theatre is the societal mirror, and we, as performers, are the reflection. With this profession comes a responsibility I want to carry. Performing has moved me internally and in return, I want to move an audience. The stage is where I found my true self, and performing continues to make me feel alive and unstoppable. I want everyone, especially people of color, to feel the same way."