I enjoy blogging because it gives me the opportunity to feature emerging artists who represent the next generation of great performers. I never forget what an impact it had on me when I saw my name in print for the first time in my hometown newspaper when I was a young theatre student. Now that the Internet has surpassed print media, at least as far as local arts coverage, platforms such as mine are the only avenues in which most performing artists are recognized for their talent and abilities.
One such artist is Claire Piccirillo, a dancer-singer-actor, who is currently at the beginning of her promising career. I first met her a few years back through her parents Conrad Piccirillo, CEO of INNOVATIVE, a prominent marketing strategy company in Indianapolis and his wife, Lyn. Upon meeting her, I was struck by her enthusiasm and passion and equally impressed with her overall presence. Later, after receiving an update on her from her mother, I reached out to Claire for an interview.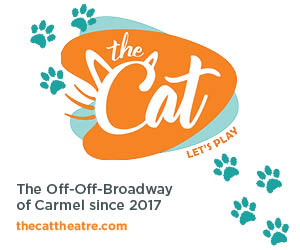 At the time, Piccirillo was visiting her family in Indy prior to returning to American Music Theatre in Lancaster, Pennsylvania for her second season as a dancer with Ovation, a pops orchestra. Featuring tributes to music legends such as Tony Bennett, Frank Sinatra and Ella Fitzgerald, the group also performs the music of modern greats such as Michael Bublé and Adele.
When asked why she loves to dance, 22 year-old Piccirillo said, "There is so much I could say. The feeling of being able to express myself and portray other feelings, emotions, stories and more is one of the coolest experiences that many people get to experience or understand. I feel the most normal when I am dancing. I get to show the complete, full, 100 percent of myself when I am dancing."
Piccirillo's love of dancing began when she was two years old, following in the footsteps of her older sister Caitlyn. Together, they took classes at the former Showtime Dance School. Interestingly enough, talented brothers Chris and Cory Lingner were also in classes with them. The link between the Lingners and Piccirillos is strong. The children grew up together and Piccirillo's father is godfather to the brothers. Currently, Chris is a principal dancer with Indianapolis Ballet and Cory is a Broadway performer, who has appeared in various shows including "On the Town," and "American in Paris." "It has been amazing to watch them as we have all grown up. They both have been incredibly inspiring to me," Claire said about the sons of producer Terry Lingner, co-owner of INNOVATIVE and her father's business partner.
Ball State University was the school Piccrillo, a  Zionsville High School alum, chose when she started her formal training in 2016. Dissatisfied with the school's dance program, however, she left in the spring of 2018. Her next stop was Las Vegas, where she attended Theater Arts Preparatory School (TAPS) under the direction of founder and Don Mirault, a former Broadway performer. She completed the program in six months, in the spring of 2019. There she learned different styles of dance and studied acting and voice as well. "Ball State's program, which is very modern and ballet-based, was amazing, but I knew it just wasn't for me. I knew it was risky (to leave) and not many were supportive of my decision at the time, except for my parents who really encouraged it, but I realized that a degree is always there, but a career isn't. I wanted to be in the musical theatre and commercial realm."
Currently, Piccirillo is gaining plenty of experience in her craft at American Music Theatre, where she is immersed in what she loves the most as she follows the example of her father who is a respected directer-director and videographer. "My dad told me that he told his father when he was my age that he wanted to do what he loved every day. My grandpa asked him what that would be and father said, 'Watching television.' Now, I am lucky enough to do what I love to do every day," she said, adding, "When I am on stage, this feeling is also unlike any other that only performers really get to experience. It's unreal. I get such an adrenaline rush when I step out onto the stage and see the crowd. No matter how big or small the crowd is, just seeing the people in the audience who have come and paid to see me perform gives me energy throughout the show because I love to entertain people, make them laugh, smile, and feel any other emotions they want to feel. I am at my happiest when I am on the stage. I am so grateful and blessed to be able to do this. I couldn't survive without it."
And what are Piccirillo's hopes for her career? "For now, my main goal is to be a back-up dancer and certainly, a headliner someday. Someone told me the other day they would love for me to do a one-woman show because of my outgoing personality, which I inherited from my father. I have always wanted to do some kind of comedy as well, so doing a one-woman show would be awesome," said Piccirillo who can expect some help reaching her goals from Go2Talent Agency with whom she is signed.
I ended our chat by asking how she hoped to be remembered as an entertainer, to which she replied, "I ultimately wish to be remembered as the fun, loving, and caring person I believe myself to be. I feel as if I carry myself the same on and off stage, so I want to be as authentic as I can possibly be and have the audience know me for who I am."