Fond memories of the former Broad Ripple Playhouse came flooding back as I entered the 50-seat black box space of the Storefront Theatre of Indianapolis founded by Ronan Marra, a director and playwright, who formerly ran a Chicago theatre. I was at the theatre located on Broad Ripple Avenue on Wednesday, Aug. 11. to see "Pilgrims," the inaugural production of the company's second season. I could not help but recall my experiences acting in plays at the former BRP, which was also housed in a storefront space on Westfield Boulevard and operated in the early 80s. And notably, like its predecessor, Storefront's chief physical feature is the intimacy it offers.
And that same intimacy only serves to amplify the ambiguity of this one-act play written by Claire Kiechel. "Pilgrims" tells the story of a soldier (Ryan Ruckman) and a young girl (Kelsey Leigh Miller), two strangers who are forced to share a cabin in Destiny, a colony ship on a 100-day journey to a new planet. Although it and other circumstances are not explained in detail, presumably they are leaving Earth because it is in peril. These two polar-opposites characters mix like oil and water. He is buttoned down and filled with angst resulting from his PSTD, whereas she is bubbly to the point of annoying, which belies the secrets she carries behind her façade. Providing the only diversion in the play is a third character, a robot (Carrie Schlatter), who serves as their personal, space-age stewardess.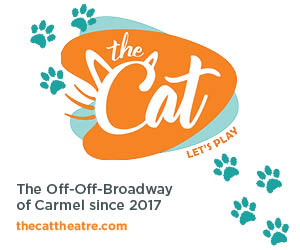 Strip away the play's sci-fi elements, such as interplanetary war, space travel, contagious disease, aliens and, of course, the previously mentioned robot, and you find a conventional drama about two strangers getting to know each other, revealing their psychological baggage and ultimately connecting. The push-pull conflict between the solider and the girl is the main driving force in this drama, weighed down by its vagueness, which after awhile becomes tiresome.
Despite its shortcomings, the play was deftly directed by Chelsea Anderson. And on a positive note the evening was redeeemed by the effective performances turned it by its trio of actors. Ruckman, who is well-known for his comedic performances, proved his worth as a dramatic actor in No Exit's 2017 production of "1984." Once again, he impressed here with his nuanced characterization of the sullen, tormented soldier who, despite his gruff exterior, carries a sadness and vulnerability that make him sympathetic.
Miller also impressed in her role as the irksome, adolescent chatterbox, who babbles on and on with no consideration or empathy for anyone around her. Her perky characterization of the nameless girl with boundless energy, who dashes about the cabin, while constantly prodding and annoying the brooding soldier with personal questions, was thoroughly convincing.
Nearly stealing each scene in which she appeared was Schlatter as Jasmine the robot. Dressed in a costume niftily designed by Jason Gill with a nod to the 50s, Schlatter stood out as the futuristic flight attendant eager to please her guests. Providing the play with occasional comic relief, Schlatter shined as the computerized machine with programmed gestures, vocal patterns and deadpan facial expressions.
Worthy of note are the show's production elements and values, which speak to the professionalism and high quality that Storefront seeks to imbue. They include the set designed by Zac Hunter, lighting by Haley Rigsby, and Mason Absher's sound design.
Storefront Theatre of Indianapolis is located at 717 Broad Ripple Avenue. For tickets and information about "Pilgrims," which runs through Sept. 22, call (317) 292-9755 or go to storefrontindy.com.