Often times, if I come across artists on Facebook who I want to get to know, I will send a friend request. Most of the time, we have mutual friends and move in the same circles, so I am usually confident my new Facebook friend and I will eventually meet. Such was the case recently when I attended Alex Newell's show at The Cabaret and noticed musician Joshua Allen Thompson seated at nearby table. I have been following him for a few years, so I was delighted to have a chance to introduce myself. At that point, I also took the opportunity to ask him if I could interview him. Prior to meeting with Allen, I discovered how rich his background is when I studied his bio and spoke with people with whom he has collaborated.
Born and raised in Indy, 37-year-old Thompson began taking piano lessons at the age of five. At the age of ten, he began playing trumpet. He performed with the New World Symphony Orchestra as a principal trumpet player from 1999-2000, and Indianapolis Symphony Orchestra's "Side-by-Side" student program from 2000-2004. Beginning his undergrad studies at DePauw University, Thompson was a trumpet performance major before switching his field of study and earning a B.A. in Sociology in 2004. Afterwards, he continued to play piano and trumpet privately, but focused on a career in social work, which included working with the severely mentally ill. Later, he did a stint at Damien Center, Indiana's largest HIV/AIDS service organization, during which he combined his advocacy work with his love of music by working closely with the Arts Council of Indianapolis, Indiana Arts Commission, Music for All, Classical Music Indy and Indy Jazz Fest.
Eventually, Thompson returned to performing piano publicly. Since then, he's made it his mission to exclusively program and perform the classical masterworks by composers of African descent. Allen has collaborated with legendary bassist John Clayton, Whoopi Goldberg and world-renowned operatic soprano Angela Brown. In January 2018, Thompson debuted his first artistic production, "Village Voices: Notes from the Griot,"an original production that highlights the unsung and underperformed masterworks from artists of African descent. Making its world premiere at Newfields in Indianapolis, Thompson's production continues to be performed on local stages and in classrooms throughout the Indy metro area. Thompson was named the 2019 performer-in-residence for Eskenazi Health's Marianne Tobias Music Program in addition to being named one of the featured artists for the Arts Council of Indianapolis' "Art and Soul Celebration" that showcases rising and emerging African-American artists. Thompson sits on the board of directors for Arts for Lawrence and also writes grant proposals on behalf of artists and arts organizations.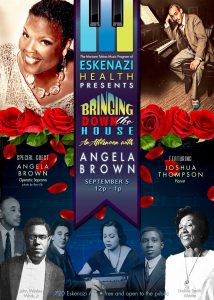 Reaching out to Angela Brown for comments about Allen she said, "Joshua is an extremely compassionate and caring personality and it comes through when he is performing. He and I hit it off immediately and I'm sure our collaborations will continue for years to come." Music expert Kyle Long, host of WFYI radio's Cultural Manifesto, who also oversees the Marianne Tobias Music Program was responsible for Allen's participation. When contacted about Allen, Long said, "Joshua is one of the most creative artists I've ever worked with. When we first approached Joshua about performing at Eskenazi Health, the offer was to simply play piano for an hour in the lobby. But Joshua utilized this opportunity as a platform for a more ambitious creative vision. Joshua immediately began constructing elaborate-themed programs featuring an impressive array of guest artists, from Kenyetta Dance to the opera diva Angela Brown. Joshua's monthly programs at Eskenazi Health have really resonated with the community and we're very grateful for his contribution to the Marianne Tobias Music Program."
Eventually, the gregarious Allen and I had the chance to sit down at the spiffy, new downtown Starbucks near Whole Foods to discuss his work and career. Herein is an edited transcription of our conversation.
Why a degree in sociology?
I have a very systematic way of looking at the world. I was that kid who was always asking "Why?" and thinking "That's not fair." My dad advised, "If you want to know why, you've got to understand the systems in which you live, so you can figure out the why and how to make change or at least deepen your understanding of how things work, so you can adjust your life and everything else accordingly." I find sociology fascinating.
Where did your love of music come from?
Cartoons, the ones I watched as a kid, "Bugs Bunny," "Tom and Jerry," "Woody Woodpecker" and "Mighty Mouse." Cartoons were fun, but the music behind them was way more fascinating. I was curious about the music and so I remember telling my parents, "One day, I'm going to play for cartoons." No playing for cartoons yet, but were getting there. (Laughs) We are getting kind of close to being able to do that. So that is where it started.
Why did you select the trumpet as one of your instruments?
Originally, I was interested in playing the flute, but I have always been a very short, skinny, nerdy, geeky kid and I thought, "You know what Josh, you have enough nerd problems at the age of the age of 9 years, so don't add another stereotype about flutists to them. (Laughs) I just really liked it because it's this really bombastic, loud, yet stately instrument. It's all of that, but it's also a very beautiful, lyrical instrument. I cannot sing. I can carry a bucket in a tune and that's about it. However, I play trumpet as if I were a vocalist because I think it gives you some liberties to do that with its nuance, the expression, the highs and lows are not what we typically think of with trumpet, but it's gorgeous when it's highlighted that way. As far as the piano, my older sister was taking piano and if you have an older sister, you always want to do what she does and be just like her. She really did it well, so she really helped kind of solidify for my brother and I that "This is something that A. We want to do and B. It gets mom and dad's approval." Basically, we were little kids trying to emulate our older sister and it just stuck.
Sounds like your parents were very supportive?
Super supportive. Dad was a machinist with Allison Transmission and my mom was a surgical tech at St. Vincent's. They had us involved in so many things, such as sports, academics, foreign languages and music.
They always told us, "If there is something you want to do, you have to continue with it to the very end." Mom and Dad are products of the civil rights era and just before. And on my both mom and dad's side, we call it "activism" now, but when you were black in the 40s, 50s and 60s, literally staking your claim in the world was an act of activism and revolution, so it was always being twice as good as the next person. "If you say you are going to do something, do it," my dad would always say. "They expect black people to be lazy. They expect black people not have a sense of refinement. If you are going to be a success in this world, being aware these attitudes, these are the bare minimum things you have to do to survive."
Did your parents experience racism?
That's not something my dad talks about, but the short answer is, yes. My mom is a little more talkative about it and so are my grandparents but, yes, absolutely. My mom grew up in the Riverside Neighborhood before IUPUI was built. Those neighborhoods no longer exist because of the racist redlining and redistricting. Mom went to Shortridge High School. Daddy went to Arsenal Tech. My great grandmother was one of the first graduates of Crispus Attucks. There is a reason why they went to those schools because those were the only ones you could attend in Indianapolis if you were black. But that was never an excuse for us not to achieve what we wanted or use as an excuse to not do what we set out to do. We learned "Welcome to the world. It's not fair."
Tell me about your own experiences with racism.
The very first blatant one was when I was a small child visiting my family in Omaha, Nebraska. I remember going to a public pool with my cousins and my brother and sister. She was about nine years old. There was a little girl there who was my sister's age who was very adamant and created quite a scene. She said she didn't want n—— at her pool and they are not allowed. My sister was able to stand up to her and not in a combative manner, but stand her ground, and it was the first time I can remember "Oh, so this is a thing." And then throughout my life, especially in my earlier years, there was a combination of covert and more subtle, but very clear forms of racism, like being called "Buckwheat," or in music, particularly when you are the only one or the two in an orchestra or in a class, or going for an audition. They are more astounded that you are a black person doing this type if work than actually listening to what you are doing and I still have that issue today, but Mom and Dad prepared us very well for that. They told us "This is what is going to happen. It's going to happen more than once, so you have to learn to pivot from those experiences."
Who are your favorite composers and musicians?
My favorite composers are Maurice Ravel and Claude Debussy. I just love French Romantic Impressionism because it is so gushy; it is so dramatic. It's insane. It's incredible stuff to me. Leonard Bernstein is another one. William Grant Still. Definitely, Margaret Bonds as well. I have to be honest though, I had no mentors who were musicians, maybe because I had nobody who looked like me. I was a sophomore in college before I had my first instructor of music who was black, Lennie Foy, a professor of trumpet. He is still at DePauw. I had been playing for 10 to 15 years before encountering someone to look up to and to show me how to navigate in the music world as a musician who is black.
Do you think things are getting better as far as more opportunities for blacks to perform with symphony orchestras?
It's starting to because said institutions have identified the issue, but not a solution. It's people much like myself and other people of color in classical arts, whether it be ballet, classical music, opera, who said, "We still don't have it. Let's just create our own work because we can't wait for other people to see our value."
Do you agree that the general public perceives ballet and classical music is elitist?
Yes and that is a problem in itself. And historically and even currently, it is still exclusionary how some of those things work. There are not enough programs to introduce people who look like me to the music world. There is an entire segment of folks who will go down that rabbit hole to make it a career if that is what they so choose. I still struggle to get onto traditional stages. I have to take the non-traditional route, hence my performer-in-residence at Eskenazi, hence my work with Classical Music Indy, and others. As far as universities and colleges and some of the other stages known for traditional presentations of classical music, the door is still, very, very heavy because if they are not even going to program the work of people of African descent. I am not saying they don't care, but they're not programming it.
Despite the shortage of opportunities you have certainly been proactive, right?
Yes, in my own small way, in my own sphere of influence, literally, that is the least I can do.
Do you get discouraged?
Oh my God, pick a day. Yes. It's a good thing I keep waking up because as soon as I have a really bad day and I am not feeling it, an opportunity presents itself. Classical music is a tough genre anyway, regardless of class and race. It's very unforgiving. It requires the best. When you feel you have given the best, for whatever reason, for whoever is auditioning you, it has nothing to do with you. You just don't get the job, so that is difficult to deal with. Some days, when I feel like I am the best player or best representative or wishing I wasn't the only conspicuous representative for what I do, it gets a little bit tiresome. Sometimes, however, I know I am not the only one doing this. I work a lot with Angela Brown and she has been doing this a lot longer than me and she inspires me.
How so?
Angela is a friend and mentor. She has really helped me see the world, not just the performance element, but other things as well. She's incredible. She really is. And she is a genuine person. Her standards are unbelievably high, as they should be, but she is so patient helping me and others realize what they need to do to get up there, so I am very grateful for her friendship and her mentorship as well.
It sounds like she has really helped you develop as an artist.
I don't consider myself to be an artist. If other people want to call me that, that's great. I'm just a guy doing his thing.
Why don't you consider yourself an artist?
That's not an identity I'm preoccupied about. I am a musician, an instrumentalist and a guy just doing his thing. If someone else wants to quantify and call me an artist, then sure. But as far as I am concerned, the work is more important than the title.
Why can't you own that you are a true artist?
Self-doubt is always there. With my brother and me, it was always ingrained in us when we were very little, "Even though you are good, there is always someone out there who is better than you are." My dad would say, "Stay humble and stay hungry." Maybe we take that humility to the nth degree so our humility is our vanity. (Laughs) My work will speak for itself.
What are some of your other activities?
I do a lot of things. I have a small handful of piano and trumpet students that I teach. I give priority to students of color because of my own experience. I tell my students and their parents that my job is not to make you the greatest. I am trying to teach transferable skills that come with this line of work, such as time management, discipline, grace, hard work. These are things that, whether you have a career in music or not, will be wildly beneficial for you as a human.
What do you do in your spare time?
I am working on that balance now. There was such a long time of me not doing anything with my music. Now I don't feel like I am necessarily living on borrowed time, but I think, "Hey, it took you this long to figure it out, so now you have to go full-steam ahead." I have a hard time turning my brain off. Ideas strike at the most random of moments. I'm an avid tennis player. Just love to play tennis. I am just a regular person. I like to go out and check out arts events, but more importantly, those outside my own genre. I kind of feel like what I do is not original, it is how I comprehensively conceptualize everything and just repackage it that gives it the appearance of being new. And I think that is kind of the fun part of doing that.
Are you in a relationship?
I have been married to my husband John Gurnsey for five years, but we have been together for over 14 years. He's a retired police officer in the sheriff's office, but now teaches criminal justice at Ivy Tech.
How do you support yourself?
So, there is the performance end of it and the teaching. I also consult with local artists since I have 14 years of nonprofit experience and grant writing experience. They don't have the time, the knowledge or the experience to find funding sources. Between those three things, I piece together a living.
Do you have an angel or patron?
In my experience, I don't think it happens anymore. It might. I don't know. I would love one so send them my way. (Laughs) Sometimes, all it takes is sending a letter out to who you believe are individual stakeholders…sending it to them and just staying on their radar. I find that for Village Voices, I just reached out to certain individuals and said this is what I want and this is what it costs.
What are some of your hobbies?
I like to cook. I am not good at it. I like to swim and enjoy a nice summer day by the pool and hang out. I am an avid reader. I have a very sociological brain so reading sociological journals is fun for me.
You seem like you are very social.
I am. I get a lot of my energy from other folks. They can also drain it too, so I have to be careful about that, but I genuinely do love being around other people. They are inspiring. I love being here in Indianapolis. This is home for me. I have had opportunities and considered leaving, but I really want this place to be what I envision it could be. I might not see that realization in my own lifetime, but everything is bigger than me, so if I can be a part of doing, you know, what is necessary for other people, that's OK.
Wrapping up, you appear to be someone who doesn't allow others to define him. True?
Right. It is hard enough to define yourself. So, to let someone else do it may seem easier on the onset, but truth be told, it muddies the waters as we get older. Out of Mom and Dad's three kids, I was the boundary-pusher and as I have gotten older, I have learned to temper or when to use that or not. Going back to what I was saying earlier, just because I didn't see anybody doing what I do…and still don't…doing what I do doesn't mean that A. I shouldn't be doing it or B. Maybe someone is just waiting to see…I hope…someone like me who can do it better. My lane is pretty much free of traffic and it would be nice to have more folks join me to refine and redefine the genre of classical music.
For more information about Eskenazi Health's Marianne Tobias Music Program, visit Eskenazihealth.edu.