A highlight of last year's theatre offerings was Actors Theatre of Indiana's production of "Forbidden Broadway," the inaugural production at The District Theatre on Mass Ave operated by IndyFringe. Reprising their roles in that hit production are ATI founders Don Farrell, Judy Fitzgerald and Cynthia Collins, who along with Logan Moore, are featured in the Broadway musical spoof now playing at ATI's home at The Studio Theater at Carmel's Center for the Performing Arts until May 19.
"Forbidden Broadway," an abbreviated survey of American musical theatre that premiered in 1982, is one of Off-Broadway's longest running shows. Over-the-top hilarious, the wacky revue spoofs more than 20 Broadway shows. Since Broadway musicals have continued to be created since the show debuted, it is regularly updated, so this ATI version is the most current. Created and written by Gerard Alessandri, the show is replete with inside jokes that theatre aficionados will thoroughly appreciate, but the show's clever script will resonate with anyone who loves comedy, especially the broad, physical kind.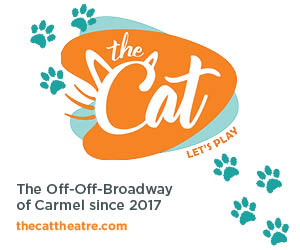 William Kimmel, who has himself performed in the show, directed and choreographed this ATI effort and did so brilliantly. That same designation, which I do not use lightly, can be applied to the outstanding dramatic and vocal talent of the quartet of performers, all fine impressionists, whose inexhaustible energy and joyfulness are infectious. The fact is, and at the risk of sounding hyperbolic, I attest that Farrell, Fitzgerald, Collins and Moore, all displaying tight chemistry, were destined to perform together. Not only is their individual and collective timing impeccable, their instincts and skills are on par with the best sketch comedians I have witnessed on any stage.
There are so many uproarious bits in the show, but among the funniest were Farrell in drag as Carol Channing in "Hello Dolly," teaching his cast mates, also dressed like the icon, how to do an accurate impression of her. Another favorite was a parody of "Les Miz," which was also a crowd favorite when the cast performed it at the recent "Spotlight 2019." Collins and Fitzgerald killed as Glinda and Elphaba, respectively, in a send-up of "Popular" from "Wicked" and Logan Moore lampooning the Phantom from "The Phantom of the Opera" was also a rib-tickler. At the risk of giving too much away, suffice to say, those mentioned are just a sample of what you can expect.
Literally taking center stage on a grand piano was music director Keith Potts who excelled at interpreting music from the score of each skewered show and doing so with fine accuracy and artistry.
The production team, consisting of some of the most talented artists and craftspeople in the market, contributed to the show's slickness. They included scenic designer P. Bernard Killian, sound designer Zach Rosing, costume designer Donna Jacobi and lighting designer Quinten James. One of my pet peeves in productions is wigs of poor quality, but not the ones in this show, because wig designer Andrew Elliot's creations are top of the line.
If you missed seeing "Forbidden Broadway" presented by ATI last summer, treat yourself to this delightful confection. Of all the shows I have seen, thus far, in the local theatre season, this one is not only one of the most entertaining, but also one of the most well-produced and executed.
For tickets and information about Actors Theatre Of Indiana's  "Forbidden Broadway," call (317) 843-3800 or visit thecenterpresents.org.