When I was young and struggling with my sexuality, like many gay men of my baby-boomer generation, I longed to see depictions of romantic relationships involving people like me on film and stage. Fortunately, over time, it has become fairly commonplace to see such stories in movies and on the stage. Until Thursday, however, when I saw a preview of "YANK! The Musical," I had never seen a same-sex love story, much less a musical, featuring two soldiers during World War II. Produced and directed by Tim Spradlin, the show runs Thursdays through Sundays until March 24 at The District Theatre on Mass Ave.
"YANK!," which was first presented in 2005, drew considerable attention in 2010 when it premiered Off-Broadway during a time of national debate over the official U.S. military gay-exclusionary "Don't ask, don't tell" (DADT) policy. With book by David Zellnik and music by his brother Joseph, the show recounts the story of Stu (Jonathan Krouse), a naive kid from the Midwest, who gets drafted in the army, where he falls in love with fellow soldier Mitch (Tanner Brunson) and eventually becomes a photographer for "Yank, the Army Weekly," (a real-life publication written "for and by the servicemen"). In a nutshell, "YANK!" explores what it is to be a man and what it's like to fall in love and grapple with it.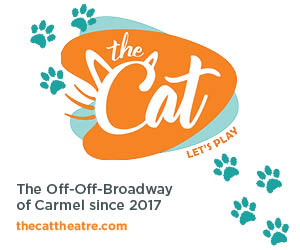 As I write this, I am feeling conflicted about how I should review what I saw last night. As an arts advocate, I seek to champion any work that informs, educates and inspires. As a gay person, I support any artistic endeavor that promotes a positive message about the LGTBQ community. As a critic, however, it would be disingenuous, not to mention unfair to the artists involved in the creation of a work, to be less than candid in my observations and responses. Still, agreeing that art is indeed subjective, my opinion, based on my own expertise and experience, is mine alone.
First of all, I wish to give Spradlin props for gifting us all with this Indy premiere of a script, which I found funny, sometimes disturbing and often moving, with delightful music reminiscent of Rodgers & Hammerstein, whose musicals, some of which were ahead of their time, are among my favorites.
As far the production itself, unfortunately, its technical shortcomings are too numerous and thus, difficult to overlook. An ambitious effort on Spradlin's part, it was clear that he is operating on a shoe-string budget and it showed when it came to the show's production values, which reflect a lack of polish and rough-hewn quality. One has to use one's imagination, considering there are no sets per se, other than pieces such as a bench and a bunk bed that illustrate scenes. The costumes by Barbara Mondary were adequate, but also reflected resources that did not allow for detail, especially when it came to military uniforms and some of the dresses worn by the actor who plays all the female characters in the show. My biggest complaint and by far the biggest distraction were the sloppily-produced stills projected on a too-small screen that, in lieu of sets, are meant to suggest locations. There were also lighting and sound glitches that occurred, but I suspect those will all be smoothed out as the show's run continues.
Though there were standout performances such as those turned in by veteran performers Lance Gray as Melanie/Lieutenant, Jessica Hawkins as Every Woman, Kevin Bell as India/MP and D. Scott Robinson as Artie, much of the acting was uneven. It was obvious regarding who had experience and those who did not. Overall, however I was impressed with the sincerity and commitment to the material that all the cast members projected. As far as the leads, Krouse had his moments, especially when his character is in the brig, once his sexual orientation has been revealed. Though Brunson's characterization was often unconvincing, his vocal performance and that of Krouse's were exceptional especially in their duet of the poignant "A Couple of Regular Guys" a performance that brought a tear to my eye.
As mentioned previously,the performers' acting skills were mixed, but ironically, their vocal performances were uniformly outstanding, without any noticeable weak links. No surprise, considering that seasoned music-director-pianist-singer-actor John Phillips is the show's vocal director. I wish I could say the same about the show's eight-piece orchestra, led by Michael Davis, which played the engaging score, but fell short in its execution. My hope is that the music ensemble will improve with repetition.
In closing, I wish to emphasize, that despite the show's flaws and inadequacies, Spradlin and his entire cast and crew deserve respect and admiration for taking on such a daunting challenge and sharing this important important story with local audiences.
At a time when hate crimes against LGTBQ people are on the rise, "YANK!" is relevant, both as a chapter of history that was hidden for such a long time and as a reminder that although enormous strides in equality have been made, it has not been without its costs. Theatre has always been in the vanguard of change, and though it has its flaws, Spradlin and company's effort deserves support, not only from the gay community, but also those in the mainstream who stand to benefit from a relatable portrayal of love, a human emotion that knows no gender.
For tickets and more information about "YANK!" call (317) 308-9800 or visit indydistricttheatre.org. "YANK!" opens Friday and continues weekends through March 24 at The District Theatre located at 627 Mass Ave.