Playing to a packed house, Brent Marty and Claire Wilcher, two of Indy's most well-known entertainers, gave a rousing performance of "Brent Marty & Claire Wilcher: In Character!" during their debut at The Cabaret on Saturday. It is their first foray into the cabaret art form.
It was an enthusiastic audience, consisting mainly of their friends, who witnessed a show that was part of The Cabaret's Incubator Series, a showcase for homegrown performers. Marty, a singer-pianist-music director, is most well known as Director of Music & Education at Booth Tarkington Civic Theatre. Wilcher is an actor-singer-comedian, who has performed at most of Indy's theatres including ComedySportz, where she made her name as an improv artist.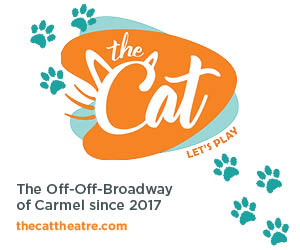 As the title of their show implies, the two performers, both in possession of bigger-than-life personas, and their individual shtick, employed jokes, gags, one-liners and on-the-spot improv as they kept the audience in constant laughter throughout the show.
When they weren't cracking up the crowd, they showed off their big voices that match their big personalities as they sang their favorite tunes, consisting of everything from Sondheim to folk music. A few times, Marty played the piano for Wilcher, but when he was at the mic and the two of them sang together, pianist Todd Hawks did the honors.
A highlight of Act 1 for me was Marty and Wilcher singing a clever Sondheim medley that included "Agony" from "Into The Woods," "Pretty Woman" from "Sweeney Todd," "Barcelona" from "Company," "Pour Le Sport" from "Marry Me a Little," and "I Do Like You," from "A Funny Thing Happened on the Way to the Forum." Others were Marty, wearing silver, high-heeled boots singing "Sweet Transvestite" from "Rocky Horror Picture Show" and joining Wilcher in a hilarious rendition, with choreography, of "One Day More" from "Les Mis," as they ended their first set with a bang.
Favorite numbers in Act 2 included Marty and Wilcher in a sweet duet of "Frank Mills" from "Hair" and "I'm a Catch," a funny original song with lyrics by Wicher and music by Marty, about those who are unlucky in love.
The only time either of the two deviated from the theme of their show was when Wilcher, playing a ukulele, revealed a bit about her authentic herself when she told the audience that folk is her favorite music, prior to playing a poignant and riveting interpretation of Patty Griffin's "Up to the Mountain." Though I enjoyed much of the duo's comedic material, seeing Wilcher display vulnerability gave the show some added dimension, which I felt was missing. I would have liked to have seen some transparency from Marty as well because, for me, cabaret is at its best when a performer can break down their defenses to connect intimately with the audience.
Following the show, The Cabaret artistic director & CEO Shannon Forsell led a Q & A session, during which the artists talked about the development of the show and their creative process, among other things, including Wilcher's imminent departure from Indy to attend graduate school in Michigan. It's not clear if she and Marty plan to perform their show again, but hopefully, they can continue to harness their formidable talent and energy into an act that is equal parts funny and touching.
For tickets and information about The Cabaret's 2018 fall/winter season, visit thecabaret.org.