During the past 45 years or so that I have covered Indianapolis' performing arts I have only rarely seen as diverse, or enthusiastic audience as I did Saturday night at the Hilbert Circle Theatre where the Indianapolis Symphony Orchestra presented "The Music of Whitney Houston."  The engaging concert, notable for its party-like atmosphere and flavor was headlined by former En Vogue singer Amanda B. Cole, and guest conducted by prolific arranger-composer Brent Havens who has led many of the world's greatest orchestras.
The diversity of the 1,000 member audience may have to do with Houston's crossover, mainstream appeal, resulting from her screen acting debut as Rachel Marron in the romantic thriller film "The Bodyguard "(1992). Controversial at the time, the movie featured an interracial love affair between her character and that of Kevin Costner. The film, however, did enjoy wide popularity because its soundtrack received a Grammy Award for Album of the Year in 1994.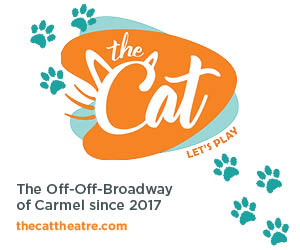 The late singer was only 48 when she died tragically of drug intoxication in 2012. One of the bestselling artists of all time, Houston left a catalogue of songs that have endured.  Evidence of that could be seen at Saturday's interactive concert during which obvious Houston fans, encouraged to participate, sang along to songs in a program that included the music icon's greatest hits. Many danced in place and even in the aisles, to Cole's spot-on renditions of many of Houston's most well-known songs.
Cole, whose vocal range and tone, is incredibly similar to Houston's, was also spectacular in capturing Houston's emotional qualities, as she performed passionate songs that explore themes of love, romance, heartache, strength and empowerment. In between songs Cole revealed her own sweet and easy-going personality. Based on her affectionate and respectful comments about Houston, it was obvious that she too is as worshipful of her idol as devotees in attendance.
In addition to the ISO, Cole was accompanied by Haven's first-rate Windborne Music band that included Justin Avery on keyboards; George Cintron, on guitar; Powell Randolph on drums; Eddie Williams on bass; Dan Clemons on bass; and backup vocalists Felicia Barton & Bonnie Keen.
"I Will Always Love You," from "The Bodyguard" which is considered Houston's signature song, was Cole's opening number. Following it was a program that included many of Houston's hits such as" I Have Nothing," ""Saving All My Love for You." "Run to You, "Greatest Love of All, " "Didn't We Almost Have It All," "One Moment In Time," and "Where Do Broken Hearts Go?." One number that really resonated with the audience and which seemed to elicit the most joy was "I'm Every Woman."
As most in the audience stood and many danced,  Cole closed with "I Wanna Dance with Somebody." It was not your typically staid and reserved ISO audience but one of the most animated I have ever seen at the historic Hilbert venue.
As for the ISO, made up of skilled and seasoned musicians, it was near perfection in its blend and expressiveness and its dynamic chemistry with conductor Havens.
At a time when we could all use some welcome relief from news of natural disasters, toxic politics, and division, it was a pleasure to be amid an integrated crowd enjoying itself.  With music being the common denominator, differences were put aside, if only for a few hours, to celebrate and be entertained by the music of a gifted performer. Gone to soon, Houston, through her artistry,  helped many to view the world with color-blind vision It is a contribution that exists as her cherished legacy.
When other performing arts organizations are struggling to diversify its audiences, the ISO achieved a major coup with this concert. Hopefully the orchestra will further promote inclusiveness by programming more concerts, such as this one, which brought people together as only music can.
For tickets and information about the Indianapolis Symphony Orchestra 2017-2018 season call (317) 639-4300 or visit www.indianapolissymphony.org