IndyFringe Live Theatre Festival  begins its 1o-day run Thursday, August 17 through Sunday, August 27. With  74 acts doing 400 shows at nine venues on or near Mass Ave., Indy Fringe will once again be the premier arts and entertainment event in Indianapolis. Performance artists are coming to Indy from as far away as Canada and more than a dozen U.S. cities such as L.A., Boston, New York City and Atlanta, with Hoosier artists making up 50% of the festival. A mix of  music, choir, dance, magic, cabaret, variety, standup, improv, comedy, drama, physical and multimedia, a psychic and even a séance, IndyFringe17, is experimental, amateur and professional.
Many credit, IndyFringe's executive director, and gregarious Aussie expat Pauline Moffat with the festival's phenomenal trajectory of success. Since 2006 when she took over running the festival, Moffat has been aided only by volunteers and interns. Finally, however, the organization was awarded a grant last year and she was able to hire a full time staff member to assist her.  That much-needed  help came in the form of George Wallace, the current associate director of IndyFringe. Wallace, formerly the executive director of  Orlando Fringe, and I recently spoke by phone the other day about his position, the contributions he hopes to make to IndyFringe and the festival itself.  Below is an edited transcript of my chat with the affable Wallace.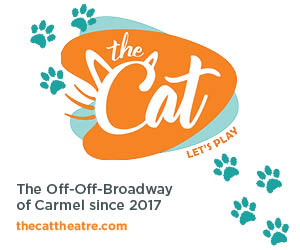 How long have you been in Indy?
Since April Fool's Day?  (laughs) April 1.
How is it going?
So far so good. I came last year as a patron to IndyFringe and fell in love with the city and the whole vibe of Fringe along Mass Ave. Yes, I am here now.
How long were you here?
I was here for the first week.
How many shows did you see?
I think I saw 20 shows last year.
Did you come purely as an attendee or was there another purpose?
A little of both. I am the vp of the Canadian Association of Fringe Festivals. IndyFringe is part of CAFF. As a vp I try to get to a couple of festivals the past few years. I went to Edmonton, Montreal and some of the larger ones in Canada,  so last year I decided I was going to focus on some of the U.S. festivals. I got to Portland, Maine and Indianapolis. It was my first time in Indy and I basically came as a patron and the exec director of Orlando Fringe because I wanted to see what other festivals were doing,  see what's working well and take ideas back.
What was your impression at that time?
One of my biggest take always from coming to Indianapolis last year to attend the festival was the amount of diversity in the acts. In the south, we had a tough time getting minority acts to perform, so was great to see such a wide diversity for a festival of this size. To me it was noticeable and I really liked that.
Why no diversity in the Orlando Fringe?
There's a couple of reasons. Number on is first come first come model here. In Orlando, it is truly a lottery and we have an extensive wait list so it is literally the luck of the draw, here you can do a little bit recruiting. You can say "You know what, you are going to do great in Indianapolis. Send me an application." The first week that applications open here, you can be in the festival. I think Pauline has done an excellent job with that and the other take away for me was all the year-round programming that happens here. Diva Fest, and Onyx Fest, Magic Fest and I just thought that being a part of that would be cool.
Now that you re on the job at Indy Fringe, how does it feel to be involved in its operation?
I'm still getting my feet wet so I have only been here a few months but this Festival is a big learning experience but so far, so good. I think that Indianapolis' is great and I really enjoy it.
How have you been received?
Yes, for the most part. I think that coming from a much larger festival people may think "Oh, you want to make things bigger." And my reply is "No, I really don't, I just want to take what the Fringe has and just improve on that." Bigger does not always mean better. I came from a 14-day festival in Orlando with 150 different shows. It is about half the size here. I think that 74 shows, the number of shows we have here, is manageable. It's a decent size with great venues. I have added a couple of new things this year. I am doing the late-night cabaret and I am doing a late night drag show because I want to cultivate a late-night experience for Fringe goers. Late-night stuff is common with Fringes around the world.
From your perspective, does Hoosier Hospitality really exist?
It really does. I was lost not long ago and I was walking so I asked an individual who said "Oh, I am going that way so I will walk you down. It is tricky to find, I'll show you." That was cool. You don't normally get that where I come from. (laughs).
What is your observation regarding the local talent pool?
Oh my gosh. I think the talent here is great. I think that with a festival of this size, obviously the cream is going to rise to the top and there is always going to be those stand out performances and a lot of time, it really is those local groups…no singling out anybody but I saw excellent talent last year.
What is your job description in brief?
I think it gets a little fine-tuned more each day but I am overseeing the festival itself, artists, artist relations. I came in after the application process. Artist relations. I came in after the application process was done so I am looking at the procedures of how we do it and one of the things I want to do is create an online portal to make the application process seamless. I want to improve the tech process. I also want to do an artist briefing a few months before the festival and talk about marketing and the best ways to get the impact. It will be aimed at local artists so that I can help them be successful. If the artists are successful, the fringe is successful. I want to help artists walk through the process.
What do you advise artists regarding marketing?
I tell them that word of mouth and social media are you their two best friends when it comes to promoting the show. The artists must independently promote their show.  At the end of the day, however, they must have an excellent product.  But posters and postcards help get people in the door then they can talk about it.
Are you involved in fundraising as well?
A little bit. IndyFringe has amazing facilities and that has been a lot of Pauline's focus. I want to cultivate the smaller individual donor so I am creating a membership program—perhaps a $25 membership.
Have you figured out who Indy's movers and shakers are?
Pauline knows everyone. The first month or two I was here. She made sure I went out and met funders. I met with high end donors.  I met the board members. She was good at that. I must give her a lot of praise for that because she is setting me up for success.
From your perspective, how is IndyFringe viewed around the world?
I think it has a good reputation. I am coming from the oldest Fringe in the United States and one of the largest so and because I am a vp of the CAFF, I am familiar with all the  big festivals and for its size, Indy's Fringe is one of the best.
What can festival goers people expect at this year's festival?
They can expect a centralized box office. I am trying to get people to buy tickets in advance so they don't have to wait in line for tickets. Late nigh programming.  An inside beer hall in a central location with a fun party atmosphere. We've got a block party on that first Friday night in the 300 block we have never done before. To recruit more of the national and international touring artists, we offered three slots on the first weekend and three on the second weekend so that is why we have 72 shows this year because we have 16 touring shows coming with 8 on the first weekend 8 on the second weekend. These are really polished and top notch. Ticket sales are at a good place this year. I don't have a lot of the ticket history info but Pauline assures me that the ticket sales are doing better this year than they have in the last couple of years as far as this time leading up to the festival.
Why should those who have never attended the Festival come?
Because of the eclectic nature.  It is fun and you never know what you will see.  Also, Fringe is bringing international artists to your back door.
IndyFringe Festival
Thursday, Aug. 17-Sunday, Aug. 27
Eight stages along Mass Ave
Tickets: $15 adult/$12 student-senior/$10 children under 12
Fiver pass – Five shows for $55
Buy tickets online at indyfringe.org
FREE STREET PARTY
Friday, Aug. 18, 9:00 p.m. – 11:00 p.m.
The 300 Block of Mass Ave will be closed to traffic for our first Fringe Street Party that includes Fringe performers, street performers, DJs and a dance party.
MISS INDYFRINGE PAGEANT
Wednesday, August 23, 10:30 p.m.
IndyFringe Basile Theatre
Whom will be crowned Miss IndyFringe? Join us as drag queens compete for the title in front of celebrity guest judges in categories such as Q & A, Fringe wear and talent. Tickets are just $15. All proceeds benefit IndyFringe. Bring your dollars to tip the girls! The contestant with the most tips gets bonus points. Audience participation is encouraged!
LATE NIGHT CABARET
Friday, Aug. 25, 11:59 p.m.
IndyFringe Basile Theatre
IndyFringe presents our first ever LATE NIGHT CABARET featuring 2017 IndyFringe artists. You never know what you'll see! Warning: Adult language and content. Tickets are just $15. All proceeds benefit IndyFringe.
CLOSING NIGHT PARTY
Sunday, Aug. 27, 8:30 p.m.
Firefighters Union Hall, 748 Mass Ave
Festival awards and wrap-up party
CENTRAL TICKETING AND INFORMATION
Located at the Firefighters Union Hall, 748 Mass Ave
Open Monday, Aug. 14-Sunday, Aug. 27
Information booth staff will provide programs, updates on shows and ticket availability
Tickets for all shows can be purchased at Central Box Office – right next to Information Booth
$1 fee on all tickets purchased at central ticketing and individual theatre box offices
Three-minute walk will take you to any theatre

OTHER WAYS TO BUY TICKETS FOR FRINGE EVENTS
Online: indyfringe.org, 24 hours a day and up to 60 minutes before a show
By phone: Call 317-308-9800, 12:00 p.m. – 9:00 p.m.
In person: (from July 31-Aug. 14) weekdays, 10:00 a.m. – 4:00 p.m.
IndyFringe box office: 719 E St. Clair Street
Individual theatre box offices during festival
Ticket fee information:
Tickets purchased online are subject to $1 fee per ticket
Tickets at Central Box Office and theatres subject to $1 fee per ticket
Tickets purchased in person using credit/debit card are subject to $1 fee per ticket