Like the swallows that return each spring to the Mission San Juan Capistrano in California, David Dreyfoos jumps on a plane and travels to Indy to oversee "Spotlight," an annual benefit for the Indiana Aids Fund, a program of The Health Foundation of Greater Indianapolis.  Held 23 times, this year's "Deborah J. Simon Spotlight ," will take place Monday, April 24 at 7:30 a.m. at Clowes Memorial Hall on the campus of Butler University.
Dreyfoos, who serves as producing director of "Spotlight 2017," which showcases performing artists and arts organizations, has participated in the event each year it has been presented, except for 2015, when he had foot surgery.  Currently Dreyfoos lives in Connecticut where he is associate producer/director of production at Westport Country Playhouse. Dreyfoos,  who once worked for the Indiana Repertory Theatre, met Spotlight's artistic director and co founder David Hochoy in 1992. Dreyfoos was the stage manager and Hochoy the choreographer for "Yerma" a play directed by then IRT artistic director Libby Appel, another "Spotlight" co-founder.
About Dreyfoos, who has become a close friend, Hochoy says "He has been invaluable in streamlining the show into it's current format.  David is a master of putting the show together and attending to all of the intricate details necessary to make it run smoothly.  He is the very necessary "boss" in the theatre. He really cares deeply about the cause, and about our community.  Every year he donates his time, travel and accommodation just to do the performance.  It's a remarkably generous and selfless act.  I'm delighted each year that I get to see David and spend time with him, even if only for a few hours.  We are doing something that we truly love and believe in.
Recently I spoke by phone with Dreyfoos from his home in Norwalk, Connecticut where he was making final preparations for his annual trek to Indy for a cause he has dedicated himself to.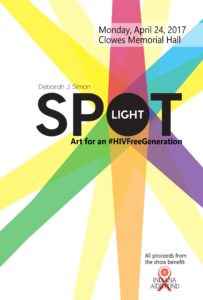 Why did you become involved in "Spotlight?"
I lost a lot of friends to AIDS. When "Spotlight"  started it brought the community together. It was a time when the community needed it. David Hochoy needed to do it. We all needed to make a stand in Indianapolis and say 'we are here to fight this terrible disease, we want to support it in every way and the arts are a way to do that.' It just galvanized the community. You could just see the need for this particular evening. It's a way to celebrate the people who have succumbed to AIDS. It's a a way to celebrate the people who are surviving with AIDS. It's a way to keep the energy moving and keep the money flowing into the Indiana AIDS Fund.  It has just been a remarkable experience all the way around.  I love Indy so much and that's why I do this. I just have such deep roots there, deep friendships and we have been part of this for such a long time.
It's also a way to spotlight the arts, right?
That's exactly right.  But in some ways that is kind of secondary to the cause. The reality is that no one is trying to promote their own theater company, their own dance company, there own self interest. They are there for the cause and they are there to be part of it. We've got the ISO and  the Indianapolis Children's Choir. We have almost every theatre company in Indianapolis. We have all the dance companies. It gotten so big that we can no longer have every single arts organization as part of the evening each year because if every arts organization  was represented in the show, it would be three or four hours long. That is why we alternate groups from year to year. There are so many people who want to participate in it. "Spotlight" reflects the richness of what Indianapolis has to offer and that is what is so remarkable.
Is producing and directing the show routine for you?
Actually, it is different every single year. We always have new organizations who want to be part of it so sometimes you have something you really weren't anticipating and you try to accommodate. What I love about that is it keeps us on our toes and nothing feels like it is just by rote. You are actually thinking through a show every year in a different kind of way. Yes, there are certain elements that are the same every year. We know we start the show with the ISO. When we have the Children's Choir, we know we want to put them on early in the show.  When we want acts close to the audience, we put them on the pit. It's really a big  jigsaw puzzle.
Describe your friendship with David Hochoy?
David is my dearest friend in the world. I think he is the true artist. He is constantly creating and never repeats himself and is always able to find something brand new in the world and and include something of himself in everything he does. It has been absolutely amazing how he has made that Dance Kaleidoscope his own. He changed the company. He stretched the company. He gave them something new to look at. He gave them new thoughts to look at. He has been able to attract really remarkable talent continuously throughout his years with DK and has has brought a wonderful vision for this modern dance company to the people of Indianapolis. I think Indianapolis is very, very fortunate to have that kind of company in their midst along with all the other amazing dance and theatre companies there. It's a wonderful thing. David and I talk to each other at least once a week. We have never been out of touch. He is my best friend.
For tickets and information about the "Deborah J. Simon Spotlight" call the Butler Arts Center ticket office at 317-944-6444 or  visit butlerartscenter.org.