There is a reason why the Indiana University Jacobs School of Music is celebrated all over the world for its excellence. And nowhere was that distinction more evident that in IU Opera Theater's production of Giacomo Puccini's "Madama Butterfly," with stage direction by Lesley Koenig. I saw the Friday performance, at Clowes Memorial Hall, on the campus of Butler University in Indianapolis. The engagement (there was another performance Saturday) was the first independent production of IU Opera to be presented in Indy, since March of 2013, when it partnered with Indianapolis Opera to present Philip Glass' "Akhnaten" at Clowes.
Programming for IU Opera, which which was formed in 1948, includes a mix of masterpieces as well as world, American and collegiate premieres. In 1981, it became the first, and so far, the only university opera company to appear at the Metropolitan Opera House in New York City. A division  of Indiana Unversity Jacobs School of  Music, IU Opera presents at least six productions a year in the Musical Arts Center in Bloomington, with roles sung by students, taught by a world-renowned faculty.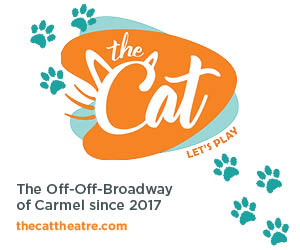 "Madama Butterly,"a staple of the operatic repertoire,  is an opera in three acts, with an Italian libretto by Luigi Illica and Giuseppe Ciacossa. It is based  on the short story "Madame Butterfuly" by John Luther Long. The title character of  Puccini's masterpiece is a young Japanese geisha who clings to the belief that her arrangement with a visiting American naval officer is a loving and permanent marriage. A tragic story, set in 1904 in Nagasaki, Japan, "Madama Butterfly," portrays cultural and sexual imperialism.  Enhanced by the lyrical beauty of Puccini's score, the opera about love, loyalty and loss, is timeless.
Soprano Mathilda Edge who sang the title role of the geisha,  Cio-Cio San, turned in a performance that was deeply affecting. Her superior acting abilities coupled with a vocal performance that powerfully conveyed her character's joy, longing, and tragic sorrow, was almost visceral in its impact. Edge's rendition of "Un bel dì," ("One Beautiful Day") one of opera's most famous arias, sung by Butterfly as she dreams about the day when Pinkerton will return to her, was breathtaking.
Tenor Trey Smagur also gave a stand out performance. He played Pinkerton, the caddish American naval officer who marries the 15-year old Butterfly, knowing full well that he is taking advantage of Japanese law to have his way with her before eventually taking an American wife. "Addio, fiorito asil" ("Farewell, flowery refuge") sung by Pinkerton who cowardly avoids seeing Butterfly prior to his leaving her home, along with his son and his wife. Smagur effectively conveyed his character's profound remorse and regret.
Butterfly and Pinkerton's long duet at the end of Act 1 that begins with "Bimba, Bimba, non piangere" ("Sweetheart, sweetheart, do not weep") was beautifully sung by Edge and Smagur who passionately expressed their character's deep attraction for one another.
Also deserving of plaudits for their solid acting and vocal performances were baritone Eric Smedsrud and mezzo-soprano Liz Culpepper who, respectively, sang the supporting roles of the American Consul Sharpless and Butterfly's maid, Suzuki.
Demonstrating the expert vocal training they are receiving at IU, were the singers in lesser roles as well as the production's chorus, all  directed by choral master Walter Huff.
Very satisfying, indeed, was Puccini's exquisite score masterfully performed by the IU Philharmonic Orchestra that accompanied the singers. Led by conductor Arthur Fagen, it was obvious while listening to them that probably most of the talented musicians, based on the quality of their sound, could well be performing with major orchestras some day.
Also first rate was the set design of Steve Kemp who used plastic material to create mountains that served as a backdrop for the production, in front of which were raised platforms, a cherry tree and miniature houses suspended from the stage ceiling. Complimenting Kemp's spare yet elegant design was Patrick Mero's lighting and designer Linda Pisano's pitch perfect costumes. Typically, IU Opera's professional production values are always top notch.
In October while experiencing Daniel Catan's "Florencia en el Amazonas," at IU's Musical Arts Center, I was reminded why I am such an avid IU Opera fan. I enjoy the pleasant one-hour drive to picturesque Monroe County to have a meal at one of Bloomington's fine restaurants and then take in an opera. However, I hope the company returns to Indy on a regular basis and perhaps, even makes it an annual tradition. IU Opera is still a best kept secret to some local opera aficionados and deserves a wider audience, not to mention further exposure and experience, for the stars of tomorrow who perform in its productions.
For tickets and information about the IU Opera & Ballet 2016-2017 season visit music.indiana.edu/operaballet or call the MAC ticket office at (812) 855-7433.